People in general and Filipinos in particular love hearing the good news, and President Noynoy Aquino (PNoy) loves giving it. On his second State of the Nation Address (SONA) delivered to Congress on the 25th of July this year, he continued the tradition he started since being sworn into office a year ago of assuring everyone everything is going great – everything is going great because he is in charge. PNoy obviously wants to remain popular with the rest of the Filipino public.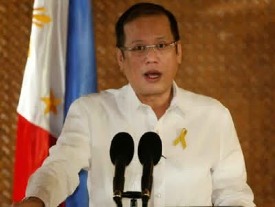 But they say that the best way to squash peoples' spirits is to bring their hopes up high in the beginning and then leave them hanging in the end. I say PNoy is doing a good job at this. In the eyes of his supporters, he cannot be faulted for all the problems in the country especially since he speaks of others who "abuse authority" as if he does not personally know some of them. And never mind that he has been in public office before, first, as a congressman and then a senator during which he gained a reputation for underachieving in both positions. Such was his reputation because a lot of people thought that he could have used both positions to introduce legislation that would have laid the foundation for his presidency today — like doing away with the wang-wang, a gesture that to him can symbolise change, "not just in our streets, but even in our collective attitude."
President Noynoy Aquino (PNoy) really wants to be known as the "wang-wang" President. The term wang-wang was all over his much anticipated second SONA. It seems that he is sticking with the label. He wants to symbolise his term using the wang-wang. Never mind that the majority of Filipinos who do not own cars most likely do not get his use of the metaphor. Even if he was speaking literally, both the people who have cars and those who do not have cars do not even feel the difference in the way traffic flows on the streets. Some say that the absence of the wang-wang has not stopped the "powerful few" from using motorcades to muscle their way through other motorists stewing in Manila's heavy traffic. Sadly, the wang-wang might just come to symbolise a perverse ingenuity — how some of the public officials in the land still find a way to "to violate traffic laws" or the Law in general.
But had he done his duties diligently in Congress and the Senate when he had the chance, he could have contributed more to changing the mindset of entitlement or the "wang-wang" mindset as he figuratively refers to the abuse of power by some public officials in Philippine society. Both his previous positions offered him more than enough opportunity to influence his peers and the general public to stop the "powerful few" from acting like "kings".
If we are to read between the lines of his recent speeches it would seem that the past administration, according to PNoy, did nothing but cheat, lie, steal and deceive people while he maintained an impeccable image as public servant. According to many analysts, however, former President Gloria Arroyo laid the groundwork for the stable economy PNoy is enjoying now, one which enabled us to survive the 2008 Global Financial Crisis. Most Filipinos would easily believe PNoy's holier-than-thou image, which he exuded upon coming out from under the shadow of his late mother, former President Cory Aquino after her death. There is no need to remind the Filipino people that it was during Cory's term when "patronage politics" was prevalent. But it is worth reminding people of the TIME magazine article that describes Cory's "tumultous" years. Here's an excerpt:
[…] But in the tumultuous four years since Aquino became President, charges of incompetence and graft have increasingly tainted her own government. When rebellious soldiers launched the seventh abortive coup against Aquino on Dec. 1, their most pointed complaints focused on the administration's failure to deliver basic services and on allegations of corruption among the President's wealthy and influential relatives.

The charges, magnified by the Manila rumor mill, have inflicted serious political damage. While the President herself is considered incorruptible, critics accuse her of turning a blind eye to family and friends who are said to be enriching themselves at the public's expense.

[…] A frequent target of reports is Aquino's brother Jose ("Peping") Cojuangco Jr., a wealthy and powerful congressman. Shortly after Aquino took office, newspaper stories charged that Cojuangco had helped some of his cronies gain control of a lucrative cargo-handling business; he is also suspected of using family ties to get jobs for friends in Manila casinos. Cojuangco has denied any wrongdoing, and neither he nor any other member of the Aquino clan has been charged with a crime.
It is evident that PNoy's being in the same position as his late mother, makes it difficult if not impossible for him to effect his crusade of eliminating patronage politics. Although it seems like he will do all he can to prevent others from practicing patronage politics by using a selective approach to dealing with his Kamag-anak, kaibigan at kaklase or KKK as some people call it. His supporters probably prefer a limited few taking advantage of their position, rather than the "collective".
He bragged about the country's credit grading being upgraded by Moody's, Standard and Poors, Fitch, and Japan Credit Ratings Agency while conveniently ignoring this upgrade was also based on both the outgoing administration's "prudent use of funds and creative financial management" in their last years in office. After all, with the credit rating update given just recently and PNoy having only been in office in less than a year when it was given, there couldn't have been enough time for his administration to show evidence of "prudent use of funds and creative financial management".
And of course we can give PNoy credit for his anti- corruption platform, which undoubtedly increased the agency's confidence, although, it remains to be seen if a platform on corruption will be enough to turn our economy around.
Even two economists, namely TV personality Winnie Monsod and Ibon Foundation chief researcher, Sonny Africa said that that PNoy took some figures "out of context". Here's what they had to say:
The IBON research head said Aquino failed to mention that the jobs created "were more than offset" by a growing labor force of 1.2 million people and an 829,000-increase in underemployment, which he said indicates an increase in the number of low-quality work opportunities.

Africa also downplayed the Philippines' supposed gains in the stock market as well as the ratings upgrades given by the international agencies Moody's, Standard and Poor's, Fitch, and the Japan Credit Ratings Agency.

"Wala namang direktang kaugnayan 'yon sa issue ng mga karaniwang mamamayan – trabaho, pagkain," Africa said.

Monsod also said Aquino's saying that he will not increase taxes "has no economic basis" and is "populist." She pointed out how the Bureau of Internal Revenue (BIR) and the Bureau of Customs (BOC) have not even met the revenue targets set by the government.

In January, the Finance Department said the BIR collected only P822.39 billion in 2010, lower than its revised goal of P860 billion. The BOC generated only P259 billion in 2010, lower than its revenue target of P280.7 billion, the department's records also showed.
It is understandable that PNoy and his staff would use exaggeration for their supposed "gains" after a year of muddling along. They probably did not expect economists to see through it. Sonny Africa also insinuated that PNoy even took credit for the good weather and expansion of rice lands, which was conducive to rice production and the farmers' hard work for the improvement in this year's yield.
When PNoy spoke about the increase in jobs in the domestic market, he stressed that there are less Filipinos leaving for work overseas. He did not give figures to prove this claim though. If we are going to base this on a hunch like he did, the long queues at the POEA office should tell us that there are more and more people seeking jobs abroad. Researcher Sonny Africa further highlighted how PNoy's claim was "offset by a growing labor force of 1.2 million people and an 829,000-increase in underemployment, which he said indicates an increase in the number of low-quality work opportunities."
PNoy's staff have a funny way of analysing figures, indeed. According to presidential spokesman, Edwin Lacierda, "all these figures are verifiable." Yes, of course. The figures may have been accurate but the interpretation was inaccurate. Perhaps PNoy and his communication team should stick to writing poetry and rhymes for their wang-wang and leave analysing statistics to math experts.
In life, things are not always what they seem.