Filipinos are surprisingly in general agreement on something — a will to defend the Spratly Islands against threats from China whatever the cost. Perhaps this is an opportunity of a lifetime. This shared sentiment is evident in how a swell of pride is becoming more and more palpable with the arrival of what is so far going to be the biggest and most modern Philippine naval vessel, the BRP Gregorio del Pilar.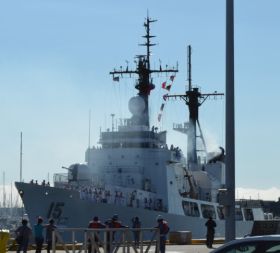 An ex-US Coast Guard Hamilton class cutter, she was previously known as USCGC Hamilton (WHEC-715) and was transferred to the Philippine Navy on May 13, 2011. She is the second Philippine Navy ship to have borne the same name, the first being another ex-US Coast Guard Cutter. She is expected to be the first of several ex-US Coast Guard Hamilton-class cutters that will serve the Philippine Navy.
SUPPORT INDEPENDENT SOCIAL COMMENTARY!
Subscribe to our Substack community GRP Insider to receive by email our in-depth free weekly newsletter. Opt into a paid subscription and you'll get premium insider briefs and insights from us daily.
Subscribe to our Substack newsletter, GRP Insider!
Learn more
I've always been critical of President Noynoy Aquino's "style" of leadership. But, to the President's stance, on reproductive health (at a cost to his government's relationship with the Philippines' Roman Catholic Church leaders) I add this one to what is so far a two-item list of things that could potentially positively define his presidency and allow it to leave a legacy worthy of the name he inherited from his illustrious parents.
Getting mired in reform politics is obviously not working for Aquino. Indeed, it hasn't for any President for that matter. An effort organised around such thinking to buttress his recently-concluded State of the Nation Address (and for that matter an on-going entire rationalisation of his role as President) using factoids taken (often in an amateurish out-of-context fashion) from a hodge-podge of economic indicators and statistics merely convoluted the SONA which has since become a wide open target for potshots.
Fortunately for us (not to mention President Aquino) there is a jewel in that crock of proverbial brown stuff that is the SONA, and that is the uncharacteristically categorical statement the President made about the Spratly Islands. The value of this jewel becomes more evident when one considers how even one of Aquino's staunchest critics, Inquirer.net columnist Amando Doronilla lauded it as the "strongest section" of the speech…
The statement on the Spratly Islands chain dispute was also the strongest section of the annual Sona, and drew one of the loudest rounds of applause in Congress, where the President gave the speech. The applause indicated the depth of the national sentiment behind a tough position to stand up to increasingly aggressive Chinese intrusions and interference with maritime exploration activities especially of the Philippines in the Spratlys.

[…] There is little doubt from the reactions to this statement that he had broad public support—a point that the Chinese should not ignore to have a clear idea of the depth of Filipino feelings over the Chinese incursions in the area.

The President stated the Philippine case with little room for ambiguity: "We do not wish to increase tensions with anyone, but we must let the world know we are ready to protect what is ours."
How many other things not related to celebrity, sport, and subsistence needs do Filipinos really give an impassioned hoot about? I can only count two: reproductive health and defending the Spratly Islands. And in that simple scorecard, the administration of President Aquino gets an A+.
Given that perspective, the public relations challenge Aquino faces over the next five years becomes a lot simpler. These are two things for which Filipinos on a massive scale are willing to follow President Aquino into battle. In the same way a move into secularism and a relegation of the tyranny of superstition into a dusty curiosity has marked the rise of many nations into modern greatness, so too has a substantial and visible build up in capability to defend national interests against foreign threats raised the profile of nations and boosted a shared sense of purpose among their people.
The irony that escapes most Filipinos is that they have for so long lived in the spirit of the real Golden Rule (even as they pretend to live by the more politically-correct one taught in school):
He who has the gold makes the rules.
And then there is that other one — the real human right — that complements the one above that this recent China Crisis we are embroiled in makes very relevant today:
He who has the might is right.
Indeed, there already exists within the archipelago a pilot site — a community that unashamedly and proudly lives by such a two-point creed: the Davao City of the Duterte Clan, where results rather than reform rhetoric speak loudly:
There is no shortage of investors in the city of 1.5 million and most people there attribute all this to the efforts of their beloved mayor whose efforts at cleaning up the city and introducing economic reforms, which include dismantling of protection for "infant industries" and the breakdown of industries with monopolistic or cartel tendencies, seem to have paid off. It's been said that Davao contributed significantly to making the Philippines the world's top exporter of papaya, mangosteen, and even flowers. The annual income of Davao City in 2010 is said to have reached 4 billion pesos, the richest city in the country outside of Metro Manila.
When we regard situations from perspectives that are real and stripped of all the emo noise fed to us by an emo generation, things become a lot more simple. And that is something worth thinking about.
[NB: Parts of this article were lifted off Wikipedia.org and used in accordance with that site's Creative Commons Attribution-ShareAlike License consistent with the same license applied by Get Real Post to its content. Photo courtesy Rebuilding for the Better Philippines.]
benign0 is the Webmaster of GetRealPhilippines.com.