A statement issued last week by the Catholic Bishops' Conference of the Philippines (CBCP) on the matter of some of its members using taxpayers' funds to buy luxury sport utility vehicles (SUVs) for use in their "field work," made it quite categorical: "Our conscience is clear."
But of course it is. This is a statement coming from the henchmen of an institution that sees itself as the sole legitimate channel that dispenses "God's mercy" and delivers the sacrament of "reconciliation" that, effectively, absolves one's "sins." The belief here is premised on the notion that the Clergy are the sole inheritors of the authority to forgive sins that Jesus Christ supposedly left to his apostles after he died…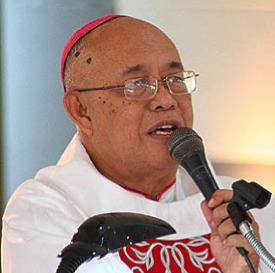 It is therefore clear from the words of Christ that the Apostles had power to forgive sins. But this was not a personal prerogative that was to erase at their death; it was granted to them in their official capacity and hence as a permanent institution in the Church — no less permanent than the mission to teach and baptize all nations. Christ foresaw that even those who received faith and baptism, whether during the lifetime of the Apostles or later, would fall into sin and therefore would need forgiveness in order to be saved. He must, then, have intended that the power to forgive should be transmitted from the Apostles to their successors and be used as long as there would be sinners in the Church, and that means to the end of time.
Quite ironic that, on one hand, the Church would enshrine at the heart of its sacred dogma that sort of absolute power while, on the other, propagate among its constituents an image of it being a champion of "democracy". This democracy, we might highlight yet again, has at its core the principle of check-and-balance, where co-equal independent branches of government serve as mutual control mechanisms to prevent abuse of power by and spread of inbred thinking in any one of its branches. It is no surprise, therefore, that an institution such as the Roman Catholic Church had, for centuries, remained imprisoned in a framework of flawed and inconsistent philosophical constructs. The Church recognises no authority other than itself. That's absolute power by any definition.
So like the fool who self-diagnoses himself rather than seek professional medical advise, the CBCP clears its own conscience.
Recall though exactly how the centre of the imbroglio, the "Reverend" Bishop Juan de Dios Pueblos made the request for the fancy wheels in his letter to then President Gloria Arroyo…
"I hope you will never fail to give a brand new car which would serve as your birthday gift to me," Pueblos said in the letter.

"For your information, I have with me a seven-year-old car which is not anymore in good running condition. Therefore, this needs to be replaced very soon," he added.

Arroyo agreed and after 5 months, the Philippine Charity Sweepstakes Office (PCSO) gave Pueblos a check for P 1.7 million, which he used to buy a Mitsubishi Montero.
Looks like there is something here that is a lot "clearer" than someone's conscience.
The Reverend Father Joaquin Bernas SJ, showed in a recent article that there is hardly any legal basis for a criminal prosecution against the "Mitsubishops." So even as the Senate (and, the House, perhaps), in its noble quest to continuously improve the legal framework of the land "invites" the Mitsubishops to their "inquiry", Bernas is certain that "no criminal liability" would be found.
But as Randy David points out, it is really on "moral authority" that the Church's position in Philippine society rests upon. Just like the Duterte clan rules Davao City with a brand of governance that has very little if any grounding in the Law, the Church are able to lord it over Filipino "souls" on the basis of a perceived moral high ground that it monopolises. The Philippines, after all, is a society that lives by a very shaky ethical foundation — one that muddles together state, religious, and personal beliefs, dogma, and doctrine into a mishmash of inconsistent and unstable thinking and resulting action.
As such, a media circus is the last thing our holy bishops need considering that their power over the minds of the Filipino is quite ephemeral, as it is already finding out as it loses one battle after another for the hearts of its 100 million-strong congregation, first with the issue or Reproductive Health, then with the matter of divorce, and now in this most recent revelation of gross impropriety. After all, how much would Php 1 million spent on a luxury SUV have bought for the average Filipino? Most likely a lot more stuff more valuable than the presence of some bishop in some "far flung" village.
benign0 is the Webmaster of GetRealPhilippines.com.