The imbroglio Davao City Mayor Sara Duterte suddenly finds herself in after she punched court sheriff Abe Andres on the face in front of TV cameras is becoming complicated. It is complicated by her family's uncoordinated public relations approach as evident in the belligerent stance her father, now acting Mayor Rodrigo Duterte, exhibited when he faced the Media yesterday.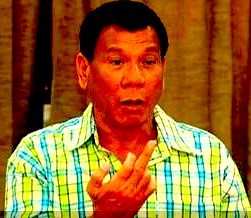 In contrast with the apologetic position his daughter Sara is now starting to take, the elder Duterte expressed an abject lack of remorse and made what looked like veiled threats at those who he sees as critical to his daughter, his family, and ultimately the approach to law and order he takes that Davao residents have all but cozied up to. Facing the Media yesterday, Duterte gave "columnists" critical of him the Bird and said that he would not only have punched Andres but would also have kicked him as well if he were in his daughter's shoes at the time. Implying that he can count on support from his constituents to condone such actions, Rodrigo Duterte boldly stated…
"You ask the people here in Davao, you ask the media, buti nga kung ganun lang abutin mo sa kin, p#t@ng!@ (expletive)," he said. "Kung ako ang mayor, may tama yan talaga."
Interpretted thus: "Davao people and the media here know me enough to expect what I would do: They'll know that Andres would've been lucky to get just punches if it were up to me. If it were me, he'd really get a real beating."
In a statement she released when she faced the media on Monday, Sara Duterte who has taken leave from her position as mayor was grateful for this sort of support from her family saying that…
"Sa family, ganoon talaga kami. I understand his reaction, whether right or wrong, hindi kami nag-iiwanan," she said.
Interpretted thus: "It's really like that in my family and I understand [my father's] reaction. Whether right or wrong, we stick together."
These words seem to validate much of the observation made on the renowned feudal system that remains the heart and soul of governance in the Philippines contrary to Filipinos' claims — and aspirations — to counting themselves as members of modern civilisation.
Not surprisingly, wherever feudal approaches to doing things come up Catholic Bishops are there to provide support. His Eminence Felixberto Calang of Inpeace Mindanao, said…
"The controversy over Sara Duterte's punching of a court sheriff in order to delay the actual demolition of homes of informal settlers in Davao's Agdao district is a clear case where morality should be the larger consideration than legal ethics,"
Calang also reportedly said that "Duterte's action which intended to delay the actual demolition was 'a clear case where morality should be the larger consideration than legal ethics'."
As in most publicity stunts, timing is everything. Perhaps an "indignation rally" planned by by the Commission on Human Rights (CHR) in Davao City on the 1st of July will raise "awareness" of what is really an obvious facet of life in the Philippines. Then again, maybe not, considering that…
CHR-Davao Director Alberto Sipaco dismissed perceptions that Mayor Sara Duterte and Vice Mayor Rodrigo Duterte are being singled out by the planned protest against rampant summary executions in the city.

[…]

Sipaco said indignation rally is not targeting any sector or individual, but would point out the fact of summary killings in this city that should be the concern of every sector.

"There is no finger pointing here," Sipaco said.
The irony with the defensive though is that they tend to readily take offense from what are really "innocent" expressions of "indignation." Bato-bato's are, after all, birds.
benign0 is the Webmaster of GetRealPhilippines.com.