Pac-woman Ms Jinkee Pacquiao reportedly turned down an invitation to guest in The Ellen Degeneres Show recently "because she feared she would be criticized for her lack of fluency in English." Specifically she was afraid of making a mistake on live television…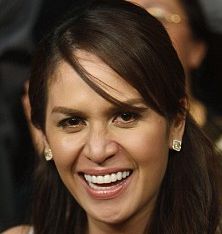 "Sabi ko ayoko 'yong live (I said I didn't want it live)," said Jinkee. "Ayokong magkamali… takot kasi akong magkamali, ayokong ma-criticize ng tao (I don't want to make a mistake. I'm afraid that I'll make a mistake and I don't want people to criticize me)," she said.
Speaking good English is a national obssession in the Philippines. Ours is a society polarised by English language fluency. Government conducts its affairs in English, Philippine laws are written in English, and the business elite prefer their Power Point presentations delivered in English. As such, parents put an immense premium on learning institutions that hold reputations for churning out the best English speakers. And, indeed, the products of these schools tend to get first stab at job interviews for plum roles that pay higher-than-average wages. They get picked for promotions first and the boys among them get all the good chicks (thus the appeal of Filipino movies where the home-along-da-riles boys gets to bonk the otherwise out-of-reach colegiala — there is hope in fantasy).
Also ironic is how the industries that offers the most hope for easing chonic unemployment in the Philippines — call centres and business process outsourcing — requires its employees to hold better-than-above-average command of the English language.
It seems the only words of comfort that can be given Filipinos who can't speak or write English well are two: Tough luck. Filipinos who suck at speaking in English had been dealt an ugly hand.
But then being dealt an ugly hand does not mean you will necessarily lose the poker game.
And that is where Jinkee Pacquiao fails. Her reasons for declining an invitation from none less than the Ellen Degeneres is an epic irony when one considers she is married to a man famous for beating the odds and playing the ugly hand dealt him.
benign0 is the Webmaster of GetRealPhilippines.com.