Many "atheists" fail to appreciate the size of the beast they are up against when debating with the religious. It is not that the religious are smarter. Far from it. It is their numbers — the rate at which they physically multiply, the sheer number of warm bodies that they can rally behind the drivel they espouse, and the gigabytes of non-sequiturs they can shovel into "debates" — that will see them prevail. Noted scientist Richard Dawkins likened them to "baying dogs." The noise they produce simply overwhelms.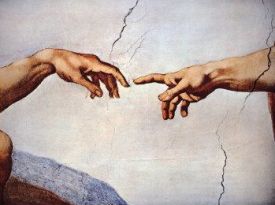 The average self-described "atheist" may not know the profound nature of what it means to uphold a thought framework that cannot defer to a higher sentient power. And that shortfall is what makes many of them ill-equipped to see where the other side of the "debate" is coming from — that is, see it by applying the very rigourously logical scientific approach that they ironically assert is what underpins their position in said "debate."
Many self-described "atheists" focus their energies on arguing around the question of the existence of supernatural beings and the supernatural universes they rule. Ultimately, for the religious, this is where conversations generally come to a grinding halt. The belief of the religious in such beings and such places is non-negotiable. Perhaps this is owing to the possibility that the concept of a deity and a notional realm for the "souls" of the dead to persist that said deity presumably would preside over is an immensely powerful source of motivation for people to overcome the hardships of life and soldier on.
"Soldier on" is the key word here. Soldier on to what? If you believe in an afterlife, why then would you soldier on in an earthly life that, according to most religious teachings, is nothing when taken in the context of the "eternal life" these teachings promise beyond death?
The above question presents a conundrum to the religious as it highlights a fundamental contradiction in religious belief:
Why regard Earthly life with sanctity if said life is ultimately pointless when placed beside the unfathomable immensity of the eternal life that awaits beyond it?
Kill a zygote or embryo before it grows an Earthly mind and you actually do it a favour — because it presumably preserves its innocence and makes it indisputably eligible to enter the gates of Paradise. Or blow yourself up inside a restaurant full of dining infidels and earn a pass to a Heaven where you could spend eternity surrounded by what's-that-number virgins.
Earthly lives ultimately don't matter.
Given y = (1000/x), the limit of y as x approaches inifinity is ZERO.
Eternity mathematically zeroes out even a thousand years of finite life.
This will probably come across as quite confronting to most of the other poor sods who spend entire lives in a monumental battle against the "temptations of the flesh."
So why do human beings "soldier on" then?
Richard Dawkins proposes an alternative view of what the ultimate meaning of life may be in his book The Selfish Gene. It is an alternative that lacks the fundamental contradiction that tips over the dogmatic house of cards of religion.
When the physical structure that houses our genetic code was finally discovered by James D. Watson and Francis Crick and when the nature of how this structure encodes the instructions of how life organises itself was revealed, scientists reckoned that they had figured out the mechanism we use to propagate our species. Dawkins reversed that notion when he put the gene at the centre of the whole point of "life." Genetic material by its nature replicates itself. Viruses are essentially disembodied self-replicating molecules that seek a biological host to catalyse their replication.
A virus uses its biological host to replicate itself.
The same can be said of any molecule that carries genetic information that persists in structure through time. That includes the human DNA molecule. Those DNA molecules — including ours — that managed to remain structurally persistent over hundreds and hundreds of millions of years are those that succeeded in "finding" a way to do so. Some of them, like viruses, did so by not fixing what ain't broke — essentially doing the same thing that they do today for all of those eons. Others tried new things — like encasing themselves in organic material to become cellular units. And still, others, within their cellular vehicles, went on to form colonies of cellular units — organisms.
Whatever worked.
Random mutation modified the DNA code and each modification resulted in a change in the way said DNA guided the natural processes that built its vehicles. And natural selection determined which modification persisted.
Those modifications that resulted in an advantage in the ability of a particular code to persist generally survived selection pressures.
Many of these successful modifications involved incremental increases in an organism's structural complexity. As such, complexity steadily accumulated in the emeging biosphere.
Thus "life" forms as we know them today are mere vehicles used by genetic code sequences — information, ultimately — to propagate themselves as faithfully as possible over time. The increase in the complexity of these vehicles over the ages was an accident — a by-product — of the environment that hosted this propagation.
If a gene could speak, it would say It's all about me.
As such, human beings — and all living organisms — soldier on, because we are programmed at the deepest levels of our essence as vehicles of genetic information to pass on copies of our genetic code. It is this fundamental urge to propagate copies of this information that constitutes our "life force."
Indeed, living past an age that we are useful as carers and protectors of our offspring is a relatively recent development. For the most part of the history of our species, men and women generally died — or physically degenerated rapidly — after the general age when one's offspring become sexually mature or are able to fend for themselves. And we are at our strongest and most vibrant at our most fertile ages.
What does that tell us?
Simple. It's all about sowing our oats. Passing on a genetic legacy to subsequent generations.
What does that say about all artifacts of the human mind that we presume to regard as "absolutes" — freedom, sanctity, rights, and even meaning? In the overall scheme of Nature, there is nothing such. Indeed, for all our huffing and puffing about the "rightness" of atheism over belief in religious notions, we may actually face a future where secular — and atheist — civilisations barrel irreversibly towards extinction and religious and superstitious societies increasingly dominate.
The Selfish Gene say: the vehicle that guarantees it the bigger population wins at the end of the day (or, shall we say, eon). Whether it is the body of a cockroach or the form of the human zealot that fits that criteria, the Selfish Gene will be happy either way.
Nature ultimately does not care what we, using our scientific "minds", think.
benign0 is the Webmaster of GetRealPhilippines.com.