So I read that the Metro Manila Development Authority (MMDA) is going to "crackdown" on smoking in the metropolis. Interesting. Apparently, the legal basis for this "crackdown" is Republic Act 9211 or the Tobacco Regulation Act of 2003. Note the year: 2003. Makes one wonder what our so-called "law enforcement" officials have been doing for the last eight years.
But that's beside the point.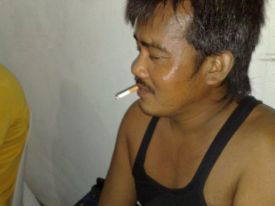 SUPPORT INDEPENDENT SOCIAL COMMENTARY!
Subscribe to our Substack community GRP Insider to receive by email our in-depth free weekly newsletter. Opt into a paid subscription and you'll get premium insider briefs and insights from us daily.
Subscribe to our Substack newsletter, GRP Insider!
Learn more
Said MMDA "chief of health public safety and environment protection" Loida Labao Alzona:
[…] persons with lit cigarettes, even if they are not puffing on them, will be fined. "We are after the protection of the non-smokers,"
Such concern for the hapless "non-smokers" of Metro Manila.
Brings tears to my eyes.
This is, after all, the MMDA, the agency that is responsible not only for mounting "crackdowns" on smoking but also nabbing violators of other city ordinances — like those that seek to curb air pollution, for example…
According to the Bank's 2000 Annual Review, in Manila alone more than 4,000 Filipinos die each year because of air pollution. The mortality figure is the third highest for a city in the east Asian region after Beijing and Jakarta. Bangkok and Seoul were ranked 4th and 5th.

Beside the deaths, 90,000 Filipinos in Manila also suffer from severe chronic bronchitis, costing the government 7 percent of its gross domestic product in terms of health costs, the Bank said, citing statistics from the World Health Organization (WHO) which did pollution and health studies in 126 countries last year.
Another study highlighted the primary contributors to the fouling of Manila's already toxic air…
Particulate emissions in Manila are largely from motor vehicles (84 percent), solid waste burning (10 percent), and industries (5.5 percent). Seventy percent of these motor vehicle emissions come from the more than 200,000 diesel-powered utility vehicles—such as jeepneys and the 170,000 gasoline-powered motorcycles and tricycles in the city.
So let's do a bit of back-envelope mathematics. Between impounding a bus that is guilty, among other things, of spewing diesel exhaust into hapless Metro Manilans' faces and nabbing the hapless smoker who is merely trying to look cool, which of the two will deliver the bigger bang for the buck?
This is a classic example of that quintessentially Filipino small-minded tingi approach applied to what is a big systemic problem — another instance of the renowned Heritage of Smallness of the Filipino revealing itself.
The black fumes coming out of a bus or the telltale grey-white smoke coming from an illegal backyard solid waste burning can be tracked by a spotter miles away and law enforcement officers called in to apprehend the offending party. In one day, if it really wanted to, the MMDA can suspend the operations of a hundred-odd smoke-belching buses and round up the same number of amateur garbage incinerators which could then, in theory, permanently rid the city of a source of pollution that could impact dozens, if not hundreds, of lives. And that's just in that one hypothetical honest day's work that the MMDA could deliver — if it really wanted to, that is.
Smokers, on the other hand, are a different sort of search-and-destroy mission. You need officers on foot patrol to spot them, issue citations, and do the paperwork at the end of the day for each apprehension. And for what? The combined amount of offending fumes generated by a hundred-odd smokers is dwarfed by that of a single smoke-belching bus whose apprehension requires the same amount of manpower and resources required to process an illegal smoker.
Furthermore, there is always the possibility of addressing the problem at its source. In the case of of smoke-belching vehicles, at the time these vehicles are registered, and in the case of smoking at the point of sale of the cigarettes themselves — perhaps by levying a bigger tax on businesses that sell them within city limits.
But this is the Philippines and these are Filipinos we are talking about here. It's just too hard. Too hard on the little pointed heads even to just consider the multitude of sensible possibilities.
benign0 is the Webmaster of GetRealPhilippines.com.