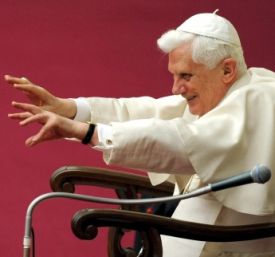 The holy officials of the Philippine Roman Catholic Church now step up their drive to implement a standard-speak to be used in the on-going "debate" surrounding Philippine Reproductive Health. Henceforth, the Catholic Bishops Conference of the Philippines hereby decrees that "excomminication" be considered to be a dirty word…
A Catholic Church official asked advocates of the reproductive health (RH) bill to stop using the concept of excommunication to gain publicity.

Catholic Bishops' Conference of the Philippines (CBCP) secretary general Msgr. Juanito Figura said the CBCP never threatened anyone with excommunication over the RH bill.
This edict comes at the heels of yet another Philippine Bishop recently caught on record making liberal use of what is now a dirty word…
Meanwhile, Sorsogon Bishop Arturo Bastes said there is no more need for [Albay Rep. Edcel Lagman] to be excommunicated because the lawmaker separated himself from the Church already.

"We do not have to excommunicate him… He is excommunicating himself by doing that. That is automatic, by himself," Bastes said on Church-run Radio Veritas.

"We don't give him the honor to make him excommunicated," he added.

Bastes said being in the frontline for the passage of the RH bill already shows that Lagman wants to "separate himself from the Church." [boldface added for emphasis]
Ok, "separate" one's self "from the Church". What else could such a phrase mean other than what is now deemed unspeakable in the Philippine National "Debate"?
SUPPORT INDEPENDENT SOCIAL COMMENTARY!
Subscribe to our Substack community GRP Insider to receive by email our in-depth free weekly newsletter. Opt into a paid subscription and you'll get premium insider briefs and insights from us daily.
Subscribe to our Substack newsletter, GRP Insider!
Learn more
Indeed an "automatic" excommunication, like most automation projects, simply cuts out the human middleman from and reduces human intervention in a process. As such no one need utter the word "excommunicate" or even perform the ritual any more.
It's now all automatic.
benign0 is the Webmaster of GetRealPhilippines.com.