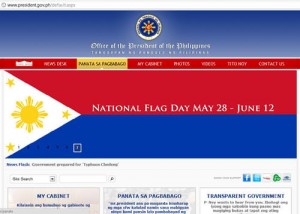 Is this an honest mistake or a subliminal message from the Office of the President based on PNoy's warning to China regarding the disputed Spratlys? To quote: ""We may not have the capabilities now, but that might force us to increase our capabilities also,"?
Or is this a message that the PNoy administration is dead serious against corruption that it chose to call our people to pride the Philippine flag in a symbolic gesture of war towards the "Daang matuwid"?
More than the mistake or whatever underlying metaphor there is, the relevance of our flag should go beyond symbolism. Sure, let's place in it our car, wear it proud on our shirt, make it as our wall paper or screen saver but it doesn't do much for a people who have forgotten that the flag should be representing a proud nation based on merits. Proud of real triumphs and everyday accomplishments where heroes are but common members of the society and doesn't deserve recognition; proud of a President who go beyond friendship when failure is seen to be at a nation's detriment;Â  proud of every citizen based locally and abroad because each best try to live according to the ethic of reciprocity, to a predominantly Catholic nation, this is what most can refer to as the Great Commandment found in Matthew 7:12 and Luke 6:31.
Let's celebrate National Flag Day, with genuine awareness and prestige. Knowing that we consciously make an effort to serve our fellowmen, knowing that we are not contributors to the flash floods; knowing that the heads of the likes of "Quirino-Grandstand-epic-fail" Puno and" VIP-prisoners'" director Diokno rolled because they have shamed a country, knowing that our faith has made us a citizen of the world with real physical meaning. Engaging in, not just one's own but in each other's destinies towards new levels of cooperations and shared responsibility.
Otherwise the commemoration that is asked to be observed for two weeks, from May 28 to June 12, which should be more aptly called National Flag Weeks to invoke patriotism based on an emblem and nothing more is just hypocritical respect.
References:
Philippines warns of arms race in South China Sea http://globalnation.inquirer.net/2247/philippines-warns-of-arms-race-in-south-china-sea
Photo credit : Presidential website promotes Flag Day the wrong way http://www.gmanews.tv/story/221744/nation/presidential-website-promotes-flag-day-the-wrong-way