A friend asked me how I manage to keep my cool when someone is obviously trying to intimidate me online. Indeed, there are many critics in the blogosphere who do not have any qualms about undermining a writer's credibility just because they can. My experience as a blogger has taught me that there are many other readers who would eventually see who makes more sense. In short, I let the market decide.
Although the process of getting validation for my opinion can be daunting at times, I throw my two cents out there anyway despite knowing that there is a big chance some misguided Filipino "patriot" may go ballistic upon reading my articles, many of which are highly critical of the current administration. Thankfully, I encounter a lot more readers who seem to echo my sentiments than those who don't.
Letting my critics have their say helps me stay grounded in reality. I actually find the process of writing a rebuttal to a dissenting opinion quite satisfying and rewarding. I learn a lot doing it because there are times when I still have to evaluate the stuff they present to see whether it is a sound or a flawed argument. Challenging and educating myself is part of the reason why I still continue to write about Philippine politics and culture despite the many critics I encounter.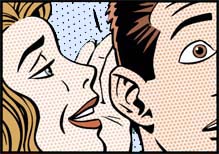 Speaking of the current administration, it seems that the idea of learning from critics is something that the Aquino administration is yet to comprehend. Almost a year after being voted into office, Presidential Spokesman Edwin Lacierda is now blaming President Noynoy Aquino's critics, particularly some newspaper columnists, for his boss's declining popularity. Almost a year after being voted in, PNoy and his minions still do not know how to listen to the people who can actually help them fulfill their campaign promise: their critics.
Most of PNoy's supporters like Philippine Star columnist, William Esposo seems to be old enough to be my grandfather but they appear to be acting very immature and out of touch with reality. Esposo, for his part, claimed that the head of Malacanang Communications, Secretary Ricky Carandang, is largely to blame for failing to offer rebuttals "to these clearly biased opinion makers."
Esposo even confirmed that Ricky Carandang's resignation to PNoy's critics "underscore[s] the incompetence of the Palace Messaging Team."
Wait… Is Esposo on PNoy's administration's side or not? He is confusing me with his statements. C'mon, Lolo. You can't really blame Carandang. He's got nothing to work with. It is too hard to refute the facts reported about PNoy. And the results speak for itself; there is nothing else going for PNoy beyond securing more foreign loans and grants supposedly to build more infrastructure — loans that will certainly guarantee a future of indebtedness for Filipino taxpayers for some time.
Do we need to remind Esposo that it was actually his idol, PNoy who handpicked Ricky Carandang to head his communication team? Do we need to spell it out that since it was PNoy who chose Carandang, the blame should also point to PNoy? Esposo's years of criticizing former President Gloria Arroyo should have given him enough experience on how to analyze things properly. He is not even sure if Carandang tried to authenticate PNoy's critics' claim and found them to be true, which is why he couldn't "debunk" them.
The Chair Wrecker even reminded his readers that, "P-Noy has admitted already on two occasions that the Palace Messaging has failed." Then why hasn't PNoy replaced them with a messaging team that could succeed? The answer, which seems to elude PNoy and the rest of his rabid supporters, lies in the allegation that PNoy is close friends with most of his staff, which means that he could be having a hard time getting rid of them even if they commit grave mistakes. And even Esposo made the grave mistake of justifying Edwin Lacierda's claim that the columnists are to blame for PNoy's rating dip especially since he emphasized that Lacierda is his friend.
And just because he is not friends with Ricky Carandang, Esposo had the freedom to lambast the guy with all the power of his proverbial pen: "Carandang had allowed these relentless anti-P-Noy rabble-rousers to get away with bloody murder." Esposo also insinuated that Carandang is more concerned about his intentions to run for the senate than doing his current job properly.
So Esposo wrote a diatribe outlining the columnists who are always on a "vicious attack mode" when writing about PNoy and blaming Carandang for not doing enough to stop them. But towards the end, he contradicts himself by saying that, "I doubt if the rabble-rousers carry that much influence."
The funniest thing Esposo said was, "Public opinion cannot be changed by distorted interpretations of survey numbers, any more than votes can be changed by fake election surveys." Apparently, his analogy is this: when the survey numbers are favorable to PNoy, it would be accurate. But if the numbers are NOT favorable to PNoy, they are "distorted" or "fake." Well now. Esposo is clearly underestimating the intelligence of his readers. It could be that he just wants Carandang fired.
I cannot believe that a leading publication such as Philippine Star would allow a popular columnist of theirs such as Willam Esposo publish an article that doesn't make any sense. With writers like that, you could get better value out of that paper in your local palengke using it to wrap your latest galunggong purchase.
Oh boy. I hate to have to say this to someone as old as William Esposo but he and the rest of PNoy's supporters should really listen to PNoy's critics for a change. PNoy will not learn anything new from people around him who keep telling him only the stuff he wants to hear. The most he can get from them is validation, which is only good for his ego — but an inflated ego is not good for the rest of the Filipino people.
In life, things are not always what they seem.