My grandmother always told me to take it easy on too much unnecessary celebrations. She said that misery always follows excessive feelings of euphoria – kind of like the down after being on a high. I found out exactly what she was talking about when I got my first hangover. Her advise is behind the reason why I am a bit wary about the excessive celebrations a lot of Americans are throwing at the moment following the official announcement that Osama Bin Laden is dead.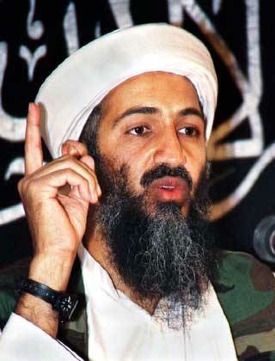 If you stop to think about it, since Bin Laden had been in hiding for the last decade, it was like he was already dead. As the most wanted man in the world, he would never have shown up randomly at your local supermarket anyway. And then there had always been this rumor going around for years that he had already been killed during the initial invasion of Afghanistan in 2001.
It is therefore really pointless at this point to wonder, "When did Osama die?" because it does not actually make a difference whether he is dead or alive. There are enough misguided Muslim radicals ready to take his place.
Now that he is really dead – that is according to the US government – some people are saying that he is more powerful now the way Obi Wan Kenobi became even more powerful after Darth Vader struck him down in Episode IV of Star Wars. This sort of thinking is evident in how the Moro Islamic Liberation Front (MILF) considers the former Al Queda leader, a "martyr." And the irony here is that in the aftermath of his death, the world is on an even more heightened travel alert against terrorist attacks. The Philippines, for its part, hosts one of the main training grounds of the militant group in the Far East. So the Armed Forces of the Philippines is now anticipating retaliatory attacks from local terrorist groups. Here's what AFP spokesman, Commodore Miguel Jose Rodriguez had to say:
"There is always a possibility [of retaliatory action from radical Islamists] kaya pinaghahandaaan natin ito. We are always prepared for that," he said. "But we are sure na hindi nila kakayanin kasi nakahanda ang inyong pwersa sa bagay na ito."

"Our expectations (for retaliatory attacks) will always be there, that is why part of the security plan of the Armed Force is to always be vigilant. You know in terrorism, you will never know when you will get hit," he added.
Unfortunately, the rumors surrounding Osama's death will most likely never die down. It is going to be another "Elvis is not dead" kind of thing. It does not help that there was no public "viewing" of his remains because as Muslim custom dictates, he needed to be buried within 24 hours of his demise. A public viewing would have brought some kind of closure. And US authorities made it harder for Osama "fans" to visit his grave by burying him under the sea, merman style. Now there is no way a yearly pilgrimage to his burial site can be organized.
A decade since the World Trade Center Twin Towers in New York were brought down, some people's sentiments have shifted towards the Muslim radical's cause. It doesn't help that the US presence in both Afghanistan and Iraq is still very strong. Their position, understandably, is that the "War on Terror" is still not finished. Even then, to those who are fond of spreading conspiracy theories that the US Government was actually behind the attack that destroyed the Twin Towers and killed close to 5,000 people, I say c'mon, what American in his or her right mind would kill fellow Americans just to justify waging a war against another country to revitalize the economy? I'm inclined to think that those who think this way have thought about doing the same thing, sort of like it takes one to know one kind of mentality.
But the biggest winner of all is President Barrack Obama. He is "the man" who caught the biggest fish. I guess some could say that his reelection is in the bag. This is Obama's rebuttal to Donald Trump who keeps taunting him about his birthplace.
This is just the kind of thing that Americans need nowadays. Their economy has been depressed for quite some time now. China just took 2nd place in the hall of world dominance. Australia's dollar keeps rising. England just had the royal wedding of the decade. Americans needed a major win…something that can help cheer them up. Billions of dollars (and counting) later, the US government has to give the people the type of Hollywood ending they are accustomed to.
Something tells me though that the news of Osama's death can only harbor more ill feelings towards Americans from people who don't really believe that Osama is guilty of instructing his followers to fly airplanes into the Twin Towers and the Pentagon on the 11th of September 2001. Some people believe that Osama was just sitting in a house in suburban Islamabad watching the cricket. The same people probably believe that the British royal family ordered the late Princess Diana's death or that Elvis is still alive.
In life, things are not always what they seem.