Why did I hesitate?
The cynicism in me took over but I was drawn to him and for every word that was exchanged in that early morning jeepney ride, my fondness in him grew stronger.
It was a fresh Saturday morning in a soothingly windy Metro Manila suburb that made me want to take a jeep ride back to the south of the Metro. This has been a practice in an effort for conservation and frugality, knowing that I now live in a world of declining oil reserves, a few liters of gas is a waste with only myself and my Chinese fast food to go as the vehicle's load.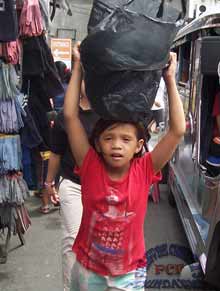 I also wouldn't want to miss out on one simple pleasure that I derive from crack of dawn commutes out of this suburb, and it is the salad of early morning weekend commuters whom I encounter. The magta-"taho", the micro entrepreneurs armed with baskets and strollers that will soon fill up with "pinamalengke" for their "karinderya" or sari-sari stores and fish vendors with their recycled Boysen paint pails that will soon brim with kilos of seafoods packed in ice on their return. These enterprising Filipinos inspire me and make me believe that there is still hope where there is only a glimmer of it to begin with.
What I do not want to see in my commutes are the minors who load the fresh produce from the market and unto the jeeps. I see kids who look like 9-12 year olds humped with the weight that they are carrying on their shoulders. There are also kids in most of my trips, who look exhausted from a night of selling of what was once the content of their now empty woven baskets and "bilao". Chancing on them opens another opportunity for me to pay forward the blessings I had been bestowed with. I am no philanthropist by society's definition, my statement of assets doesn't enable me to be one but I learned that one doesn't have to have much in order to give appreciation to people who deserve it.
I hate dole out's and I'm not into alms giving in a country where numerous "sindikato" abound; kids shouldn't be working for money for any reason but the sad truth is, we have a lot of these kids who do. I observe the demeanor of these working kids whom I get the chance of sharing a commute with, if I see no tell tale signs of substance abuse, I will not hesitate augmenting a bit of what they had worked hard for, just so they can enjoy a hearty breakfast or a better take home pay. I consider the opportunity as a form of giving out a bonus. If employees get bonuses and afford simple treats for themselves for a hard day's work, why shouldn't these bare-knuckle minors get the same?
In every kid that I chance on, the day's bonus would sometimes elicit a reaction of thanks but more often than not, the kids coil in defense and confusion. It would always be me who would engage them in communication.
"O, eto pang-almusal ninyo ng kapatid mo. Bili ka ng masarap ha, yung matitira uwi mo sa bahay, pang-litson manok sa pananghalian."
"Ano laman ng basket mo kanina?"
"Pauwi ka na sa nanay mo?"
And some kids would let their guard down and share a quarter of an hour's glimpse of their lives. Never two are alike but what is common is that they all have to work to help their families. Sometimes, it's because they have good for nothing parents; sometimes, it's because their parents' income isn't enough to sustain a family of 9; sometimes, it's because it's for their kid brother's "pambaon" for the coming week and so on…
I would leave them with words of encouragement; to take every chance to study, to never lose their steadfastness no matter what life brings them and to always believe in the power of prayer. I learned the hard way that the word "Diyos" gets lost in their eyes and often leads to silence. I can only assume that the pain of poverty that they had to endure early on in their lives had kept their spirituality shrouded in layers that a mere mention of God stuns them in affiliation. I can only pray that the kids absorb what I say about the "day's bonus", that whatever they got from me isn't out of whatever extra I have but it is from a force that led the two or three of us to meet on a jeep ride and learn a bit more about life. "Di ito limos kundi regalo kase alam ko masipag ka at dapat ka lang irespeto. Daig mo pa nga ang ibang matatanda na umaasa lang sa bigay o lagay. Mag-aral ka ha para makapag-trabaho ka ng maayos. Mauubos agad yang bigay ko sa iyo pero yung respeto ko sa iyo, dahil masipag at masikap ka, di mauubos kung gugustuhin mo."
Going back on that beautiful Saturday jeep ride that I recently took, there was a boy whom I immediately took notice. I initially thought that the passenger was a bulky man with two big boxes made of styrofoam and carton packed with pan de sal. Once all the stuff were loaded in the jeep's aisle, a lanky little boy who was carrying a tiny 6 month old looking baby boarded. He bid the baby goodbye and turned her over to the man who sent him off with the boxes. My eyes were on him from then on.
The boy adjacent to me looked like a 9 year old. I can tell that he just woke up; his eyes were still puffy, his face oily, his clothes creased and unclean but he was here with me at 4:30 a.m., what more with an errand to run. I didn't know what to make of him since he had a faux diamond earring on and that accessory made me hesitate to reach out. I often see this on gang members so I had to make sure that he's not into rugby or jutes. When the opportunity came for him to move the massive boxes out of the way so that other passengers can board, he amazed me with his strength and most of all, of his consideration for others. The boy looked frail; his bones were pronounced and I can tell from his eyes that hunger is no stranger in his young life but he was able to push the boxes which I'm sure are full of pan de sal since the jeep is now filled with its freshly baked aroma.
The jeep was not full but the boy was mindful of the 4 adults who shared his ride. Considerate that the boxes were not cramping the adult's comfort zones. Well into 5 minutes of the trip, he reached in the carton box and took out a pan de sal. He finished it in 2 bites and he was soon lost in the sights of the road. Just one pan de sal to start the day? I said to myself and go on scolding my prejudice based on an earring. I was compelled to move to his side and touch him when I handed him his "day's bonus". He gave the usual response these young businesspeople give me and that is, hesitance to accept the folded cash. These kids have a quiet dignity that tells me that they are not for sale or be pitied with alms. They earn their keep with hard work and with their pride, for whatever is left of a pride bruised by poverty.
I melted his defense when I said that it's an advanced Christmas gift. A rare smile and a sincere "Salamat po" came out of his lips and he turned away. I was ready to engage him in a conversation when he faced me sooner than I expected, only to catch me off guard with a question: "Ano po'ng pangalan ninyo?"
I never was asked for my name by any stranger whom I paid forward to, be it an adult or a child but this lanky little boy had the confidence to look me in the eye and ask for my name. I was the one who retreated in defense for a few seconds but his eyes had this light and we soon knew each other's names and were talking about his job as a pan de sal "runner". I can only wish I had the luxury to bring this boy named Brian to his destination and know more about him other than his job and how old he is. My minutes of hesitation took it's toll on my time with this rare boy. Brian, a 12 year old little man looking like a delicate 9 year old well armed with a confidence that is even absent with newbie college graduates in a job interview.
I carry my moment with Brian everyday, it is with a deep sigh that I raise his life to God. A sigh that is drawn from a pain of sharing a moment with a child of potential disabled by his lot in life. I can only pray he would rise above the challenges. I can only wish that parents of such children had a better opportunity in the provinces. I can only wish that parents of such children were educated on responsible parenthood. I can only wish that I can bring each child laborer for scholarship to Kara David's Project Malasakit, World Vision or NGOs with genuine advocacy but with the high statistics of child laborers, there can only be so few who can be supported.
I commemorate "Araw ng Kagitingan" with that short memory of Brian and the many children like him armed with their quiet dignity. The day of remembering the brave, also belong to them and the many determined Filipinos whom I meet in my crack of dawn commutes, to the many others whom I may not have the chance to meet but keep the struggle in the homefront alive regardless of the many obstacles. I can only hope and pray that none of them become moths to a flame lured by an illusion.
I invoke Eleanor Roosevelt's: "No one can make you feel inferior without your consent."
There is as much dignity in honest labor as with holding a title.
[Photo courtesy Philippine Children's Foundation.]