It seems that beyond Carl Ieuan Uba, a former member of the University of the Philippines (UP) Student Council (USC) and who served under the UP Diliman campus organisation Student Alliance for the Advancement of Democratic Rights in UP (STAND UP), recently called out as an alleged sex offender by a comrade, there are many more skeletons in the closet of the noble "activist" community of the UP.
Now, a certain Caevene Solas was called out by Carwyn Candila (a one-time — or could still be — spokesman of the communist-affiliated League of Filipino Students (LFS)) in a tweet for inappropriate behaviour during his time as a member of "the collective" at the De La Salle University (DLSU). In the same tweet thread, Candila elaborates on other incidents that "traumatized" his comrades…
As I went on to another collective, they were, coincidentally, [after they had "been accused, with clear and convincing evidence, of multiple sexual harassment cases"] moved to the same (instead of being imposed with harsher disciplinary sanctions). They have incessantly messaged me, convincing me to stay in the place where he also sleeps "to hang out."

Eventually, another case also broke within our collective where they have groped our comrade while fucking asleep.

The fear that I have felt in that moment, too—the idea that if that was also me being convinced to sleep there to also be groped, appalls me.
According to his Medium profile, Solas is a "non binary filipino activist-researcher and a cultural worker" who prefers to be referred to using the pronouns "they" and "them". "I write randomly about youth and people's movement and initiatives, social economy, sustainable development and wellness," Solas asserts.
And then there is Bin Balagtas. Twitter user "sher-anne" who, according to her Twitter profile, is Secretary-General of Kabataan Partylist Marikina in a tweet called Balagtas a "predator" who persistently invited her to "hook up". She further tweets…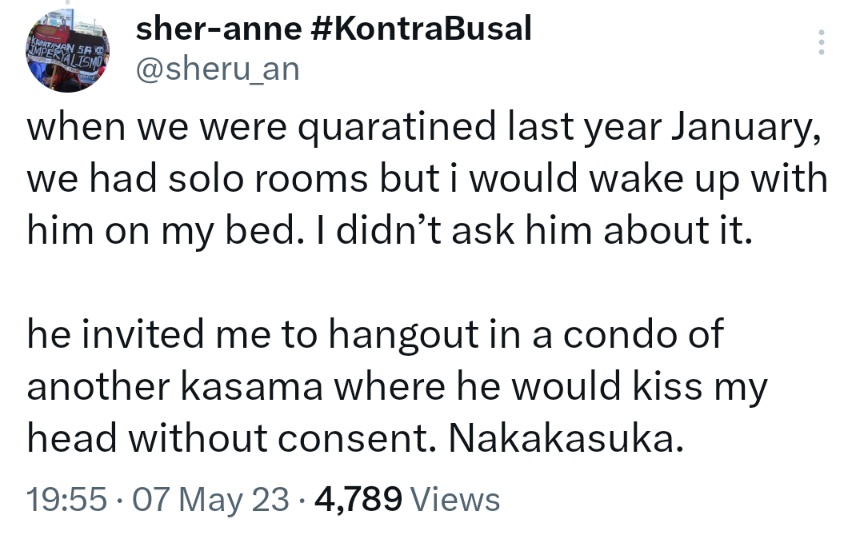 This could possibly be the Twitter account of Sher-Anne Rediang (Facebook profile here), a member of the University of the Philippines (UP) Samahang Linggwistika (fellowship of linguists).
One of the things that particularly infuriates woke "activists" is seeing their feelings "invalidated" by members of what they regard as the establishment. As "sher-anne" points out in a tweet, "parte na rin ng culture ng pang-iinvalidate sa concerns ng mga tao ang mapanguna ang teorya kaysa magprovide ng emotional support sa mga kasama" [translated to English: "part of this culture of invalidation of people's concerns is the practice of prioritising theory over emotional support for our comrades"].
As such, "journalist and educator" Danny Arao, a member of the UP faculty, walks into the proverbial minefield. Arao in a tweet issues what could be interpreted as a defense of said "establishment"…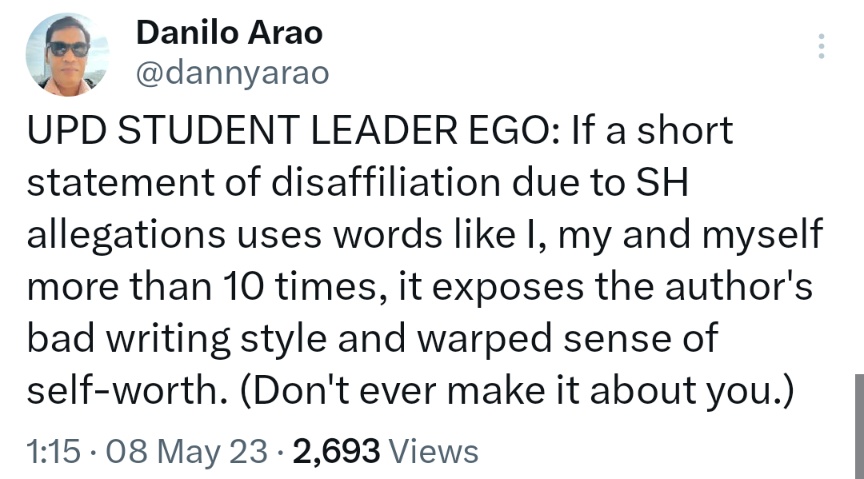 Arao adds further in a subsequent tweet, "Individual transgressions like [sexual harassment] may or may not be organizational responsibility. While we should be sensitive to the victims' trauma, it's still necessary to know the facts." It is interesting to note that this nugget of wisdom comes from one of the members of a community that have a rich track record of being quick to "holding to account" entire governments and demonising their top-level heads over incidents perpetrated by underlings without deeming it "still necessary to know the facts" first.
benign0 is the Webmaster of GetRealPhilippines.com.