As of yesterday, the 5th of May 2023, the COVID-19 pandemic is officially over — or so repeatedly declares the World Health Organisation. News outlets over the last 24 hours echoed the words of W.H.O. director general Tedros Adhanom Ghebreyesus who announced "It is with great hope that I declare Covid-19 over as a global health emergency…". In the Philippines, however, where a hospital stay for even just a day or two could bankrupt the average Filipino, the public remains gripped by panic.
Meanwhile, reality TV personality Bianca Gonzalez bared her frustrations over the persistent colonial mentality of Filipinos in a recent tweet….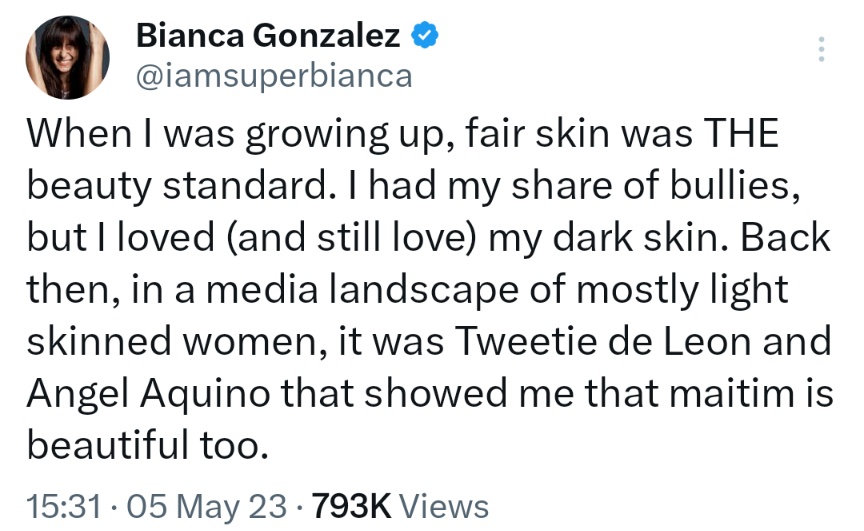 No doubt this endorsement of maitim (black) skin won't make even a dent in the Philippines' mega-billion peso skin whitening industry. The worship of fair skin is just too deeply-embedded in Filipino society. No less than the Belo Medical Group cosmetics empire of beauty guru Dr. Vicki Belo screams that even just 10 percent lighter skin equates to "100% sosyal".
What's the WHO announcement got to do with Gonzalez's championing of black skin? Well, both are small voices going up against the Goliath pronouncements of big name doctors. Indeed, the foremost champions of "small voices" themselves go to great lengths to call out these Goliaths.
Make no mistake, however. Seeking medical advice from licensed doctors remains the only real sensible option when dealing with health concerns. Indeed, between a reality TV star, a bunch of freaked-out ladies clucking about the "dangers" of no longer wearing masks on Twitter, and the words of renowned medical practitioners who would you believe, right?
benign0 is the Webmaster of GetRealPhilippines.com.