President-elect Ferdinand "Bongbong" Marcos Jr. ran under a "unity" platform and it seems he is making good on this. He is now putting together a diverse team to help run the new Philippine Government and has even included a strong economic team with a good number of noted and highly-qualified technocrats. This is contrary to Chief Yellowtard "Economist" and Rapplerette JC Punongbayan crowing some time back that he expects the Marcos administration to experience huge challenges cobbling together an economic team because "at least 273 of the country's leading economists backed ["vice president" Leni Robredo's] campaign".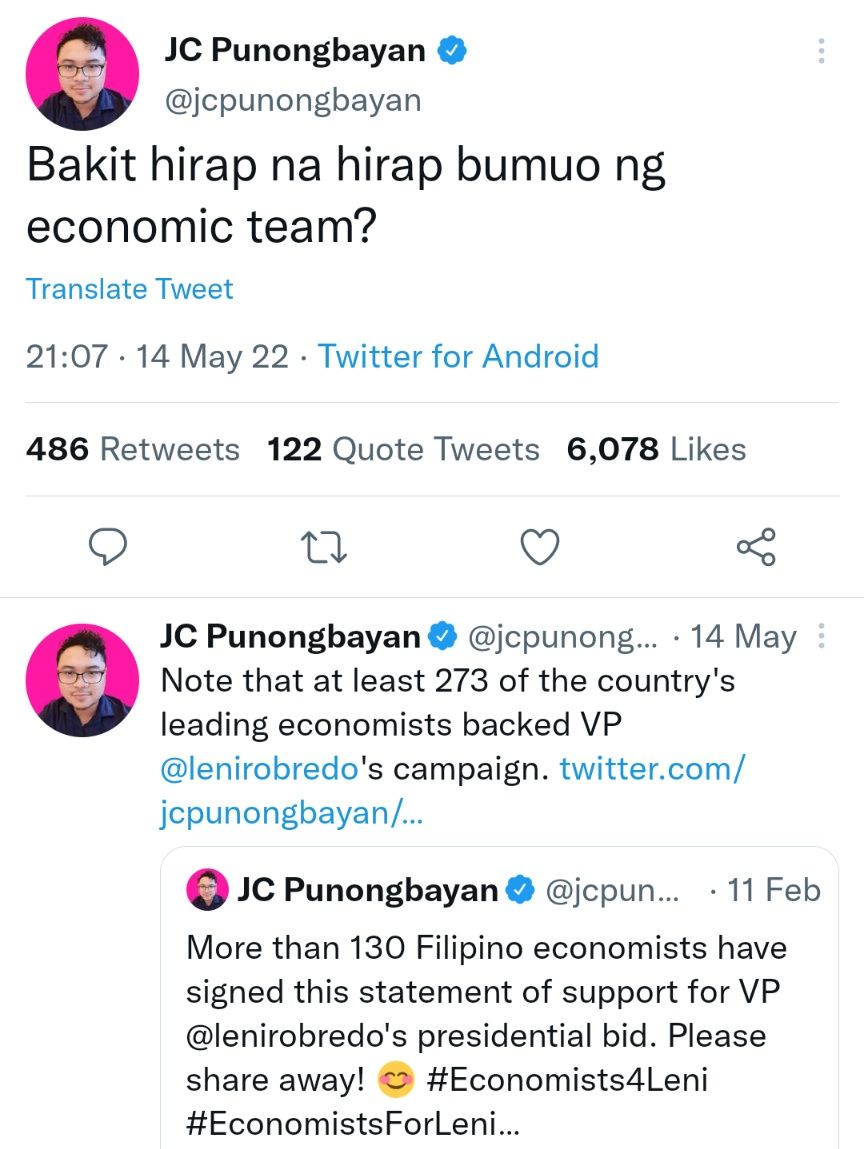 Punongbayan has evidently eaten his words (or, in this case, his tweet) since then. The Inquirer today reports "Business groups nod as Marcos forms economic team" noting that Felipe Medalla, former dean of the University of the Philippines (UP) School of Economics (Punongbayan's supposed alma mater), has been nominated Bangko Sentral ng Pilipinas (BSP) governor.
SUPPORT INDEPENDENT SOCIAL COMMENTARY!
Subscribe to our Substack community GRP Insider to receive by email our in-depth free weekly newsletter. Opt into a paid subscription and you'll get premium insider briefs and insights from us daily.
Subscribe to our Substack newsletter, GRP Insider!
Learn more
Local business groups on Thursday welcomed the economic team taking shape.

"They are all seasoned and competent economic leaders. We believe they would do good in managing our fiscal affairs," said George Barcelon, head of the country's biggest business group Philippine Chamber of Commerce and Industry.

Barcelon said such leaders were needed as the Philippines faced critical issues, such as the huge debt, budget deficit and the need for postpandemic reforms and programs to sustain recovery, among others.
Punongbayan's hastily-taken position on the matter of Marcos's economic team illustrates the whole trouble with his employer, "social news network" Rappler to which he contributes his "expertise" on matters of national economics. Rappler has long made no secret of its mission to be an agent for the undermining of any administration that is not friendly to its preferred partisan camp — specifically the Yellowtards under the banner of which failed presidential candidate Leni Robredo ran her ill-fated campaign.
In short, Rappler cannot be trusted to cover the administration of President Marcos with an objective lens. Its "news" team and panel of so-called "thought leaders" habitually backward-engineer "stories" from the party playbook and will likely keep their audience gaslit on the idea that Marcos is out to perpetrate "evil" over the coming six years of his presidential term. Given the challenges Filipinos face, a media organisation that has been found to be harbouring — and possibly concealing — links to foreign funding and influence is best kept out of the loop on government matters of national consequence.
There are also many other large, well capitalised, and highly-experienced media organisations in the country that employ mature and seasoned professionals. Rappler, on the other hand, is of questionable fiscal soundness and, worse, is staffed primarily by sophomoric amateurs who bob like little corks on a roiling sea of often misleading politically-motivated sentiment. It is thus not surprising that Rappler is, according to a Reuters-Oxford report, among the least-trusted news media organisations in the Philippines.
Indeed, it is a no-brainer. Why even bother with Rappler when it is essentially an inconsequential parasitical media organisation of questionable value to the public interest? There are limits to inclusivity specially when one considers an organisation with possible foreign ties, is headed by a US citizen, and that holds an extensive track record of propagating divisive — often seditious — messages. Rappler is free to compete for attention in the free market of ideas. Nobody is denying them that "right". However, it and its dishonest "reporters" are not entitled to privileged access to Malacañang which is now headed by a person they had, for many years now, viciously demonised at every turn.
benign0 is the Webmaster of GetRealPhilippines.com.