This is the vibe one gets when observing the desperate house-to-house campaign the Yellowtard camp of Leni Robredo are now mounting under her daughter Tricia's orders. The approach is one of condescension — as if they are on a Mission from God to evangelise the heathens. It is no different from the pretence of benevolence the Spanish conquistadores applied to their subjugation of what was to become the Hispanic world today. Perhaps it is no surprise that the elitist demographic that has come to characterise the Yellowtard camp behaves this way — because many of them are either descended from or continuing beneficiaries of the peoples of the Philippines' former imperial masters. Indeed, many of them are actually products of the remnants of that regime — the Roman Catholic Church, the cartel of chi chi private schools these vassals of foreign overlords run, and the fortified residential enclaves that protect their genealogical purity.
Whereas, Yellowtard partisans now humbly knock at the doors of Filipino voters they seek to "reach", there was, of course, no polite knocking involved when they exploited the cosy relationships their leaders enjoyed with Big Corporate Media oligarchs who have the power to push content into people's houses and personal spaces without the need to do any knocking. Indeed, that their minions now resort to knocking on doors serves as testament to how ineffective their trespassing had become. Not only have the Yellowtards' minions in mainstream media failed to deliver, the massive rallies and campaign stunts that aimed to boost the electoral fortunes of Robredo over the last several weeks had not moved the proverbial needle significantly. Only surveys conducted and reported by reputable polling firms serve as the most reliable measure of the effectiveness of any of the candidates' campaign. As such, no amount of claims on the back of crowd sizes that this or that municipality or city is "pink" holds water no matter how much Big Corporate Media outlets amplify that "information".
This week, "leaked" highly-pixelated slides of the much-respected Laylo Report have been making waves on social media. This recent report of theirs covers the 16th through the 22nd of March making it the most recent of the lot. The report continues to show administration candidate Bongbong Marcos enjoying a formidable lead over his closest rival Robredo. With 55 percent survey respondents according Marcos a "hard vote" (i.e. not likely to change) to Robredo's 15 percent and historical data since January showing no statistically-significant change in these results, it is clear that there really is not much else, barring discovery of a ground breaking campaign technique, the Opposition have to work with to change their fortunes over the remaining days.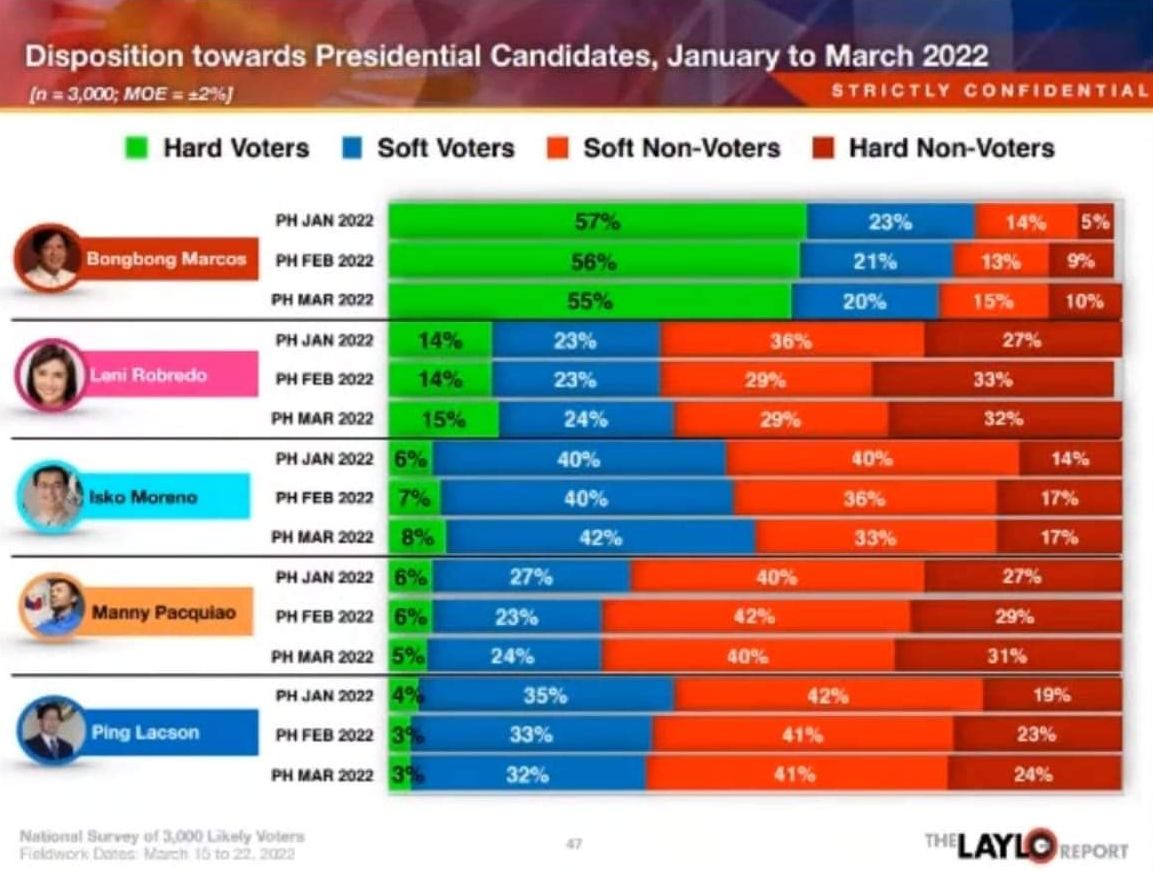 More important to note, however, is that even in their desperate hour, not much reform is evident in the fundamental messaging the Yellowtards use to communicate and engage with potential voters. The approach remains elitist in nature and condescending. The fact that this is a campaign and that the singular aim of such "conversations" is to persuade voters to convert is impossible to conceal. It also makes it doubly hard to come across as authentic when you've been telling them for months that they are mere victims of "disinformation" and "fake news" and suckers for "lies". After all, what does one have to talk about with someone who you regard as having made stupid choices short of telling them; "listen to me, I'm smarter than you", in order to be "consistent". Worse, having identified yourself with the Roman Catholic Church as if to say "God is on our side" makes it awkward as well to make a pitch to a fellow Church-goer who happens to support your rival. What then? Do you press on and challenge them on their faith asking "how could you presume to be a Christian if you support 'the dictator's son'?"
These are hard habits to break for Yellowtards. What is a Yellowtard left with to make a persuasive pitch to a Marcos supporter if their favourite two arguments — (1) we are smart and you are stupid and (2) we are "good" and you are "evil" — are now no-go-zones if one is to comply with Tricia's directive to be nice? Herein lies the fundamental reason why the Yellowtard campaign over the last two to three months did not delivery results and why, very likely, over the next 40 days it will not. It's a classic case of too little too late. The core foundation of the Yellowtard campaign persists — one that reeks of entitlement, judgement, and condescension. The stench of elitism just simply can't be purged from the Yellowtard campaign. Tinkering with the strategy at the fringes may change the initial flavour but not the bitter payload underneath any more than rallies of thousands bathed in pink will not reveal much to Filipinos other than demonstrate that one needs to be "pink" to be one of them. In short, Filipinos can easily see that Yellowtards are really not a very inclusive bunch. They lost two national elections over the last six years, which means Filipinos have had enough time to make their choices — despite being incessantly told they were "stupid" and "evil" over much of that time.
benign0 is the Webmaster of GetRealPhilippines.com.