The biggest losers in last night's debate at Okada Manila organised by SMNI News were the top Opposition aspirants for Second Place — Leni Robredo, Isko Moreno, Manny Pacquiao, and Ping Lacson. They missed out on an event that drew eyeballs and opened the door to presidential candidates that had for so long been unceremoniously omitted by Big Corporate Media. It was a breath of fresh air for Filipino voters jaded and weary of the vacuous ululations of crybabies who do nothing but whine about "the Martial Law Years", "trolls", "fake news", misogyny, attacks on "press freedom", and not doing enough to "help the poor". Cleared of all the noise of Yellowtardism and scare mongering over a "return to tyranny", the event opened a space for conversation about the truly important issues that keep ordinary Filipinos awake at night.
Not surprisingly, Opposition partisans were disappointed. They were expecting communist presidential candidate Leodegario "Ka Leody" Quitain de Guzman to "tear Marcos apart" in what would have, if they had their way, been more of a bardagulan (rumble) among participants. Instead, the panel did a good job fielding the sorts of questions fit for presidential candidates and fielded them equally amongst the participating candidates which included De Guzman, administration candidate Bongbong Marcos, former national security adviser Norberto Gonzales, and former presidential spokesman Ernesto Abella. In essence, apart from Marcos who already enjoys a huge lead over the rest, as various surveys conducted by reputable polling firms suggest, all participants had lots to gain from this event and came out winners.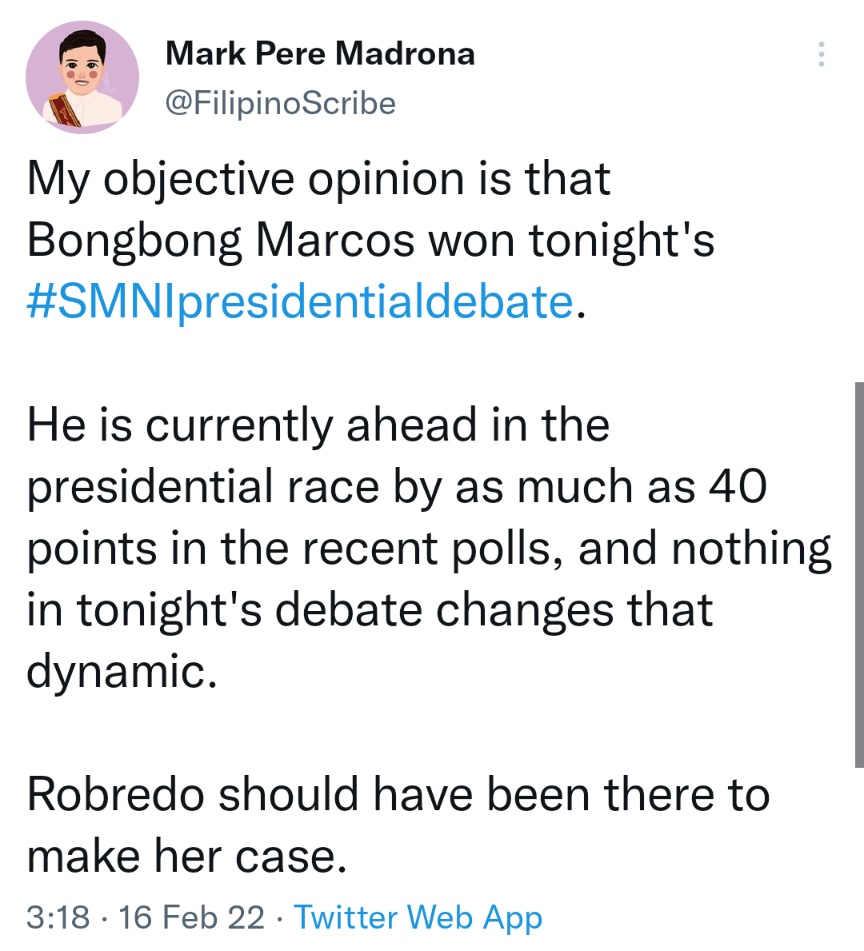 As for the expected grilling that Opposition Yellowtards and communists expected Marcos to cop, well, he did get it, but not from their "representative" of the moment on this occasion. Marcos — like all his fellow participants — was put through the wringer by the esteemed panelists which included, among others, University of the Philippines Professor Clarita Carlos, Manila Times chairman Dante Ang, former 5th District congressman and former vice governor Rolex Suplico, and SMNI journalist MJ Mondejar. The grillings the panel delivered equally across the four participants — credit to the moderation chops of host Karen Jimeno — effectively extinguishes accusations of "bias" thrown by Opposition "thought leaders" at SMNI News and the panelists of this event. Indeed, one can easily glean the dishonest intent in the mission Ka Leody was expected by his Opposition cheerleaders to accomplish last night in the sorts of commentary fielded on Twitter.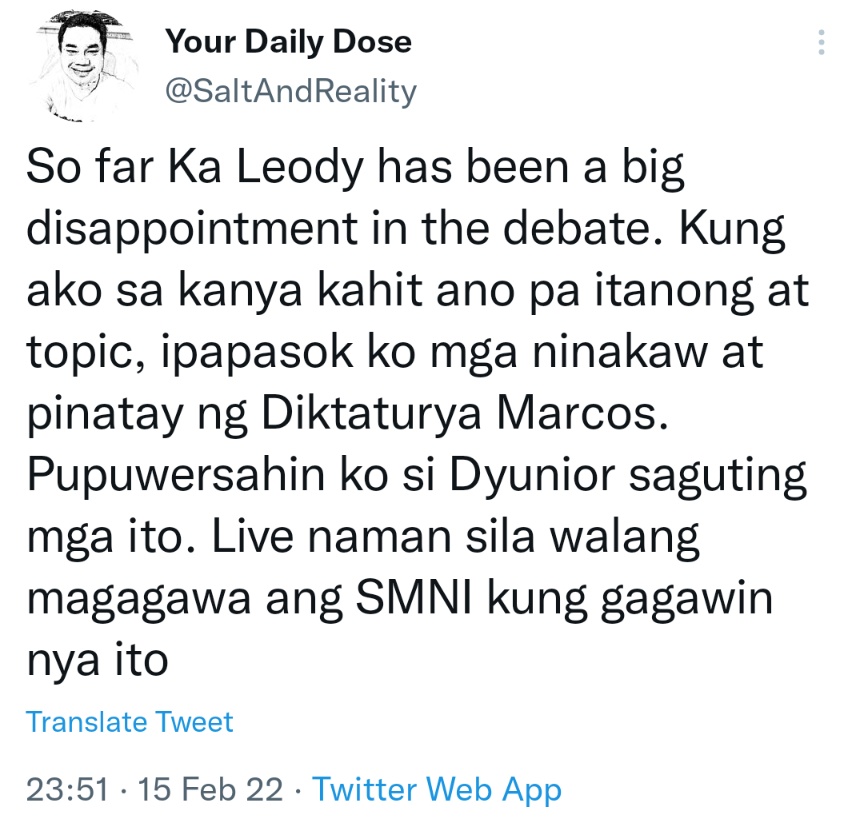 Evidently, the Yellowtards and commies would have preferred a chaotic free-for-all instead of the discussion among gentlemen that was on exhibit last night. This likely reflects on the candidates who skipped this occasion and ended up looking like cowardly chumps. That their supporters would egg Ka Leody to behave like a buffoon and run roughshod over the forum rules of the event just to be able to take a swing at one of the participants speaks lots about the character of the bloc of the Opposition represented by Robredo, Moreno, Pacquiao, and, perhaps to a lesser extent, Lacson.
To be fair, Ka Leody acted like a gentleman that night — perhaps because he was in the company of the same. He did so even when the hairy topic of communist terrorism was raised. Nonetheless, he was clearly out of his depth in the company of his fellow participants. Whereas the others were able to explore the topic from a broad perspective, Ka Leody only had his extremist ideology to work with. The manner with which he justified armed rebellion and terrorism only highlighted the elephant in the room that traditional Big Corporate Media routinely tiptoes around with regard to a communist presidential candidate — the reality that a guy like Ka Leody or any communist-backed candidate for that matter will likely not have really thought through what it means to be President of the Philippines and the commander-in-chief of its military forces. To which army will Ka Leody owe his loyalties to? The terrorist New People's Army (NPA) the armed "revolution" of which he evidently supports? How exactly can he fulfil his presidential role if he is a supporter of armed rebellion?
Of course the communist camp are not lacking a bench full of university kiddies supporting the lie that is the "people's revolution" they insist is being waged by the NPA in the hinterlands. This sentiment is captured by Ateneo-trained "sociologist", "outstanding scientist", and Rappler "journalist" Jayeel Cornelio who is quick to defend Ka Leody's pony show last night.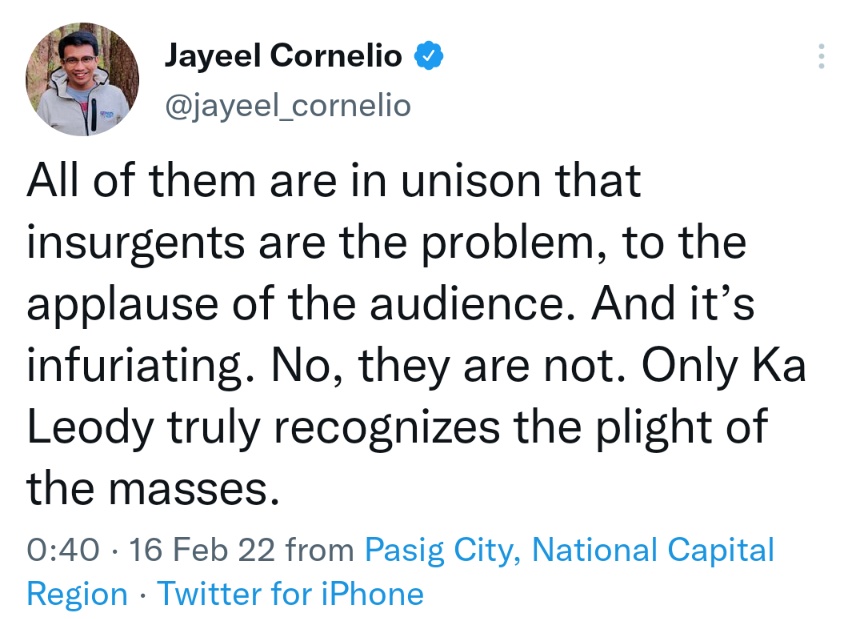 Indeed, one subtle thing achieved by this SMNI event is that it gave Filipinos the opportunity to see first-hand these elections' communist candidate letting rip his views on what a communist regime really intends for the Philippines. Ka Leody had no specifics to offer on what his foreign affairs architecture might look like. For that matter he had no specifics on just about everything a president needs to wrap his head around and get on top of as the Philippines' chief executive over the next six years. There was nothing Ka Leody could articulate that falls outside the narrow script that his crooked ideology allows him to draw from. As such, Ka Leody is no different to that group of pals he had been conscripted to "represent" last night — merely pretending to be "inclusive" but only within the terms of his obsolete communist orthodoxy.
The Opposition were loudly hoping that this debate would turn around their fortunes either (1) because Marcos would be left looking like a chump in an empty debate hall after their presumptuous "boycott" or (2) because their proxy Ka Leody would rip him a second one in what they thought would be an entertaining cockfight. None of those things happened last night and the Opposition were left looking even more like what this campaign have revealed their lot to be — pathetic puppets working off hollow rhetoric, keyboard brawlers lacking in grace and class, and a dishonest political force whose members harbour a perverted sense of entitlement to political power on the basis of their belief that they are the "good guys" in a battle between "good" and "evil" that is being fought only within the made-up world spun by their retarded imagination.
benign0 is the Webmaster of GetRealPhilippines.com.