In her latest video pushed out to millions of others by no less than Pinoy Big Brother alumna Bianca Gonzalez, showbiz starlet Angelica Panganiban shares some of her original insight on the sort of thinking Filipino Voters ought to be applying when choosing their candidate for the upcoming elections.
— Bianca Gonzalez (@iamsuperbianca) February 1, 2022
Panganiban's message is ironic because celebrity endorsements (whether that be of a product or an idea) are meant to evoke an emotional response and don't necessarily reach their audience's higher intellectual faculties — the ones used for critical thinking. Many are quick to point out that the idea of voting "wisely" is not new and Panganiban is merely "reminding" everyone of this important aspect of exercising one's democratic duty this coming May. However, the fact is, there is a reason Panganiban lending weight to this trite idea (and fellow celebs like Gonzalez further anointing these artefacts) is important. It is because celebrities possess the personal gravitas to evoke the strongest emotional responses from the most number of people. This is why they earn the big bucks.
Filipinos should "vote wisely" because, I, Angelica Panganiban, said so. This is basically how the starlet comes across to her audience who, in turn, lap it all up with glee. They are, after all, not called "fantards" for nothing. The reality of the human condition is that the inclination to defer to a person of perceived authority on a subject matter is instinctive. This is why cults are prevalent and why religion remains such a powerful organising force. Celebrities are cults of personality and fandoms are fundamentally religions at their core. Fans effectively protect their idols from any scrutiny that may boomerang on them. They do this with a fervour that is can also be observed in how religious zealots go on "crusades" to further the greater glories of their gods.
By presuming to preach the merits of critical thinking when making choices, Panganiban invites scrutiny. Thus the obvious question is raised: Does this starlet have enough credibility to lecture people on the science of making rational choices? In the above video, for example, Panganiban advises the madla to "closely examine those who seek to earn your affections". When said in Tagalog as Pangilinan does in the video — "kilatising mabuti ang mga manliligaw" — this alludes to romantic relationships.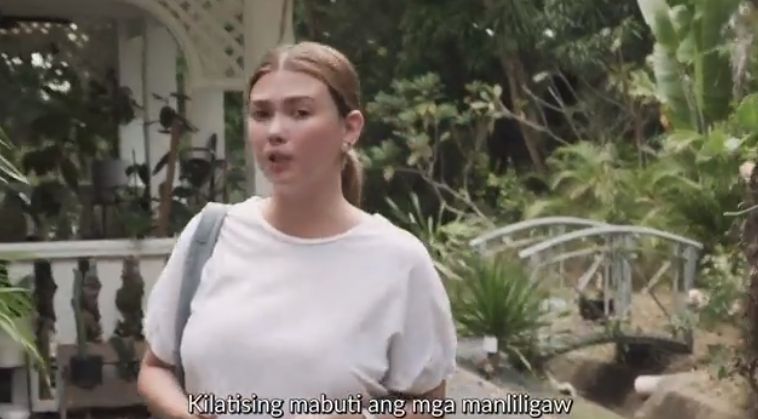 Do recall, however, that Pangilinan wasn't as lucid as she she is now when referring to her own experience with men. Just last year, Pangilinan shared this rather incoherent account of her personal struggles with matters of the heart and the sorts of angst these caused her.
"Parang di ko alam kasi sumuko din naman ako. Umabot din naman ako sa point na ayoko na. Parang nakakapagod na rin yung relasyon. Magsisimula ka na naman, kikilalanin mo, e-estimahin mo, pakikisamahan mo so parang hay nakakapagod yan tapos hindi mo alam kung ano yung pinapasok mo, eto na ba yun or masasaktan ka lang ulit? Para kang tumatalong… para kang mag-bu-bungee jumping or tatalon ka sa eroplano, ganun yung pakiramdam niya na parang, wala kung hindi ko ito gagawin manghihinayang ako. Choice siya eh. Lahat naman tayo may choice. Parang, ano bang gusto mo? Masaya ka na mag-isa o masaya ka na meron kang kasama?" Angelica Panganiban said.
All that might make a bit more sense (to some extent) when translated in English:
"It's like I did not know, I too surrendered. It got to a point that I did not want anymore. Relationships have become exhausting. You start again, you get to know, you size them up, you work at getting along; it's a lot of effort and yet you still don't know what you are getting into. Is this where you get hurt again? It's like a leap of fate; like bungee jumping or jumping off an airplane. That's how it feels like; like, if you don't do it you'll end up regretting not doing it. It's a choice, see. All of us have choices; like, what do you really want? Are you happy alone or are you happy being with someone?"
Not quite a lucid take on the human condition, right? It's a far cry from the contrived, scripted confidence she exudes in that politically-motivated video making waves all over social media today. Panganiban, after all, is an actress — evidently one who is good at memorising scripts but, perhaps, not as articulate when thinking on the fly. This is the whole trouble with the Yellowtard campaign. Filipinos see through the bells and whistles its strategists use as a smokescreen to mask the reality that it is all but bankrupt of substance and authenticity. One thing Panganiban's performance in the video succeeds at is in capturing the essence of the character of the Yellowtard campaign so well.
benign0 is the Webmaster of GetRealPhilippines.com.