One would think that a hearing conducted by the Commission on Elections (COMELEC) and presided over by one of its top officials, Commissioner Rowena Guanzon, would be above partisan politics. The COMELEC, after all, is an election governance body and the Filipino public accords it their trust under the premise that it maintains an objectivite distance from partisanship. Thus it is a baffling sight to behold seeing this noble agency reduced to being a party to the vilification campaign being sustained by the Opposition led by its dominant Yellowtard bloc against leading presidential candidate Bongbong Marcos.
One wonders why today's proceedings to review disqualification petitions against Marcos's candidacy were held up by his absence. Guanzon herself, in a tweet, led everyone to believe that Marcos's presence at the hearing was an absolute requirement.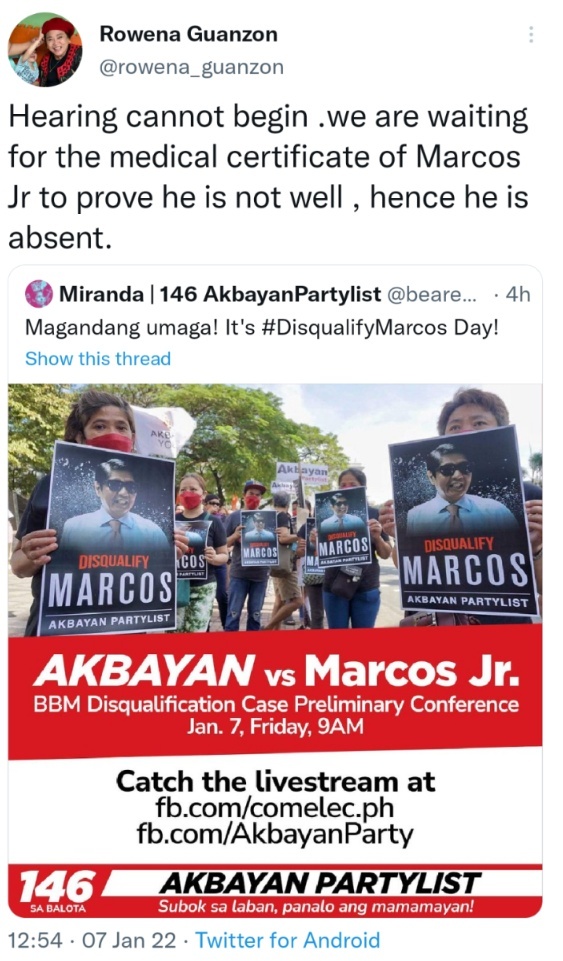 This was echoed by COMELEC spokesman James Jimenez as well in a tweet issued at about the same time.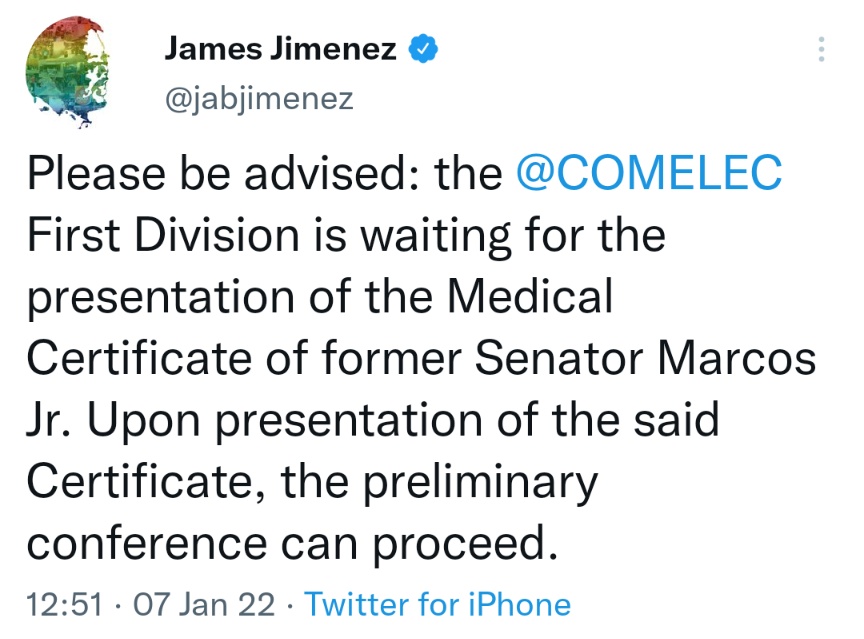 Note, however that a Manila Bulletin report published on the 4th January quotes Jimenez stating that Marcos and the petitioners "are not required to attend. This is usually attended by counsel only".
Guanzon also notably references a tweet issued by a member or supporter of one of the petitioner groups. The tweet exhibits images of partisan paraphernalia that expresses support for the disqualification of Marcos from these elections. That Guanzon would show this sort of partiality to one party in this hearing is inappropriate considering she is the presiding official in this exercise.
Thanks to the unbecoming actions of Guanzon and Jimenez, the COMELEC has become the source of a lot of social media chatter surrounding what is essentially a non-issue. Rather than contribute clarity to the discourse, this agency is sowing confusion! It raises the possibility that this case, which does not actually hold any legal water, was more an exercise meant to put Marcos through the wringer before the cameras. It explains why his presence (which actually wasn't required) was made out to be so important.
Guanzon, after all, is a known Yellowtard and many observers are adamant that she was privy to the real agenda of this proceeding — to lynch Marcos and use the outcome of that lynching to bolster the floundering campaign of Yellowtard presidential candidate Leni Robredo. If true, this is nothing short of a dastardly and dishonest initiative to be a party to and Guanzon and Jimenez ought to be ashamed of themselves.
benign0 is the Webmaster of GetRealPhilippines.com.