Think about this for a moment. There are hundreds of thousands of brilliant Filipino journalists many of whom go about their craft quietly and leave it up to their work to speak on their behalf. And then there is Maria Ressa. Maria Ressa gets to fly off to Oslo to receive her "peace prize", hobnob with a who's-who of wokedom's US-backed finest, and laugh all the way to the bank with more than a million dollahs in prize money. You gotta hand it to Maria Ressa. Well done. She's just the latest of many Americans who had come before her who had made a million bucks off their "little brown brothers".
In her speech in Oslo this weekend, Maria Ressa crowned herself "representative of every journalist around the world who is forced to sacrifice so much to hold the line". How much exactly has Ressa "sacrificed"? Doesn't seem like much seeing her standing before the cameras halfway around the world courtesy of her latest junket. She also has an American passport, which means she has a lifeline back to ol' Uncle Sam's embrace where Julian Assange, the man she threw under the bus to get where she is today may be extradited soon. Indeed, there is not much evidence — no facts — to support her claim before the world that the Philippines is a "war zone" or a piece of hell specifically reserved for "journalists".
Where then does that leave real Filipino journalists — you know, the ones who actually produce great works of journalism instead of making themselves the news? There are, after all, hundreds of thousands of them. The best of them publish brilliant very readable work on the Philippines' major publications and news outlets. They don't have as much name recall as Maria Ressa, but we know their work when we see and read them. Well, they will be left with a profession "represented" by Maria Ressa and her sophomoric team at Rappler. Never mind that Filipino journalism boasts an excellent tradition that goes back a hundred-odd years. They have Rappler which, along with its CEO, bubbled up to the surface of the muck that is Yellowtard chatter just nine years ago in time for the demonization of the late former Chief Justice Renato Corona in 2012 to represent them! Ang galing, right?
It is fascinating that Filipino journalists remain silent and take all this sitting down — an American bubbling up from the ground and taking home (to America) what is purported to be the first Nobel "Peace Prize" of the Philippines. Is this "prize" really for Filipinos to behold? Take a careful look at Maria Ressa and what she really stands for and the answer to that question may not be as clear as her sponsors would like it to be for the rest of us.
Ressa may not have meant to say the following in irony but it would drip with it if read by anyone else…
I've said this repeatedly over the last five years: without facts, you can't have truth. Without truth, you can't have trust. Without trust, we have no shared reality, no democracy, and it becomes impossible to deal with the existential problems of our times: climate, coronavirus, now, the battle for truth.
Indeed, you can't have trust. Ressa is spot on on that one. Recall a report published by the University of Oxford and the Reuters Institute last year that shows Rappler at the bottom of a ranking of the most trusted media brands in the Philippines.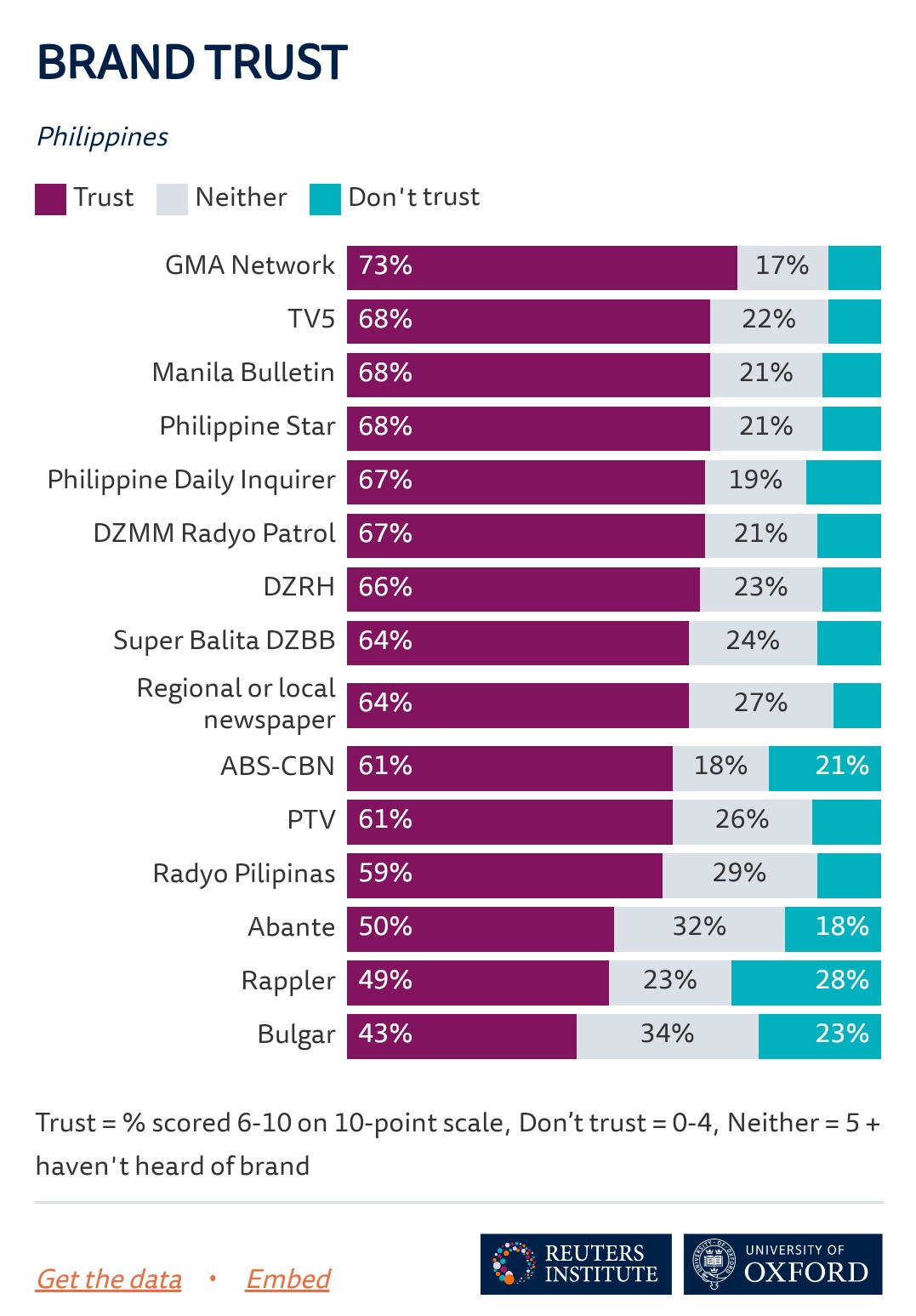 It is likely because, as Ressa points out herself, there are no facts and, therefore, no truth in all the bad things she says about the Philippines and its government.
benign0 is the Webmaster of GetRealPhilippines.com.