The Fourth Quarter 2021 Social Weather Survey report reveals that "93% of adult Filipinos" are "entering the New Year with hope rather than with fear." With 2022 being an election year, these figures could be interpreted as an indication that Filipinos have confidence in the abilities of politicians most likely to be elected next year. This is also important insight for Opposition camps that are using fear and hate as cornerstones of their campaign.
This tweet by Chief Yellowtard "Economist" JC Punongbayan pretty much encapsulates the Opposition hate campaign.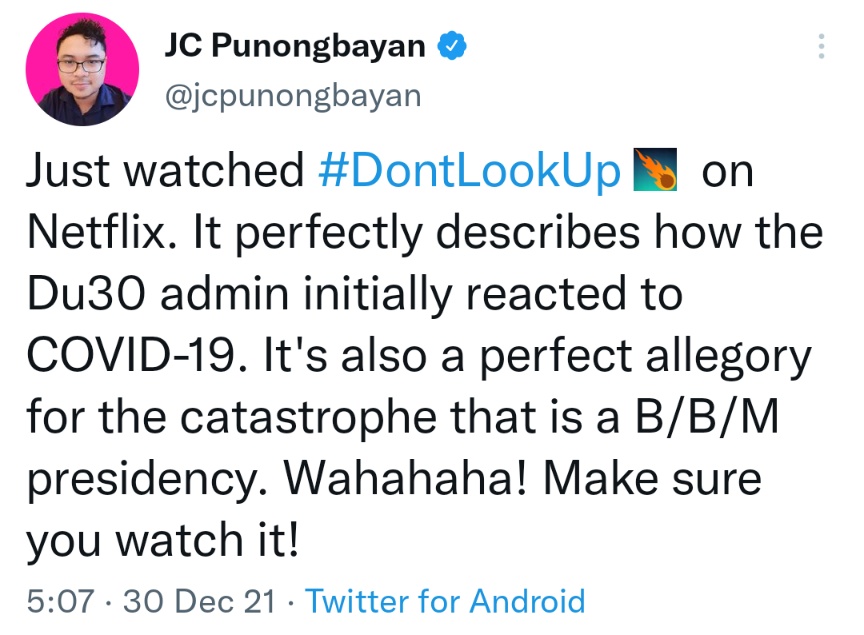 By asserting that if administration presidential candidate Bongbong Marcos wins the election on May 2022, the Philippines will be a disaster area over the next six years, Punongbayan is demonstrating an intent to crush the hopes of the 50+ percent of Filipino voters who plan to vote for Marcos. Surveys conducted by more than a few reputable polling firms have consistently yielded figures that affirm this prognosis and even notable "thought leaders" of the Opposition camp have expressed dismay over the failed campaign of their preferred candidates.
The fact of the persistent formidable lead of Marcos and his running mate Sara Duterte combined with the general positive outlook a large proportion of Filipinos hold for the future should prompt reflection among Opposition partisans, specially influential ones like Punongbayan. Is it really wise to be belittling — even insulting — the personal preferences of a huge bloc of voters that their campaign ought to be taking all efforts to engage with and possibly even convert?
For that matter, whatever partisan camp one may happen to associate with, what value is there in painting a hopeless picture of the future? Elections are supposed to be an exercise that attracts hope — hope that the next leader will carry on what worked well over his predecessor's term and hope that he or she will break further ground to build upon all that. To summarily write off that hope for political ends is the work of the sort of people who routinely fail to understand the whole point of democracy.
The whole point of democracy is that certain decisions that are of national consequence (such as who gets to be president) are entrusted to voters. Who or what attracts the most votes determines what happens next. If, as Punongbayan predicts, a "catastrophe" awaits the nation if the people's choice wins, well, so be it. That's just democracy being democracy.
benign0 is the Webmaster of GetRealPhilippines.com.