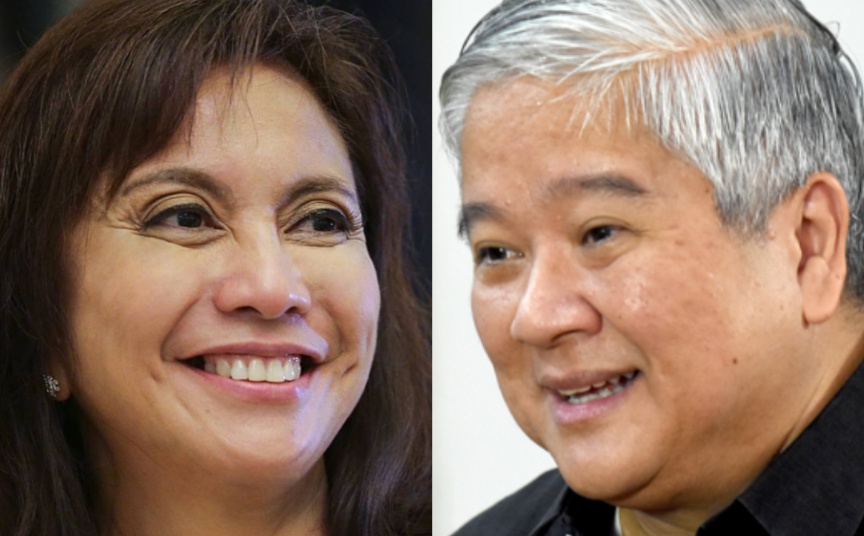 Days after news of Leni Robredo's statement encouraging her kasambahay audience in a household servants' forum to take bribe money from politicians exploded in her face, Opposition partisans continue to defend their "leader". James Jimenez, spokesperson of the Philippines' Commission on Elections (COMELEC) had already issued a statement on the matter confirming that vote buying is an election offense and that voters should not be offered a suggestion otherwise. Nonetheless, the desperation of the situation surrounding Robredo's bid for the presidency is such that her supporters will go to great lengths to bend, stretch, and twist logic and reason in order to make their preferred candidate come out on the right side of their perverted sense of "morality".
The most high-profile defense of Robredo came from Roman Catholic Archbishop Socrates Villegas who, in a video posted on Facebook, assured the Filipino faithful that they should accept bribe money from politicians "if they are hungry or in need" so long as they do not fulfil the condition of the bribe. In short, Villegas is telling Filipinos that poverty is an excuse to commit crime. As an archbishop, Villegas essentially gives the Church's blessings to Filipinos to accept bribe money from politicians on one hand and then, on the other, states that "you are not obliged to fulfil an immoral [and/or] illegal contract". This is in direct contradiction with a basic tenet of just about every modern liberal society on the planet; that the law applies to all — not only the rich, not only the poor but to all.
Villegas caps his video with this astoundingly crazy bit of logic:
Choose God, not the candidate who wants to insult you by buying your vote and saying to you, "may presyo ka, alam ko kung magkano ka" ("you have a price and I know what your price is"). Isagot mo sa kanya, ang presyo ko ay ang katawan at dugo ni Kristo ("Answer that person, my price is the body and blood of Christ"). I am priceless.
It is evident that the only people really insulting Filipinos here are Leni Robredo's supporters and none other than the country's top Roman Catholic official. They would rather believe their own lies and the perverse logic they invoke to prop up those lies than respect their own country's election laws. Worst of all, they are dragging into their crooked politics no less than the mighty Roman Catholic Church which, to be fair, has long been complicit in keeping Filipino minds so addled by nonsensical dogma as to be completely susceptible to their politicians' toxic influence. Communist senatorial candidate Neri Colmenares sums up the so-called "pro-poor" philosophy that is at the core of this bizarre culture saying in a tweet (translated by this writer), "let us not pass the burden [of accountability] to the voters because, to begin with, they should not be offered money during elections."
This habitual absolving of people of any personal accountability just because they are poor is at the root of why the Philippines remains an impoverished country today. To people like Villegas, Colmenares, and Robredo, there is always a higher power to blame for the poor fortunes of ordinary Filipinos — essentially assuring members of their flock that they are under no obligation to uphold what is right and own up to what is wrong because they are powerless in the grand scheme of things either way. This is absolute loser mentality that Filipino Opposition "thought leaders" are propagating — far worse than the "fake news" they keep screeching about (perhaps to distract us from their own idiocy).
One can only imagine the sort of messed up society the Yellowtards, the communists, and their henchmen in the Roman Catholic Church would oversee if given the reins of power. Oh wait, we've already seen their handiwork. It's been on exhibit in all its prayerful glory over the three decades post-2016!
benign0 is the Webmaster of GetRealPhilippines.com.