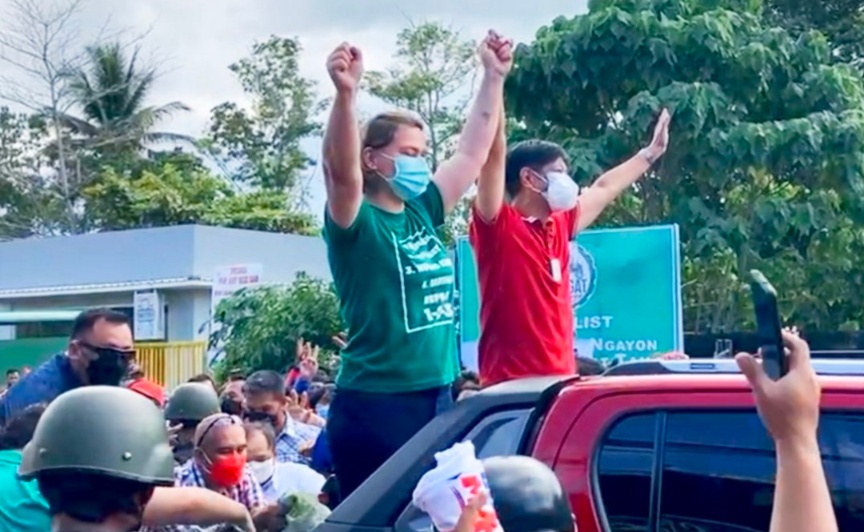 Why should Bongbong Marcos continue his campaign? He has been leading in all the popularity polls for years without lifting a finger, without having to be visible, without having to engage in publicity stunts, without having to do pa-kuwela things on TikTok. Marcos supposedly lost the vice presidency in 2016 in what we are led to believe was a neck-and-neck race against Leni Robredo. Yet, following that, Marcos's popularity numbers persisted. Robredo's, on the other hand, vanished mysteriously — as if her popularity never existed. It leads us to wonder now: Did Robredo actually garner the votes to pose a challenge to Marcos back in 2016 to begin with, much less beat him? The answer to that question will be shrouded in mystery forever just as the murder of Ninoy Aquino Jr. in 1983 remains the same despite his widow and then his son becoming presidents in 1986 and 2010 respectively.
Now, despite Robredo and other Opposition candidates enjoying two- to three-month head starts in their respective campaigns, Marcos continues to top the polls, specifically in two Publicus Asia surveys and one conducted by Social Weather Stations (SWS). Marcos topped them all despite Robredo and her "KakamPink" following mounting one of the shrillest campaigns in Philippine history. In his piece "There will be no cheating in May 2022" published on The Freeman, veteran columnist Jerry Suico Tundag warns…
SUPPORT INDEPENDENT SOCIAL COMMENTARY!
Subscribe to our Substack community GRP Insider to receive by email our in-depth free weekly newsletter. Opt into a paid subscription and you'll get premium insider briefs and insights from us daily.
Subscribe to our Substack newsletter, GRP Insider!
Learn more
When you are ahead and ahead this big, your greatest enemy will be your own self. Bongbong has to do something particularly crazy, stupid, and hare-brained to spoil and compromise his enviable position. The disqualification cases against his candidacy that are mushrooming left and right of him are the surest signs of a desperation by his enemies that can only stem from the realization of imminent losing.
Indeed, it is likely that the people who originally voted for him in the vice presidential race of 2016 form the bedrock of Marcos's voter base. It is likely that this bloc of original voters are so convinced that Marcos had been cheated out of the presidency back then that they are the most unlikely to be converted to other candidates. For this bloc of voters, there is still a score that needs to be settled. With a rock-solid base like that and what the survey numbers seem to be telling us is further growth on top of that means a Marcos presidency is all but inevitable. Even if the Yellowtards somehow manage to pull an extra-electoral derailment of Marcos's run towards the presidency (i.e. if at least one of the disqualification petitions they are lobbing from all angles manages to hit its target), the vindication of the Marcos's is all but sealed.
Tundag writes, "[disqualify] Bongbong and the next president will be very weak, not because he or she inherently is, but because we shall have weakened the only real foundation we ever had."
…May 2022 will pass judgment on the Marcos legacy through Bongbong. Let us allow that to freely happen. The other reason is that it is too scary to contemplate disqualifying a candidate enjoying such a lead as Bongbong has now.
Winning a basketball match because you had your opponent's best player kneecapped isn't very satisfying — an empty victory at best. Of course, sportsmanship and seeing a game resolved by the better team is just not how the ethical compass of the Opposition is calibrated. The Yellowtards, after all, want power at all costs, even to the extent of weakening or altogether destroying Philippine democracy. They've done it before. These elections makes it imperative for them to win at all costs. We will find out soon to what extent they will assure themselves that outcome.
benign0 is the Webmaster of GetRealPhilippines.com.