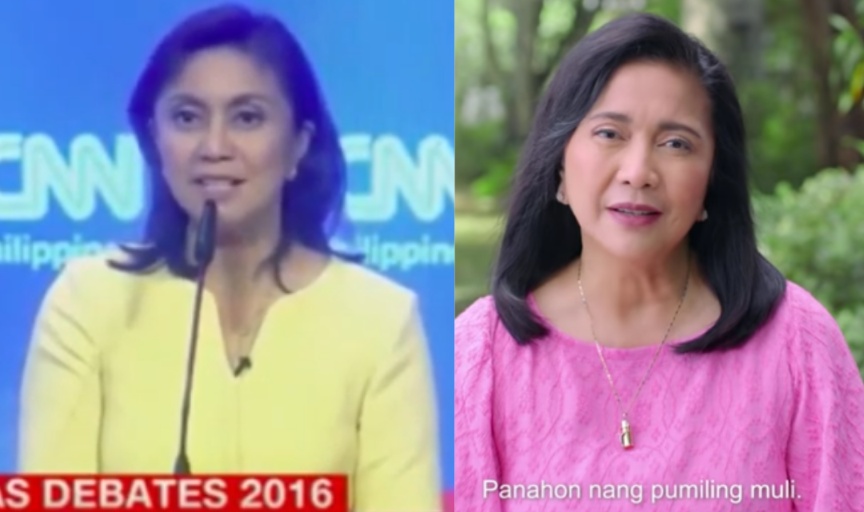 Looking at the most recent of "vice president" and presidential candidate Leni Robredo's recorded campaign videos, one can't help but wonder what it is exactly she thinks she is doing that could possibly convince Filipinos to vote for her. Does she think Filipinos want another mother figure? Because it seems that this is the sort of image she's trying to project nowadays having ditched her eye liners for the pa-concerned effect patronising squint and exchanging her slim-fitting suits for the frumpy maternal tents that give her the lump-like look we see today.
Reverse metamorphosis is what seems to be at work here. Rather than transform from a caterpillar into a butterfly, she's gone the other way, coming out of a makeover evidently engineered by her expensive campaign "strategists" looking more larval. Compare her look today to five years ago when a wide-eyed Robredo exuded a vibrant keenness to lead Filipinos and not the doting mother-hen figure she cuts today that could only appeal to Filipinos who prefer wallowing in victimhood over taking charge of their fortunes.
What sort of people does Robredo want to lead — a people who look to be mobilised to build a strong nation or a people looking upward with mouths agape in anticipation of their next ayuda fix?
Robredo's emotional appeal insults Filipinos who aspire to be independent, assertive, and prosperous by gaslighting them into believing that it is only a messiah that can set them down the right path. What is that "right" path, for that matter? Robredo, unfortunately, does not spell that out either and the answer to that question remains one of the biggest mysteries of her campaign.
benign0 is the Webmaster of GetRealPhilippines.com.