The Opposition are shittin' bricks over the implications of President Rodrigo Duterte being in a position to appoint people to the Commission on Elections en banc in February next year. Retiring by then are Chairman Sheriff Abas and Commissioners Rowena Guanzon and Antonio Kho Jr. and, in addition to those, there is one vacant position. Such is the chilling effect of all this on the Opposition — specially the "leading" bloc within it, the Yellowtards — that they are now calling for a "public vetting" of these appointments. This call for is unconstitutional because the Constitution already provides for duly-elected representatives to do that job.
SECTION 18. There shall be a Commission on Appointments consisting of the President of the Senate, as ex officio Chairman, twelve Senators and twelve Members of the House of Representatives, elected by each House on the basis of proportional representation from the political parties and parties or organizations registered under the party-list system represented therein. The Chairman of the Commission shall not vote, except in case of a tie. The Commission shall act on all appointments submitted to it within thirty session days of the Congress from their submission. The Commission shall rule by a majority vote of all the Members.
More important to note, however, is that back in the lead up to the 2016 elections, President Benigno Simeon 'BS' Aquino III and his cabal of Yellowtards were in power and guess who served as no less than COMELEC Chairman at the time — Andy Bautista. Bautista is clearly a lackey of the Aquino-Cojuangco clan. Upon his ascent to power in 2010, Aquino appointed him Chairman of the Presidential Commission on Good Government (PCGG) — an agency created in 1986 by Aquino's mother and then President Cory Aquino to hunt down cronies of "deposed" President Ferdinand Marcos.
While it is clear that Bautista was a trusted lieutenant of the Aquino-Cojuangco clan during his stint as COMELEC chief, evidence of his big personal stake in the success of the Liberal Party goes even further back. According to current Foreign Affairs Secretary Teddy Locsin, Bautista was also involved in Mar Roxas's senatorial campaign as an "adviser".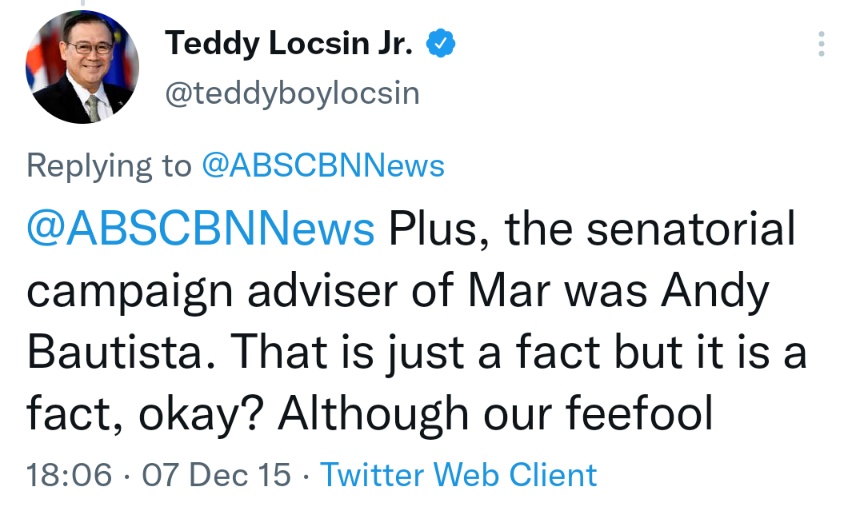 Bautista was also beset by allegations of being in possession of "ill-gotten-wealth" which many suspect could have been acquired as PCGG chief and possibly as COMELEC chair.
Patricia Bautista, the estranged wife of the Chairman of the Commission on Elections Andres Bautista, has submitted an affidavit disclosing evidence against the COMELEC chief that he has a total estimated value of almost P1 billion in money in banks, properties, interest and shares in companies established overseas that he did not declare in his 2016 Statement of Assets, Liabilities, and Net Worth (SALN).
Again, this is just another case of the selective "activism" of the Opposition who have nothing much to work with as far as a strategic vision for the Philippines beyond their traditional negative campaigning style. Like the way an empty drum makes a lot of noise and bounces up and down as it rolls down a hill, the Yellowtards are in the midst of a tililing rampage — randomly flailing over every morsel to feed their Martial Law Crybabyism and lashing out at any perceived slight against their latest hero-saint Leni Robredo. Truly a dishonest lot that one can only imagine would further set the Philippines back should they ascend power at any time in the future.
benign0 is the Webmaster of GetRealPhilippines.com.