Is the Ateneo de Manila Martial Law Museum so sacred as to be above any challenge to its legitimacy as an authority on what really happened over the period the late Ferdinand Marcos was president of the Philippines? Apparently so. In a tweet issued today, Manila Times columnist and former ambassador Bobi Tiglao, revealed that he had been banned by social media behemoth Facebook from posting any content, seemingly after he challenged an instructor there, a certain Miguel Paolo Rivera, on the subject.
Yesterday, Tiglao posted the following query on the legitimacy of this "Martial Law Museum" on Facebook…
Public query to the Ateneo de Manila University:

Is the "Ateneo Martial Law Museum" an authorized unit of the univeristy? I know of only one Museum in the University, the Art Gallery. (I remember the Observatory also had a museum, but it isn't open to public.) It's irrelevant [if] this Martial Law museum is "digital'. It is using the University's prestige as a academic institution with academic standards.
…to which neither the Ateneo nor Rivera have so far responded.
This is hardly surprising. The Ateneo has long been known to be a den of Yellowtardism (the ideology of "activists" rabidly loyal to the Aquino-Cojuangco clan). Indeed, the Ateneo has been reportedly linked to demolition campaigns against the Philippine government organised by the Yellowtards. In 2019, a series of YouTube videos dubbed "Ang Totoong Narcolist" emerged featuring a hooded figure named "Bikoy" who tagged President Rodrigo Duterte's family in the drug trade. "Bikoy" was later unmasked and revealed to be Peter Joemel Advincula who later testified he met with a number of members of the Roman Catholic clergy as well as former Education Secretary Armin Luistro and that these meetings "centered on how to publicize a story that the President's allies and family were linked to illegal drugs, to unseat Duterte, and to ensure the defeat of administration-backed senatorial candidates in the recently concluded elections." In his 27th May affidavit, Advincula reportedly "claimed that [Archbishop Socrates Villegas of Lingayen-Dagupan and former head of the CBCP] was present at a meeting on Dec. 12 at the Jesuit Residence at Ateneo de Manila University."
For its part, Facebook is policed by "fact check" partner Vera Files which is headed by Yellowtard "journalist" Ellen Tordesillas. When the "Bikoy" videos first emerged, Tordesillas was quick to blog about how the videos "look professionally done" and were "uploaded on You Tube and Facebook [under the] account of 'Metro Balita', which lists itself as 'media/news company'." A who's who of Yellowtard "activists" and influencers followed suit to share the videos. No less than then Inquirer editor John Nery himself issued rave reviews about the "Bikoy" videos, proclaiming "THIS is the real (video) scandal" as he too shared a link to the video.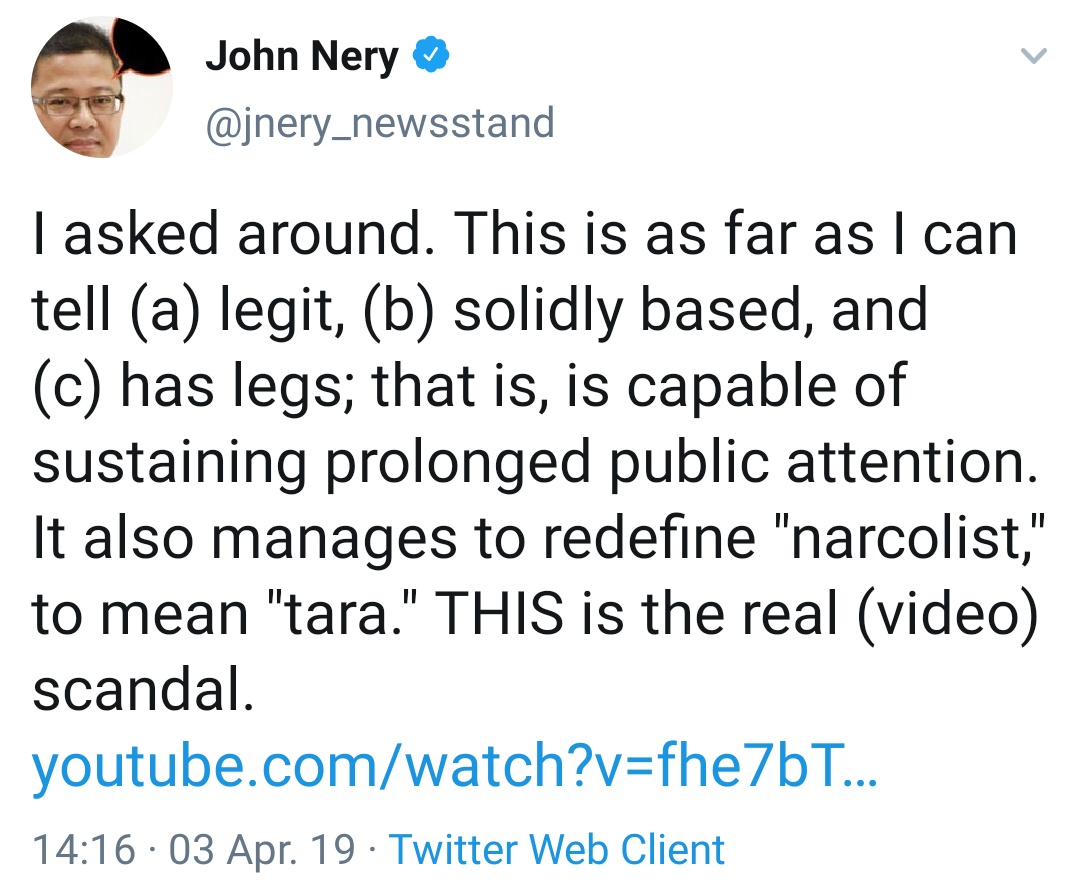 Tordesillas is also a staunch supporter of convicted mutineer and former Yellowtard "senator" Antonio Trillanes who Advincula later reportedly testified was among those behind the "Bikoy" job.
Advincula also said his claims were "orchestrated" by Sen. Antonio Trillanes IV and the Liberal Party, a claim immediately denied by an official official of the group and an ally of the lawmaker.
It is indeed disturbing that one single authority (or an "accredited" cabal of them) can summarily cancel content on Facebook with neither channel to challenge these cancellations nor room for the community of content publishers to police themselves. The clique of "fact-checkers" that VERA Files is part of is an inbred group within which mere beliefs are propagated and amplified and challenges to these summarily dismissed or ignored. I highlighted the bald dishonesty inherent to these cliques and the flawed logic such echo chambers produce in my article "Let us all please FACT CHECK the VERA Files 'fact check' on Drilon's dozing off incident on TV!" where I point out just how crooked VERA Files' approach to "fact checking" really is using the Drilon dozing off incident…
It is interesting to note that VERA Files used sources from only one side of the story — that of CNN Philippines and its contracted talent Pinky Webb. It did not even manage to secure a full unedited version of the footage and used a mere "screen grab" to "prove" that Drilon was, over the course of the brief footage, reading off documents on his desk. VERA Files had no third party to corroborate the "evidence" it presents — only itself and CNN Philippines and certain parties under its payroll. It seems VERA Files could not even be bothered to take a statement from Senator Drilon himself.

Furthermore, the footage used in this "fact check" was taken directly from the published and edited version of the interview.
This leads us to wonder how many more articles and how much more information that reveals similar disturbing facts are being suppressed by "fact-checkers" like Tordesillas and her VERA Files organisation. It is indeed ironic that Tordesillas and her ilk including "activists" and "thought leaders" of today's Philippine Opposition repeatedly remind people to be vigilant and routinely apply critical minds to the information they find on the Net. As it turns out, Tordesillas and her amigas are the biggest offenders. It's time Filipinos think twice about the trust they put in people like her and the camps she is allied with who claim to be the "decent" mob.
You wonder then why people like Tordesillas who had been caught many times spreading disinformation gets to be "fact checker" for Facebook. Even more interesting, the Ateneo itself along with Nery, Villegas, the CBCP, and Luistro have all so far copped no consequences whatsoever for their involvement in the "Bikoy" fiasco. That Tiglao would now be banned from posting on Facebook is an outrage that needs to be highlighted and the hypocrisy of those who crown themselves authorities on all that is "decent" in the Philippines be subject to long-overdue challenge.
benign0 is the Webmaster of GetRealPhilippines.com.