Who is really politicking? The administration or the Opposition? Professor Randy David writes in his Inquirer piece "Politicking in the midst of a pandemic" of President Rodrigo Duterte's address to the nation the other night saying that it is "insensitive, it is irresponsible, it is disheartening—and it leaves one wondering if the country's highest public official has any notion at all of the gravity of the ongoing pandemic, and how it is affecting every aspect of our people's lives."
No president in his right mind should use his weekly meetings with his COVID-19 team to talk about his political plans when he finishes his term. But that is exactly what President Duterte did last Thursday in his address to the nation. He laid out what he intends to do if he is elected vice president in 2022.
David, however, is being selective in his indictment of the Duterte government by cherry-picking an episode and expounding on it out of its proper context. Indeed, it is actually the Opposition and not the incumbent administration he should be picking on. It began in 2016 and never stopped — not even to unite the country to combat the pandemic. The Opposition is, in fact, responsible for vaccine hesitancy. If there was no vaccine hesitancy then we wouldn't be hitting record-high case numbers in the midst of the Delta-induced surge. Unfortunately, Opposition "influencers" like "social media expert" Noemi Dado who have tens of thousands of followers spread misguided opinions about vaccines that misled many people.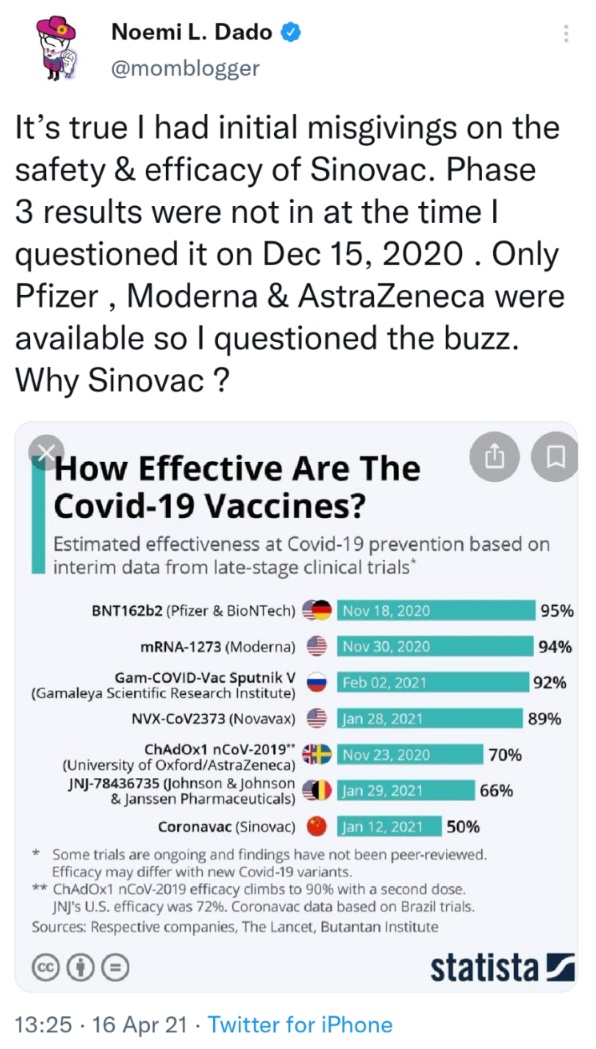 SUPPORT INDEPENDENT SOCIAL COMMENTARY!
Subscribe to our Substack community GRP Insider where you can opt to receive by email our more comprehensive and in-depth free weekly newsletter GRP Mail. Consider also supporting our efforts to remain an independent channel for social commentary and insight by sponsoring us through a small donation or a monthly paid subscription.
Subscribe to our Substack newsletter, GRP Insider!
Learn more
Make no mistake, though. The administration is also at fault to some extent what with Senator Bong Go allowing hubris to get the better of him. The Opposition is also responsible for this development because they made Go popular by linking him to anomalies and the stupid opposition Senators calling him to the Senate "in aid of legislation." When hubris hits you hard you begin to have delusions of grandeur like aspiring to become President.
I cringe at the thought of Bong Go as President. Majority of the public is of the same sentiment. The loyal aide is also dispossessed of gravitas. You cannot become President on the basis of "ang bisyo mag-serbisyo." Even if he graduated from the De La Salle University (DLSU), I don't think he has the intellectual capability to carry out the functions of the Presidency. You need to be politically-savvy to get legislation past Congress. Go's power emanates only from his role as gatekeeper. That's about it.
Those in the Opposition like David who believe that Inday Sara "Daughterte's" statement the other day is part of the family zarzuela are not giving credit where it is due. Sara does not embrace the reputation of being the subservient daughter. She is, in fact, the family's bastonera; the one who keeps everyone in line or makes them toe the line whenever they stray.
The revelations made at the Senate inquiry the other day landed Go in hot water. His reaction was to ask Health Secretary Francisco Duque to resign. That's code for being the fall guy. The problem with the Opposition is they make it appear that their hands are clean when there were also anomalies during their time. Corruption goes both ways. The only difference now is we're seeing more accomplishments because public funds have been cascaded and projects have been completed despite the nagging issue of absorptive capacity because of the bureaucracy. Whoever wins the Presidency should seriously address this.
The truth is the Ease of Doing Business Law hasn't achieved its purpose because the Anti-Red Tape Authority (ARTA) has been consumed by the bureaucracy as well. Before this law, departments and agencies already had citizens' charters but few were compliant. The perennial problem has always been enforcement. This is why the public should actually scrutinize candidates' platforms instead of falling for gimmicks like free housing for informal settlers and the usual PR stunts of traditional politicians like Vice President Leni Robredo. If you think that a Mayor with only three years of experience is qualified to become President you're dead wrong as well.
Platform of government is what's important in these very trying and challenging times. What we need is innovation and out-of-the-box solutions to the problems we face moving forward in living with Covid in our midst. We're now in the homestretch of the deadline for filing of certificates of candidacies. The political picture will get clearer in a month's time. The Opposition should buckle down and do its homework.
Cook wide reader political crackpot music afficionado old soul out-of-the box thinker aspiring writer tech geek gearhead