A source has provided us with the copies of what appear to be two collection letters sent by the US law firm of Foaley Hoag, counsel to the Government of the Republic of the Philippines in the arbitral case it filed before the Permanent Court of Arbitration at The Hague.
The letters clearly define the issue of Itu Aba as delineated by former Solicitor-General Florin Hilbay, in his rejoinder to former Senior Associate Justice Antonio Carpio on the matter of the case filed before the PCA against China, after the loss of Scarborough Shoal to the Chinese.
The letters are addressed to Solicitor-General Jose Calida, then Acting Foreign Affairs Secretary Enrique Manalo and Philippine Ambassador to Washington Jose Manuel Romualdez.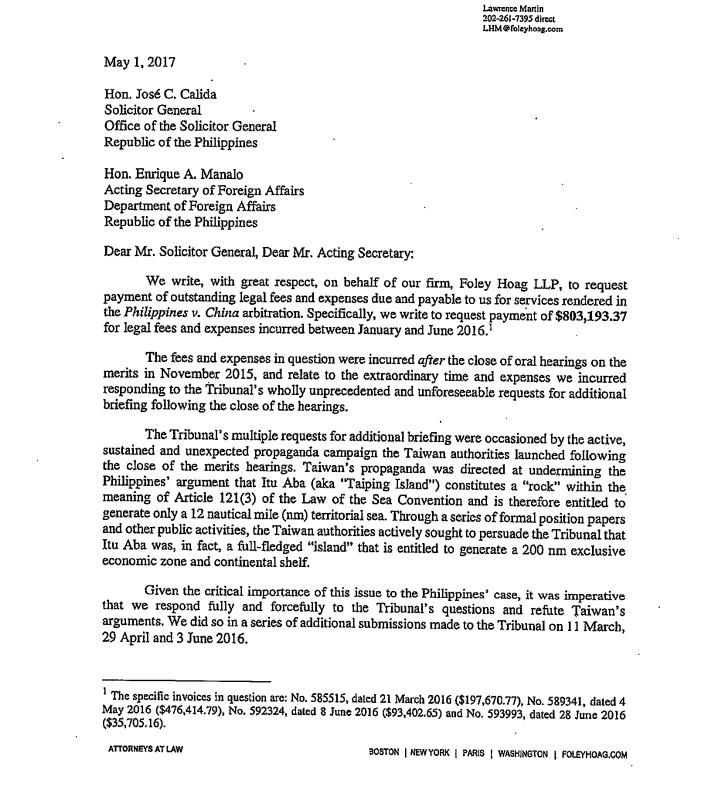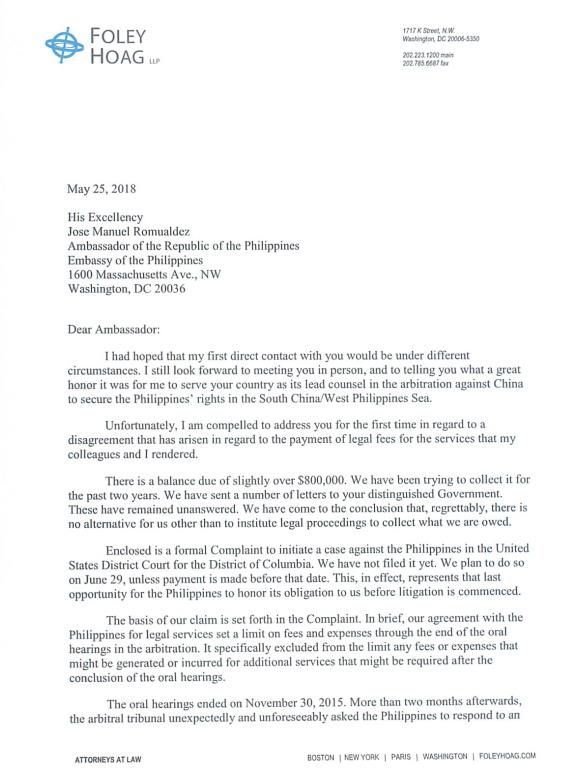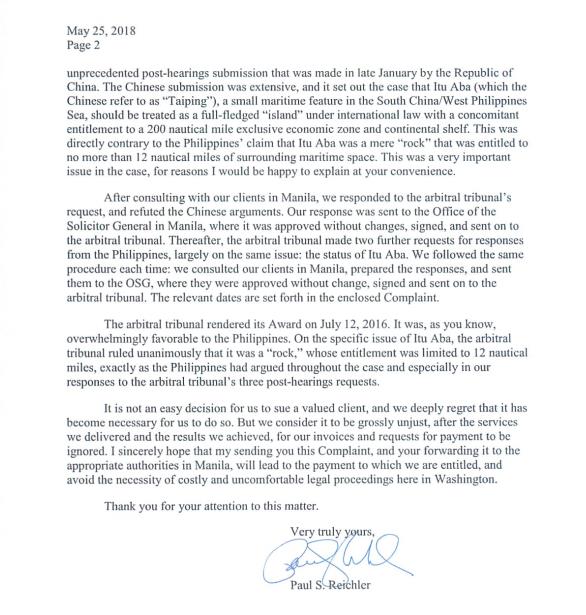 It would appear that the administration of then President Benigno Simeon 'BS' Aquino III failed to provide for payment of attorneys' fees in the national budget for the services rendered by Foaley Hoag. It seems to have come to a point where they resorted to a threat to file suit in Manila to collect on the amount owed them. The amount in question is $803,000.00. This is over and above what had been initially paid upon their acceptance of the case and other fees and expenses related to the same. There has been no public accounting of the cost of the case except for published estimates that it was well over one billion pesos.
Yesterday was the fifth anniversary of the arbitral "win" of the Philippines over China and the opposition and even the US Embassy in Manila, as well as the US State Department issued statements hailing it as historical and serving the cause of freedom of navigation in the South China Sea. We leave it up to you, our readers, to decide if we actually "won." There is also the matter of who really benefited from the case as it has been revealed by both Hilbay, and former Senator Antonio Trillanes, in the piece we ran yesterday, that then Foreign Affairs Secretary Albert Del Rosario, was calling the shots and not then President Aquino himself. Trillanes was taking his instructions from President Aquino but Del Rosario was also negotiating with then Assistant Secretary Kurt Campbell, who was in direct communication with Chinese Vice Foreign Minister Fu Ying.
As we have noted, the arbitral case has not had the desired result of the Philippines gaining back control of Scarborough Shoal. In fact, the arbitral panel ruled that it should be for the joint-exploitation of China and the Philippines without mention of sovereignty. This, despite the undeniable fact, that it had been under our control before 2012.
There are parties who continue to hide the truth from the public and are conditioning their minds to believe that it is a "win" when in truth and fact, it is not.
benign0 is the Webmaster of GetRealPhilippines.com.