A "news story" authored by "reporter" Elijah Felice Rosales was put out by the Philippine Star yesterday on its front page practically screaming as "fact" that the Department of Finance hired a "fake Facebook account operator". Then Rappler picked it up and amplified it on social media linking to its own version of said "news" in a piece written by "reporter" Gelo Gonzales titled "DOF hires Nic Gabunada, operator of fake network on Facebook – report". Note the tail-end of the title "– report" used by Rappler. It is short for declaring that they are quoting a "report" in their own "report". This is an example of dishonest journalism begetting dishonest journalism!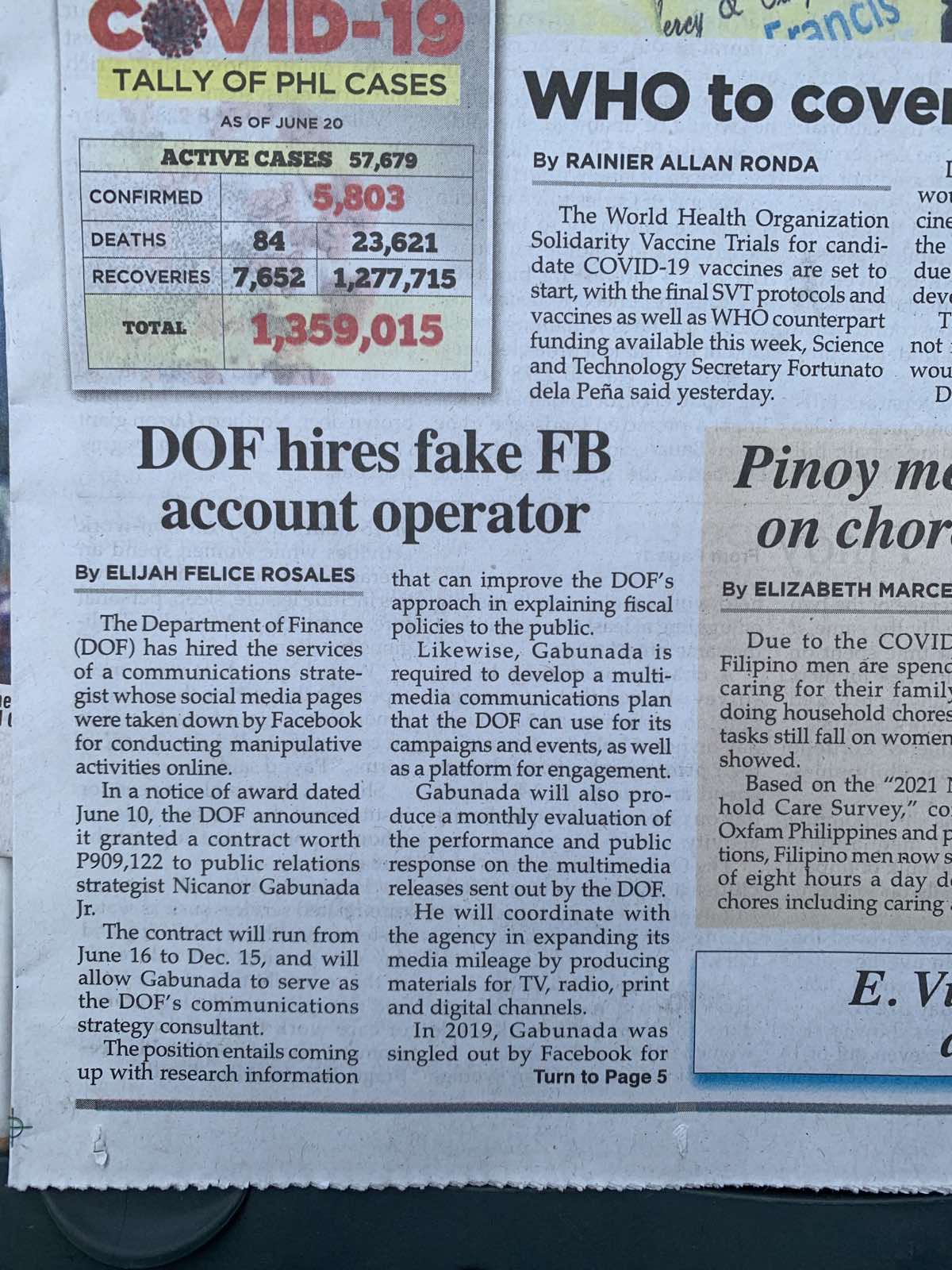 It isn't normal practice among news outlets to pick up each other's stories much more headline stories but, in this case, Rappler probably thought this was too good to pass up specially if they don't have a reporter covering the Department of Finance (DOF) beat.
The contract awarded to Gabunada wasn't anomalous. The DOF has a rigorous procurement policy which requires all bidders to register with the Philippine Government Electronic Procurement System (PhilGeps). It also makes sure that each bidder has their documentary requirements, specially with the Bureau of Internal Revenue (BIR), in order. This is true for both individuals and corporations. The only fact in the story was the page takedowns. Every social media operator knows that at that time, Facebook didn't have a page transparency policy. One could be made an admin of a page without knowing it unlike now when a request is sent to the individual and the latter has the option of accepting or declining.
It is evident that Rappler's and the Philippine Star's purpose was to rile the public again about trolls. The reality is both sides of the political fence have trolls working for them. If you want to look at it from a broader perspective, the individuals who are politically active on social media are also trolls by definition. What sets apart trolls are those who are paid and unpaid.
It's a fact that the Presidential Communications Operations Office (PCOO) under Martin Andanar has fallen short of its mandate. Five years into the administration, the state-owned communications machinery is nowhere near where he promised it would be close to, which is the BBC. The administration has had to contend with a well-organized black propaganda campaign here and abroad. This is not the first time the Star ran a malicious story. Previously, Prinz Magtulis's story about anomalous China loans to the Philippines was rebutted by no less than DOF Secretary Carlos Dominguez in a letter to the editor. The Star took down the story because it wasn't based on mere speculation and innuendo. Dominguez has taken pains in the transparency initiative of his department because it is the clearinghouse for revenues and expenditures and is at the forefront of the country's economic strategy and policy.
It now appears that the basic tenets of journalism about facts and objectivity have been thrown out the window. Facebook is publicly-held company with an end-user agreement. In this particular instance, according to the Star and Rappler, Gabunada was tried and found guilty by a private entity and not a court of law. Given Facebook has billions of users worldwide, the basis for being dooms to be in violation of community standards is largely dependent on an AI algorithm that works off parameters defined by Facebook as well.
It has become common journalistic practice these days to spin news stories to fit a narrative being sold to the public. Lat week, Sen. Panfilo Lacson claimed an Undersecretary in one of the departments was forming a troll army against opposition candidates for 2022. Lacson didn't offer any proof. Yesterday, it was Senator Tito Sotto's turn. He made a public statement about Facebook shutting down troll accounts in the Philippines for the duration of the election cycle. Social media platforms have given individuals the opportunity to make their sentiments about issues known. Is it democratic to immediately label people who do so as trolls? The best example of inconsistency is Maria Ressa. Rappler started out in 2012 as a "social news network". That was Ressa's description of what was then a startup media channel. It had since gained popularity or notoriety, depending on which side you're on, during the impeachment trial of the late former Chief Justice Renato Corona. The result was Ressa's libel conviction from a case filed by Wilfredo Keng.
Ressa was very much an advocate of social media first before she turned around and described it as evil. It was also she who pioneered in fact-checking. This had other media outlets questioning who died and made her Queen of Philippine media? Rappler has now deteriorated to the level of a propaganda mouthpiece for the Opposition. The Star, for its part, is controlled by Manny Pangilinan, an oligarch who is not a fan of President Rodrigo Duterte given his woes with PLDT-Smart and Maynilad under his administration. If this is the new standard of journalism in the country, doesn't the government have the option to get its message across to counter propaganda with facts?
Secretary Dominguez is caught between a rock and a hard place because when the President needs money, he turns to him. At the same time, it's also his job to raise money either through tax collection or borrowings or both. Businessmen were wary of a Duterte Presidency because of his lack of knowledge about the economy. Duterte was humble enough to admit wala akong alam diyan. But he was also wise enough to give the economic portfolio to Secretary Dominguez.
It is no wonder then that media is not winning any public support because of their obvious bias against the administration. It has been over a year since the closure of ABS-CBN due to the expiration of its franchise and Congress voting not to grant it a new one but there has been no revolution and no suppression of the freedom of expression or press freedom for that matter. What does it say of Rappler when it is also the first to violate the tenets of journalism? Simply that Maria Ressa is a hypocritical hack who is being funded by vested interest groups here and abroad.
Cook wide reader political crackpot music afficionado old soul out-of-the box thinker aspiring writer tech geek gearhead