June 12 may be just eight days Way but it may as well be six months from now. In just the last ten days since dominant Opposition coalition 1Sambayan announced its plan to announce its candidates on what some people believe to be the Philippines' "Independence Day", Davao City Mayor Inday Sara Duterte has pretty much been crowned the administration presidential candidate for the 2022 national elections. And over those ten days, no less than three vice presidential candidates have emerged from the woodwork; former Senator Bongbong Marcos, former Defense Secretary Gilbert "Gibo" Teodoro, and Inday Sara's father and current President Rodrigo Duterte.
What can happen over the next eight days? Very likely a lot more than what happened in that last ten. One thing's for sure, however, 1Sambayan will continue to keep Filipinos waiting. They are caught between a rock and a hard place. Whether they back one candidate or another, they will not win against the administration camp. This is particularly considering that they have not changed a key pillar of their messaging, their anti-Duterte rhetoric — a drum they've been beating since 2016, through their catastrophic loss in the 2019 midterm elections, and now as they approach the runway to 2022. The mediocrity of the Philippine Opposition is captured in a tweet recently fielded by Opposition personality and convenor of the partisan group Kaya Natin, Harvey Keh…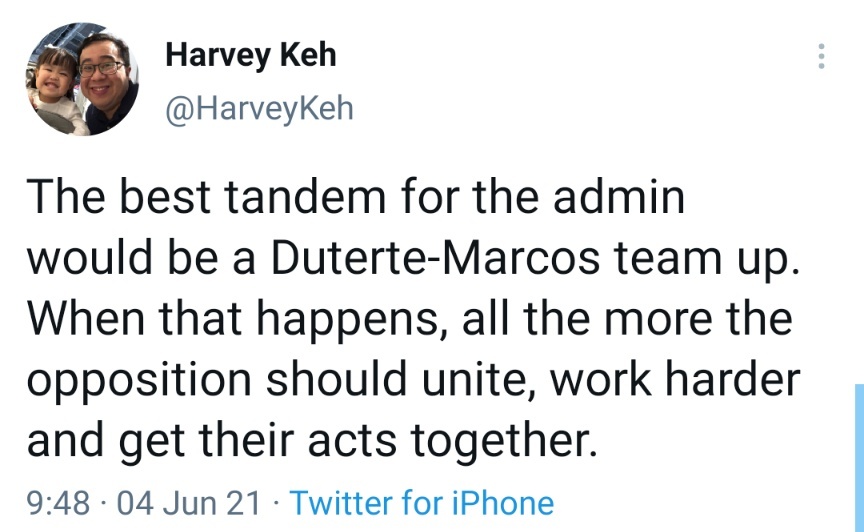 Evidently, the notion of an Opposition that should have had its act together and been working hard on strategic intent long ago to begin with routinely escapes Opposition "thought leaders" like Keh. Really, their lot should stop being merely reactive (specially to admin camp movements) and be a bit more proactive around a compelling and competing vision for the Philippines — if they can come up with one. If not, all they are really defining themselves and any candidate who runs under their banner as is an anti-[insert admin candidate here] force and not much else.
Thing is, even the lazy option to be merely reactive is not something 1Sambayan is in a position to enjoy given that it seems committed to remain tight-lipped until our so-called "Independence Day". Meanwhile, the community of Opposition social media "influencers" and institutional "thought leaders", lacking any guidance or unifying leadership, will continue to be the loose cannons that fire words and messages that do nothing to erase the yellow political shade that stains pretty much the entire Opposition camp and, worse, only further degrades the already failed brand of 1Sambayan.
benign0 is the Webmaster of GetRealPhilippines.com.