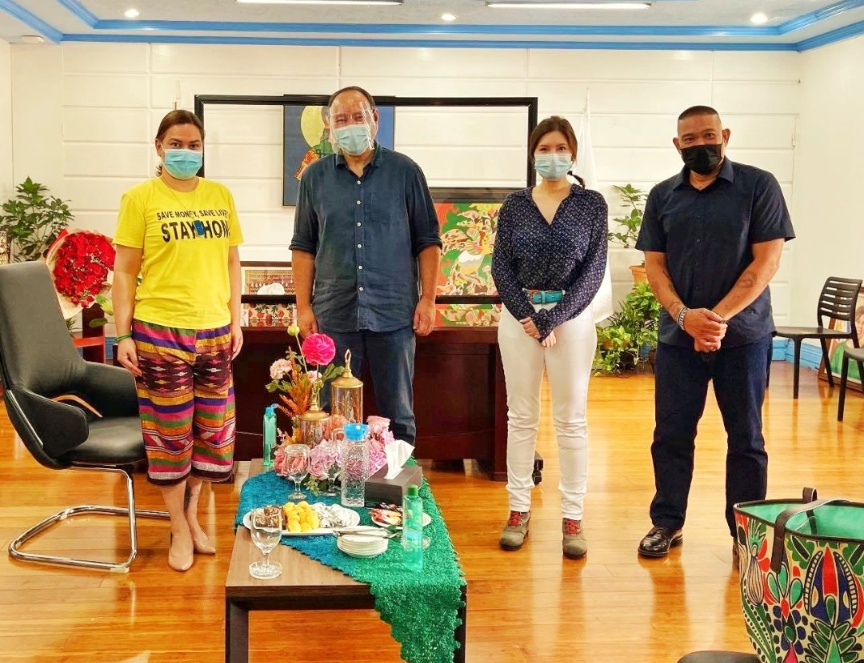 Gilbert "Gibo" Teodoro who served as Defense Secretary under former President Gloria Macapagal-Arroyo (GMA) was President Rodrigo Duterte's (PRRD's) initial choice for Defense Secretary. However, Gibo declined for undisclosed reasons. Recently, he signified his intent to run in 2022 but would not disclose the office again. What does Gibo bring to the table as a potential running mate of Davao City Mayor presidential daughter Inday Sara Duterte? Teodoro is a Master's of Law graduate from Harvard and a bar top-notcher to boot. His uncle, Danding Cojuangco was grooming him for a Presidential run but they had a misunderstanding in the run-up to the 2010 election. The rising star of the Nationalist People's Coalition (NPC) then was Chiz Escudero. Teodoro felt marginalized and accepted the offer of GMA to be her Defense Secretary. He had the background for it as an Air Force reservist since he is a qualified pilot for jet and propeller aircraft.
Teodoro ran and lost in the 2010 election for President. Gibo had a problem with his messaging connecting with the masa even if he was well-honed by Danding in Tarlac politics. This was his initial foray into national office and he was up against former President Joseph "Erap" Estrada, then Senator Manny Villar, religious leader Eddie Villanueva, then Senator Richard Gordon, and, his second cousin, Noynoy Aquino. Gibo placed a distant fourth in the race. The ruling Lakas-CMD was wracked by internal wranglings and defections. This was primarily due to the groundswell of support for Noynoy Aquino brought about by former President Cory Aquino's death in August 2009. The Liberal Party was set to crown then Senator Mar Roxas as its standard-bearer. As events unfurled, Roxas had to give way to Aquino.
Filipinos seemed to have been bitten by the nostalgia bug as they came out for Cory's funeral. The optics was excellent. Still, there were a few pundits who thought the election was rigged. Sentiments ran high against the GMA because of the perceived fraud during the 2004 election where she beat the late actor Fernando Poe Jr (FPJ). For Erap, he was out for vindication. Convicted and pardoned for plunder, Erap knew he would need to take it to his beloved masa for their judgment. Despite not having an extensive political machinery unlike in 1998 and a shortage in funding, he still came in second. The skeptics couldn't believe that Aquino beat him by 5M votes. Teodoro laid low until the Arroyo administration stepped down from office. He never reoconciled with his uncle. It didn't help that this was also about the same time the Cojuangco family was in the midst of personal issues since Danding moved out of the conjugal home he shared with his wife and came out in the open about his relationship with former beauty queen Leng Damiles, with whom he had two daughters.
The effort that Danding put into grooming Gibo didn't bear fruit. Escudero didn't become a Presidential candidate owing to his obscene demand that he receive P1 billion aside from the campaign funds he wanted to be guaranteed by the NPC. A tandem consisting of Inday Sara Duterte and Teodoro, if indeed in the works, would probably be saleable to the Filipinos. Gibo brings with him policy-making and legislative experience. He is also well-versed in economic issues as he has spent time on the boards of several corporations since 2010. He would be a wise counsel to a neophyte President in Inday who has excellent political instincts but not enough experience in the legislative, economic and policy-making aspects of governance where Gibo's strength lies. In short, it is a practical and complementary tandem, if it does materialize.
While former Senator Bongbong Marcos is the sentimental favorite as Inday's running mate, Marcos would be too divisive as the main issues pertinent to the election would be lost as the Opposition is sure to spin it back to what his father former President Ferdinand "Apo Lakay" Marcos did during his time. This was particularly evident during the 2016 election. The race was close but the exit polls had Marcos winning by a comfortable margin. But in a race where there were more Vice-Presidential than Presidential candidates, it was easy to rob Marcos of victory. The votes were there for the taking and the PR spin would work against him. Then Liberal Party vice presidential candidate Leni Robredo was immediately cast as the giant-slayer which was perfect for her narrative; the reluctant widow pushed into the Vice-Presidency for the greater good.
The past five years have proven, based on her persistently low approval and trust ratings, that Robredo did not win the 2016 race. The cloud of electoral fraud continues to hang over her head despite the unanimous dismissal of the electoral protest filed by Marcos. This move could also be part of the short-term plan of the administration power blocs to finally get the country to take-off economically. Bongbong can easily win a Senate seat. Given that he has the gravitas with his landmark work on the Bangsamoro Autonomous Region in Muslim Mindanao (BARMM) Law, he could easily become the Majority Leader or even Senate President. Charter change would definitely be on the agenda and an administration landslide could pave the way for Constitutional amendments. This would allow Duterte to make good on his promise of a federal parliamentary government. A unicameral legislature could see Marcos become Prime Minister in the future.
It's very evident that the Opposition doesn't even have a narrow window of opportunity in 2022 despite their claim that they are the silent majority. Trillanes has been hobbled by his libel conviction. This leaves the field open to Robredo. It is doubtful if Poe or Isko would submit to 1Sambayan's selection process. Any mark of Yellow in the coming polls is political suicide on any outsider selected as the standard-bearer. More than likely a new opposition will rise as the old one is already starving for campaign funds this early in the game.
Cook wide reader political crackpot music afficionado old soul out-of-the box thinker aspiring writer tech geek gearhead