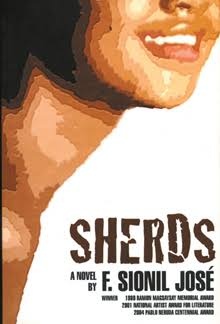 A broken piece of ceramic material, specially one found in an archeological site. This is the definition of Sherds, which is also a novel by National Artist for Literature F. Sionil Jose. The novel is 12 chapters and short at 122 pages. It is really more a novelette. It has been a long time since I read a printed book. This is only my second time to read one by a Filipino author.
The last book I read was The Woman Who Had Two Navels, a work of another National Artist, Nick Joaquin. This was back in 1983 when I was a college freshman at DLSU. Cirilo F. Bautista was my Professor in Philippine Literature. Our final exam was a book report on a Filipino literary work of our choice. Both Jose and Joaquin are in a class of their own when it comes to writing in English. The descriptions are vivid and the words so precise to make your imagination visualize what you are reading.
The principal character of Sherds is Peter Gregory Golangco. Golangco is a Chinoy who is an academic aesthete. The arts and humanities are his passions and the capability to indulge in both, financed by his family's fortune. He is not your typical Chinoy as Golangco has both taste and breeding; more Western than Chinese because of his education. He cannot even speak his forbears' tongue. His ancestry is only evident in his physical features.
PG is a potter. He shuttles back and forth between Manila and San Francisco because these are his two favorite cities and he obtained his doctorate from Berkeley. He leads a charmed life devoid of any pressure to earn because the family business run by his brothers adequately provide him not only with the basics but as also with the luxuries he has been accustomed to. He is single but carries on a relationship with another Chinoy, a Cebuana by the name of Betty Sy. Betty is also not your typical Chinoy woman. She is also an academic who is the Dean at the university where PG teaches. The two are kindred souls whose intellectual compatibility fuels their sexual drive for each other.
The conflict begins when PG takes in a former student of his as an assistant. Guia Espiritu is a student in PG's class who has to stop schooling after her brother is fired from his job due to the theft of PG's personal belongings inside his Mercedes coupe. PG becomes Guia's mentor, much to the consternation of Betty who grows jealous. PG reassures her that his lust is only for her and he has no intentions of forming a menage-a-trois.
The mentor-mentee relationship is broken when PG discovers that a watch and cash are missing from his bedroom and anteroom. This was preceded by the loss of one of Betty's heirloom earrings during their Japan sojourn where Guia also accompanied them. Guia promptly disappears after he makes an announcement to the house help that his Vacheron Constantin and cash are missing. PG finds himself missing the company of Guia. The mentee had a natural talent for drawing and had the makings of a good potter as she had learned it at an early age in her barrio. Later, Guia's brother comes to see PG at his residence in New Manila to inform him that Guia is dead. He gives PG the pawn ticket for his Vacheron and tells him that the thefts were for a good cause.
Jose doesn't categorically state that they are members of the New People's Army (NPA), but it is implied. PG is then left to muse about Guia's short role in his life. He had never been a political person but he was well-aware of his family's participation in politics and the compromises that it entailed which was why their fortune continued to grow.
Jose of course attributes the ills of society to the oligarchs spawned by our Spanish and American colonial masters. He also mentions former President Ferdinand Marcos by name. The symbolism of PG is that of the elite who know what is wrong but are indifferent to what is because it doesn't make any sense to betray one's social class. This is the core of the problem of the country where there is no equanimity, where status and image are valued more than moral character.
Indeed, a Manila Times article on the book asserts…
No other Filipino writer has given us a sustained account of the malaise in Philippine society—the role of the landed elites in keeping the vast majority of the people in penury and at bay. Sherds is yet another meditation on the subject.
Philippine society is all about power blocs and none about the welfare of the greater majority. When President Rodrigo Duterte won the Presidency, Jose praised the revolution he was waging. This opinion changed when Duterte allowed Marcos's burial at the Libingan ng mga Bayani. Recently, he wrote in his PhilSTAR column that Duterte may yet be judged by history as one of the country's greatest Presidents. This had the Opposition, both Yellows and Reds, up in arms.
The oligarchs are still here. They continue to hold the real power because of the monies needed to win elections. To my mind, the six year term of Duterte flew by because he is a hands-on President. In contrast, the six years of Aquino was a prolonged agony because he did nothing. The narrative of Daang Matuwid was based on the shenanigans of Gloria Macapagal-Arroyo. God may have played a cruel trick on the Filipino when former President Cory Aquino passed away and paved the way for her idiot son to become President. But I like to think that this fluke was only in preparation for the final demise of the Yellows. The best thing to happen is we finally have a President who wears a flag pin instead of one who always had that stupid yellow ribbon on his chest.
Cook wide reader political crackpot music afficionado old soul out-of-the box thinker aspiring writer tech geek gearhead