Talk of a "meeting" between Davao City Mayor Inday Sara Duterte and former Senator and 2016 vice presidential candidate Bongbong Marcos is raging across social media. This follows a tweet issued by a media organisation known as SMNI News Channel.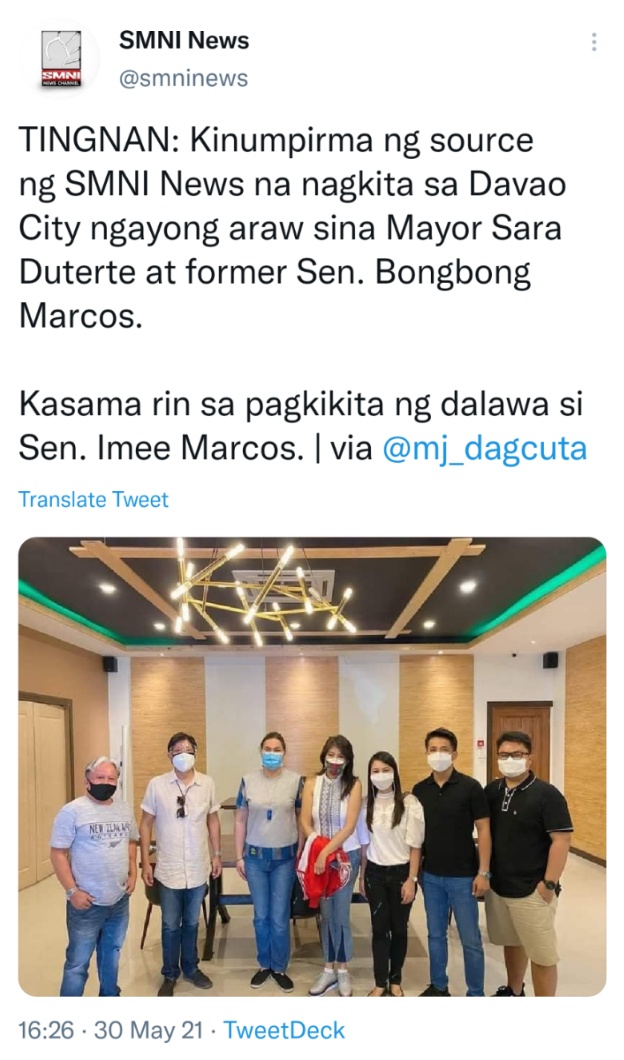 According to SMNI News as indicated in the above tweet, the meeting occurred Sunday, the 30th May. The "news" it seems is based on just the photo attached to the tweet and not much else and, according to that same tweet, this news was "confirmed" by a "source" of SMNI News.
As of this writing, no other media outlet offers any information or reports corroborating any of this. However, "national political operator" Franco Cruz Mabanta, in a tweet issued shortly after, offered a "small correction" to the SMNI "report" claiming that the meeting between Duterte and Marcos "didn't happen" on that date. Mabanta has so far not provided any further information on the matter. It so happens too that the 30th May is Ms Duterte's birthday.
Supporters of Philippine President Rodrigo Duterte regard the supposed meeting as a strong indication that Ms Duterte and Marcos will run as a tandem in the 2022 national elections and, in doing so, supposedly doom any Opposition bid for the highest and second highest offices of the Philippine Government. The apparent basis for this prognosis are Ms Duterte and Marcos topping a survey conducted by respected polling firm Pulse Asia, the results of which were issued January this year.
The Pulse Asia survey results showed top Opposition bet and current "vice president" Leni Robredo placing a dismal sixth behind Senator Grace Poe, Manila Mayor Isko Moreno, and boxing-champ-turned-senator Manny Pacquiao. Former Senator Antonio Trillanes who, some weeks ago, launched a coup against Robredo for the role of leader of top Opposition coalition 1Sambayan was not among the top "presidentiables" yielded by the survey or may not have been a choice offered to survey respondents at the time.
1Sambayan had this week set a deadline for itself committing to June 12 as the date for the release of its list of candidates for the coming elections. Following that, Robredo asserted in an interview with "journalist" Barnaby Lo on Viewpoint that she, or "someone else" should be the single Opposition presidential candidate as long as only one person runs. This, Robredo said in the the interview, is critical to ensure that the next six years after 2022 will "not be the same". Robredo is clearly hinting that if the Opposition do not unite and ends up fielding multiple candidates, it will all but assure victory for the camp of President Duterte in 2022.
As of this writing, the Opposition has been seemingly generally quiet on any matter to do with the 2022 elections and the 1Sambayan Twitter account has not posted any new tweets in the last three days.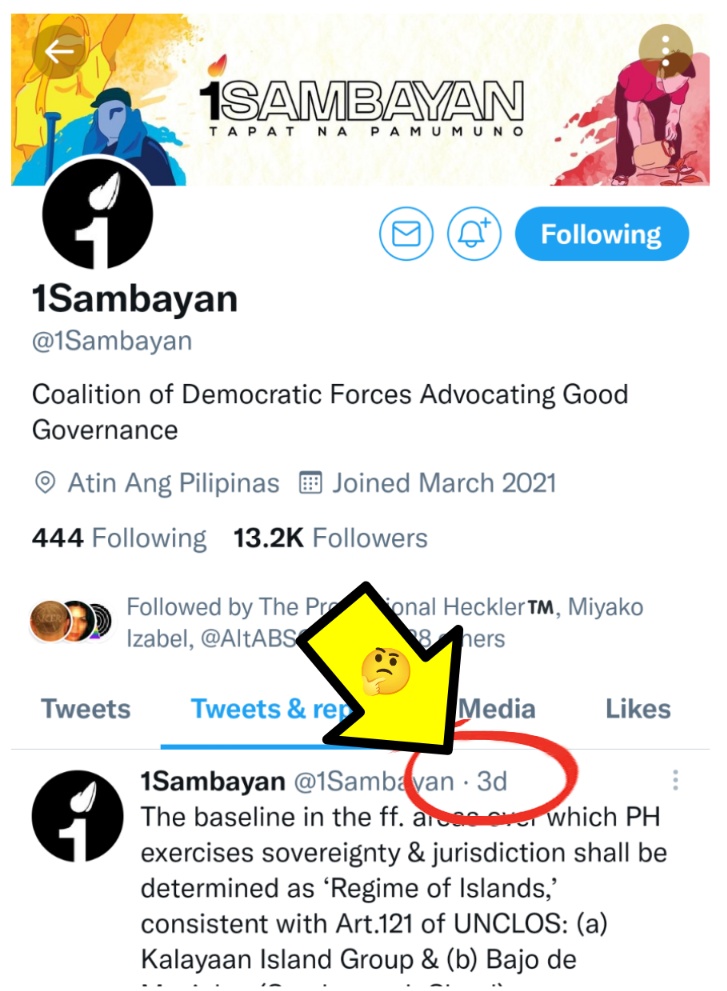 For now, given the sketchy information surrounding this matter, one can only turn to the timeless advise of Filipinos' self-styled media "servant", ABS-CBN: Abangan ang susunod na kabanata.
benign0 is the Webmaster of GetRealPhilippines.com.