If the Philippine Opposition are still in denial that they are nowhere near as prepared and as organised as they ought to be in the lead up to the 2022 election, the latest Pulse Asia Survey results should be a wake up call. Topping the list is Inday Sara Duterte, mayor of Davao City and daughter to Philippine President Rodrigo Duterte.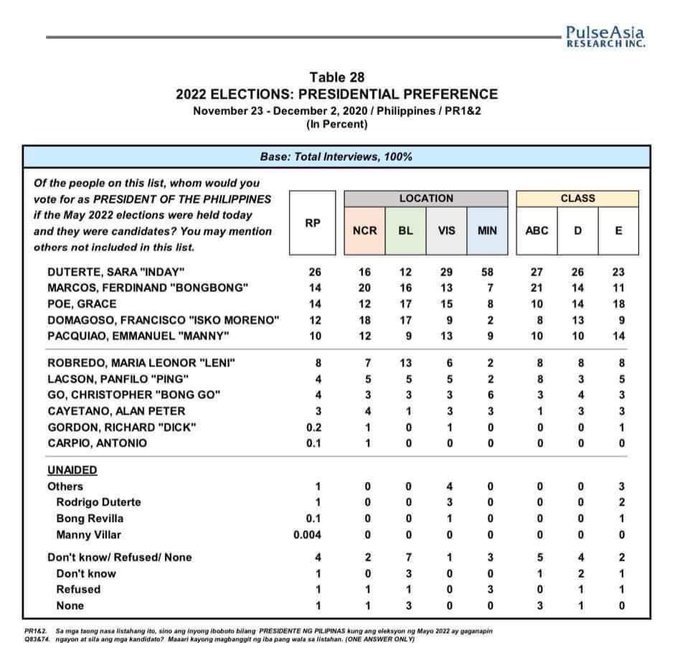 CNN Philippines reports…
Pulse Asia Research's November 2020 Ulat ng Bayan national survey showed 26% of the 2,400 respondents polled nationwide said they would vote for Mayor Duterte should the elections be held today.

The numbers were highest in Mindanao (58%) and lowest in Balance Luzon (12%). The National Capital Region registered 16%.

Former Senator Ferdinand "Bongbong" Marcos Jr., Senator Grace Poe, Manila Mayor Francisco "Isko Moreno" Domagoso, and Senator Manny Pacquiao rounded out the top five choices.

Vice President Leni Robredo was the sixth top choice for president.
This is further proof that Filipino voters no longer go for the dominant Opposition narratives of Yellowtard "for the people" rhetoric dished out by "suffering servant" personas coming down from the hill to rescue "the poor" from the clutches of "tyranny". Filipinos are looking for leaders, not saints. They are looking for executives, not pretentious "doers". Most important of all, Filipinos need a leader with vision and a consistent set of principles that support a strategy to realise it.
Unfortunately, much of the Opposition response to this latest survey, as usual, revolves around questioning or even challenging its methodology and the reliability of the resulting findings. In doing so, they miss the important point — that regardless of what surveys like these tell us, the fact is that there are obvious things that the Opposition need to work on to get into a good position for the campaign leading to the 2022 national elections.
Even then, let's say there is reason to second guess the Pulse Asia report, for argument's sake. Are the results significant enough to be cause for worry for the Yellowtards? Surveys are just guides and use sampling methods that are statistical compromises to the impractical alternative of polling every single registered voter. Indeed, the level of confidence with which one can regard the output of these surveys can be calculated. Often, a sample size is used that is sufficient to be representative of the population at 95 percent confidence (or within plus or minus 5 percent error margin). If, say, two competing politicians are shown to have approval ratings that vary within less than five percent of each other, then the difference can be said to be not statistically significant. In such case, one cannot soundly conclude which of the two has a higher (or lower) rating than the other.
In the case of this particular report, on the other hand, the key Opposition bet, Yellowtard politician and current "vice president" Leni Robredo lags behind even her closest rival, boxing champ Manny Pacquiao by a factor way beyond the +/-5% expected sampling error built into most reasonable survey methods. Thus, it is likely that surveys conducted in a relatively less-sound manner to that used by an established firm such as Pulse Asia would also yield dismal numbers for Robredo.
Regardless of any of that, the message to the Philippine Opposition is clear. There's lots of work to be done if they are serious about seizing power legally in the coming elections. It could easily start with ditching the Yellowtards and the communists from their coalition and crafting a compelling narrative that is free of all the idiotic pretense that infests the ideologies of those two traditionally dominant blocs.
There is a smart way to dissent. And then there is the obsolete borderline moronic approach to "dissent" of the Yellowtards and communists. A viable Opposition to the Duterte government needs to step up and out of that entrenched malaise of intelligence-insulting drivel preferred by these traditional Opposition blocs and come up with something new and something original that Filipinos could respond intelligently to.
benign0 is the Webmaster of GetRealPhilippines.com.