After that big shrill spate of ululations coming from a lynch mob of screeching "influencers" that catapulted the hashtag #JusticeForChristineDacera onto their hallowed Church of Trending Hashtags, it seems certain "thought leaders" are now in the midst of some painful personal reflection. One of the ringleaders, social media "icon" Frank Baraan was one among many of them called out for breaking a cornerstone principle of any modern criminal justice system and has since issued another one of his now-famous It's All About Me apologies…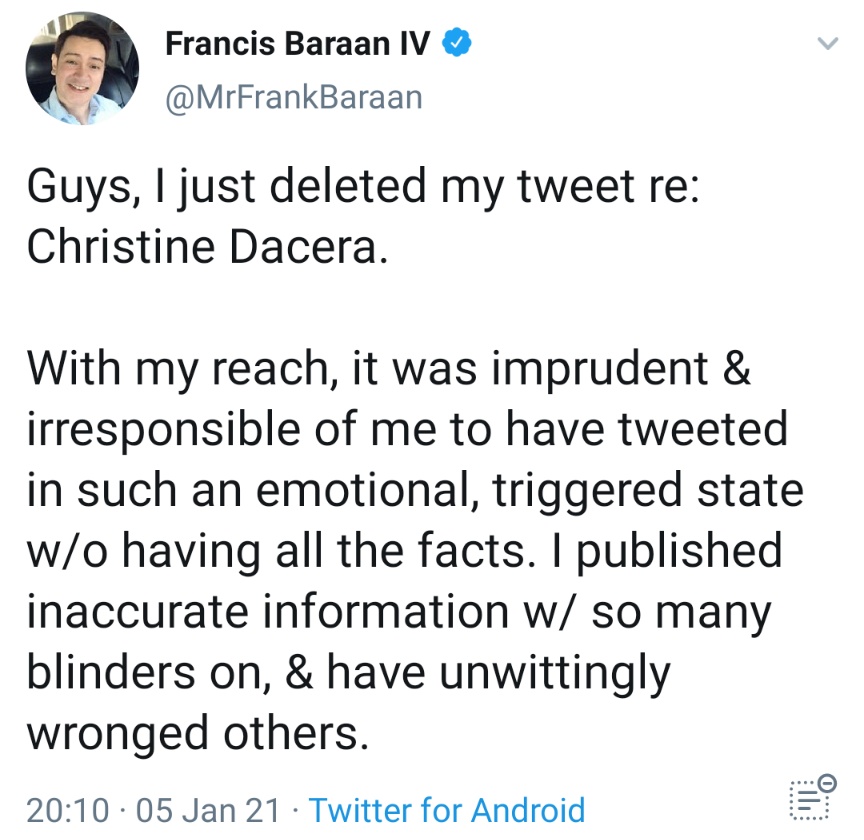 Adding further to what would go on to become a lengthy thread elucidating the glory of his chi chi "apology", Baraan then tweets…
Just like everyone else, I, too, want #JusticeForChristineDacera. But I should have paused to verify the facts.

I've been advocating for human rights, but in a momentary huge lapse of judgment, I forgot one very important human right:

THE PRESUMPTION OF INNOCENCE of SUSPECTS.
And to think Baraan is one of those Red Tagging Crybabies who also populate the shrill echo chambers of Philippine social media wokedom. Indeed, in "unwittingly" tweeting in a manner that presumed the guilt of a number of people who may just had been unfortunate enough to be at the wrong party at the wrong time, Baraan and many of his like-minded ilk proved what big halfwits they really are. A "momentary huge lapse of judgment" had already been embedded in the tiny brains of tens of thousands of Baraan's moron followers.
No amount of "apology" will undo the damage that had already been done and the further injustice that these ironic "social justice warriors" created. Mela Franco Habijan, a "transgender woman with a beautifulpurpose [sic]", is another such "influencer" whose good intentions were as built on as astounding an edifice of self-absorption as Baraan's. Her almost 13,000 followers were just as misled by her tweets and ought to be learning to be a bit more circumspect about being accessories to the spread of crooked information.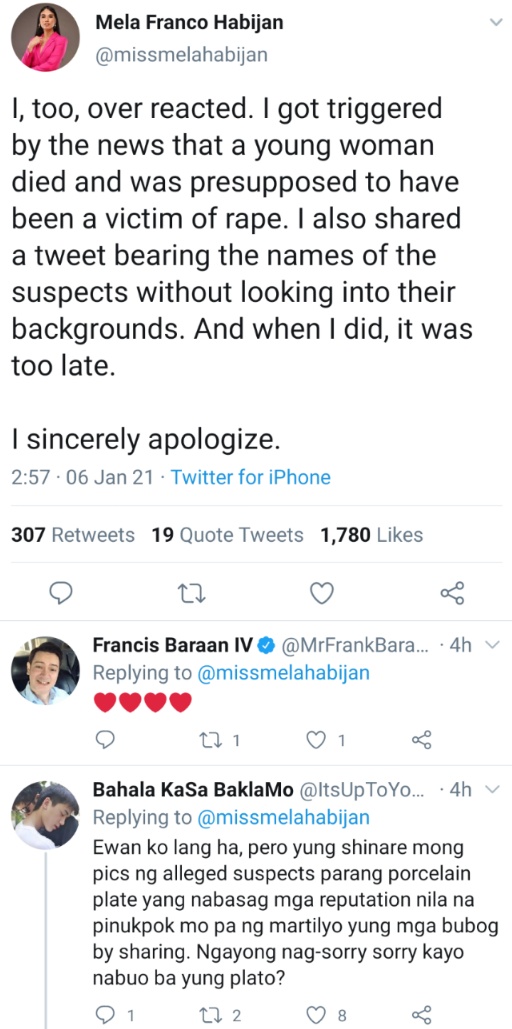 Bottom line is this. These woke bozos are first to get all snooty about the "spread of disinformation" that blights the social media landscape. So then much should be expected of these pompous windbags. In an age when information is created and spread following a few key strokes and a tap on the Retweet or Share button within minutes or even seconds of inception or consumption of said information, it is essential that communicators get it right the first time.
The big reflection in order here is the crooked emotionalism that these people contribute to chatter on politics and social issues. Reason, logic, and cool heads are sorely lacking in these landscapes and the few who contribute such are drowned out by the noise sustained by shills like Baraan and his tribe.
benign0 is the Webmaster of GetRealPhilippines.com.