As expected, the story of the alleged rape and death of Philippine Airlines flight attendant (FA) Christine Dacera (reportedly on New Year's Eve) is making waves on social media. Fuelling the rage are the seeming circumstances surrounding Dacera's death. According to news sources, she was the only female participant in a party held in a room at the City Garden Grand Hotel in Makati City. Of the men who attended the party, only three were Dacera's actual friends with the rest either acquaintances or friends of friends. The Inquirer reports…
The unconscious Christine Angelica Dacera, 23, of General Santos City, was found in an empty bathtub of a hotel room where she and some friends celebrated New Year's eve. She was later declared dead at a hospital.

Makati City police chief Col. Harold Depositar told the Philippine Daily Inquirer that a provisional charge of rape with homicide was filed Monday against 11 persons who were with Dacera, occupying two adjacent hotel rooms in Makati City, at the time of her death.
As of this writing, autopsy findings and toxicology reports are still pending and investigations are ongoing. The possibility that Dacera was raped and had died of trauma from that alleged rape are based on circumstantial evidence and injuries found on her body by medical examiners. However, none of these bits of information had been placed in a timeline as yet. According to Makati City police chief Col. Harold Depositar, "Dacera's death may have initially been found to be natural – from an aneurysm –but there were apparently factors that contributed to it." It is also not known yet whether all the injuries found on her body were sustained on the night of her death.
The lack of enough evidence to form sound conclusions of what happened on that tragic night did not stop various "influencers" and "social justice warriors" from going on witch hunts on social media. Netizens (like this one) encouraged everyone to spread information that presumably would help speed up justice due Dacera. Often the information used by these digital lynch mobs were nothing more than names of people identified based on second-hand information and photos taken from public social media accounts. Many were taken from Dacera's Instagram profile where one could have easily checked their timestamps to ensure these were not misrepresented when shared.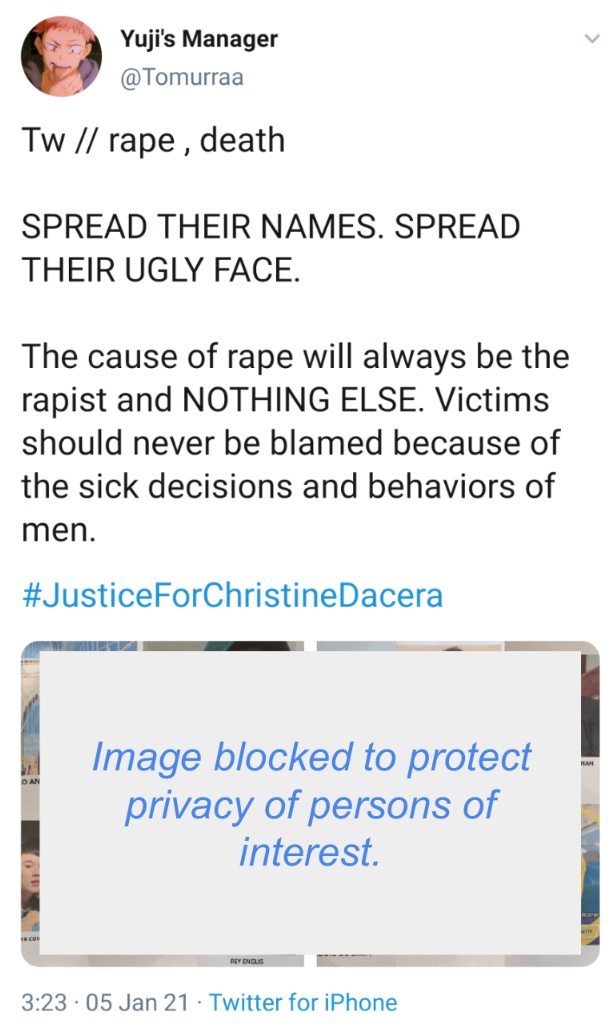 Ironic that these Netizens liberally drop the term "justice" in their half-brained tweets but fail to consider that presumption of innocence is a key pillar in modern criminal justice systems. Popular social media "influencer" Frank Baraan was one of the Netizens initially calling for blood and rousing the Mob and only backpedaled from his earlier misguided tweets after being called out by other Twitter users.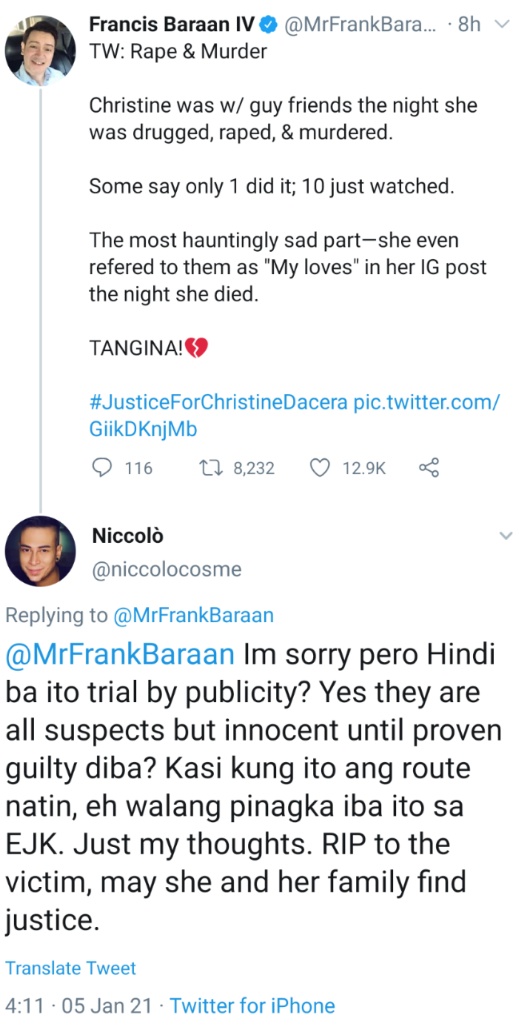 It is evident from the tweets exhibited above what the relevant principles that underlie the calls for "justice" are. However, much as these rabid "activists" would like everyone to see the tragic story of Christine Dacera from only their preferred side, the fact is, there will always be more than one side to a story. This is the reason why police investigations take time and properly-conducted court trials take even longer. The sides of all parties need to be considered and theories systematically developed on the back of evidence and ruled out when said evidence does not stack up.
Social media lynch mobs degrade that effort by making the chatter emotional rather than based on reason. Christine Dacera would be the victim of whatever crime that may have transpired on that fateful night. However, there are also other people who were involved. Some of them may be found guilty of a crime. Others may have simply been at the wrong place at the wrong time and dragged into this gawd-awful mess by mere force of circumstance. All are presumed innocent until proven guilty.
benign0 is the Webmaster of GetRealPhilippines.com.