According to ABS-CBN News "correspondent" Chiara Zambrano, Philippine universities are "fighting back". In a "joint statement", the administrations of the Ateneo de Manila University (ADMU), De La Salle University (DLSU), the University of Santo Tomas (UST), and Far Eastern University (FEU) asserted that their respective institutions "neither promote nor condone recruitment activities of the New People's Army and, indeed, of any movement that aims to violently overthrow the government."
However, it is high time people take such dishonest "statements" with a grain of salt and challenge these powers-that-be with more critical minds. A News5 photo posted on Facebook clearly shows that the communist group Anakbayan operates with impunity in UST and actively espouses the overthrow of the Duterte government. A caption included in the photo post quoted Anakbayan UST (to which the photo is also credited) proudly proclaiming that "You can't spell #GOUSTe without OUST!"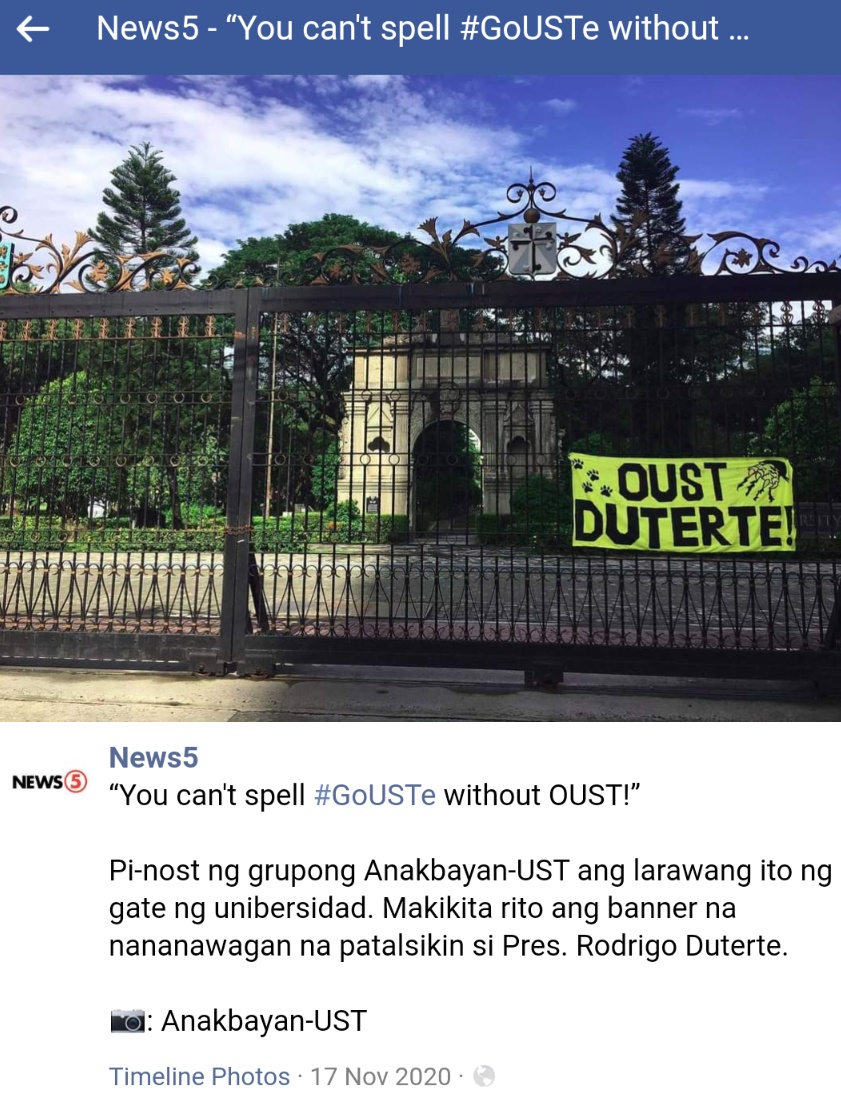 At the time, the UST campus newspaper "reported" that UST officials claim that "the guard assigned at the España gate did not find such a banner this morning." However no further information on what actions UST administration have taken against Anakbayan-UST nor any of the participants in the protest action they instigated have surfaced.
Though not a signatory to this "joint statement", the University of the Philippines (UP) is not consistent with the historical record with regard to its own communist denial rhetoric either. Photos abound of student "activist" protest rallies where students showcase similar seditious material with impunity. The following photo clearly shows the familiar acacia-lined streets of the UP Diliman campus as backdrop to what seem to be members of the UP chapter of Anakbayan doing their thing.
Neither is the student body nor campus "journalism" at the chi chi ADMU immune from communist infiltration. A "Black Friday" protest rally participated in by students of the Ateneo in 2018 shows the same sorts of slogans associated with communist "revolutionary" rhetoric as well as membership in the College Editorial Guild of the Philippines (CEGP) — a known Communist Party of the Philippines (CPP) front organisation.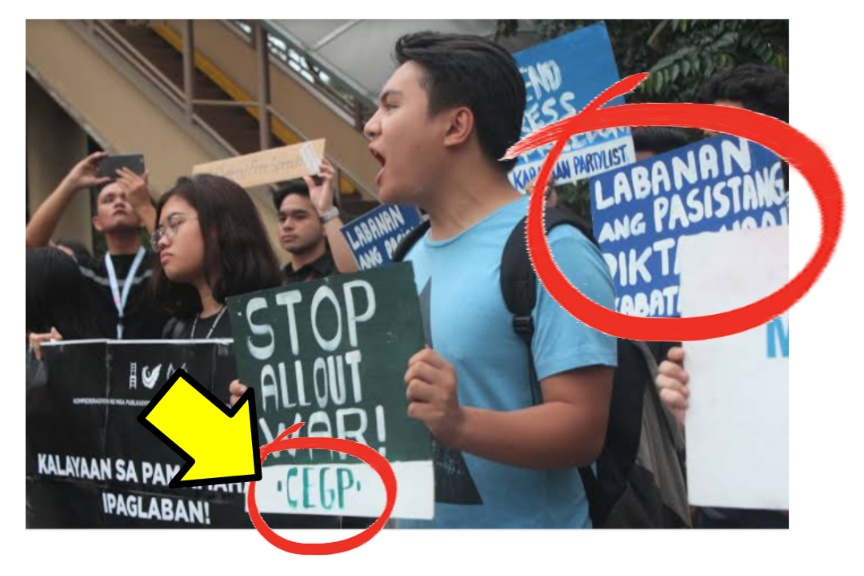 The ADMU Asian Center for Journalism which published the above photo further "reported" back then…
The participants were mostly student journalists from the campus publications Heights Ateneo, The Guidon and Matanglawin. They were later joined by their counterparts from the University of the Philippines's Philippine Collegian and the University Santo Tomas' The Varsitarian.

Other organizations such as Ateneo Entablado, College Editors Guild of the Philippines (CEGP), League of Filipino Students (LFS), Anakbayan and Kabataan Partylist also participated.
One can easily see the common denominators that are readily-evident in these instances. Communist infiltration of these three Philippine universities is vastly more pervasive and profound than what their respective administrators are willing to admit (or are even aware of). Perhaps they turn a blind eye toward these inconvenient truths, yes? Well that all the more makes them accountable and, quite possibly, liars when they issue "statements" that assert things that are not factual.
How long will Filipinos continue to be in denial of the enormous problem of communists — and their terrorist henchmen — operating within the Philippines' top university campuses with impunity? Only time will tell.
benign0 is the Webmaster of GetRealPhilippines.com.