Finally the Armed Forces of the Philippines (AFP) will be able to do its job rooting out the scourge of communist terrorism at one of its key sources of recruitment — the University of the Philippines (UP). This development was shared in a tweet issued by the campus newspaper of the UP, the Philippine Collegian announcing (or, presumably, denouncing) the termination of an agreement made in 1989 that bars AFP personnel from entering any UP campus.
The tweet also included screenshots of what seems to be a letter signed by Secretary of Defense Delfin Lorenzana addressed to UP president Danilo Concepcion.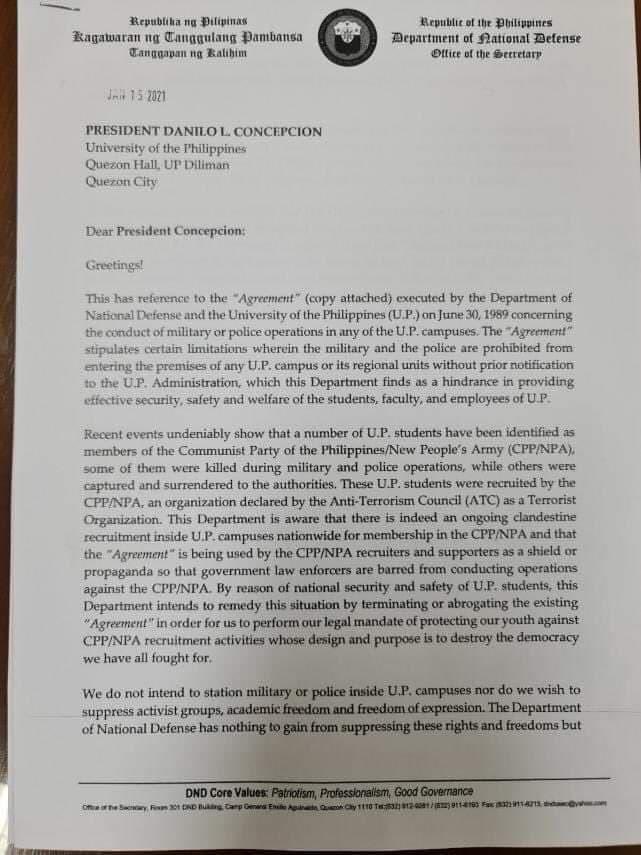 SUPPORT INDEPENDENT SOCIAL COMMENTARY!
Subscribe to our Substack community GRP Insider where you can opt to receive by email our more comprehensive and in-depth free weekly newsletter GRP Mail. Consider also supporting our efforts to remain an independent channel for social commentary and insight by sponsoring us through a small donation or a monthly paid subscription.
Subscribe to our Substack newsletter, GRP Insider!
Learn more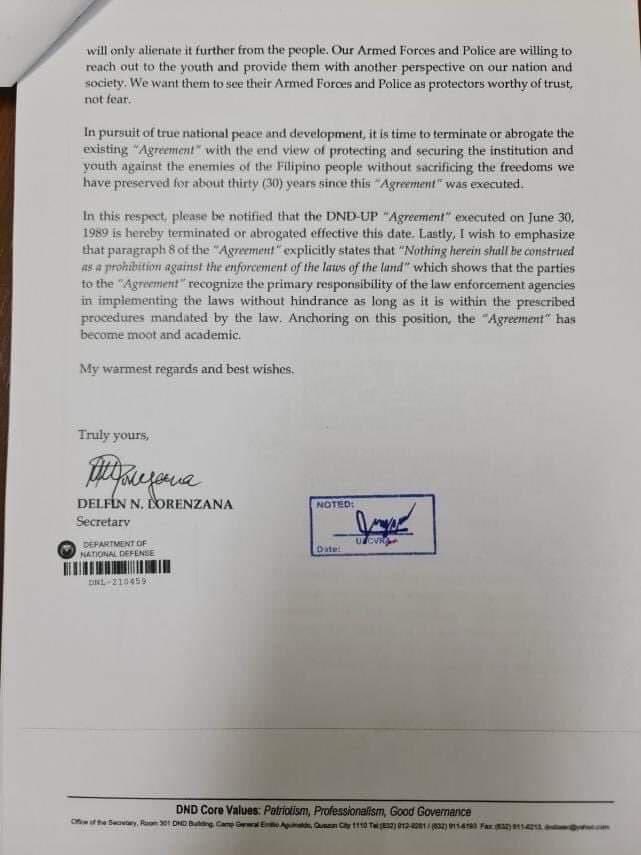 As expected, the Collegian editorial leadership and, very likely, their comrades across the broader network of communist front groups are "up in arms" drumming up this latest outrage fad and rallying the revolutionary troops to "take to the streets". A subsequent tweet from the Collegian calls for a protest rally to be mounted at Quezon Hall in the UP Diliman campus. It exhibits the all-too-familiar battle cry claiming all this is part of a conspiracy to suppress "academic freedom".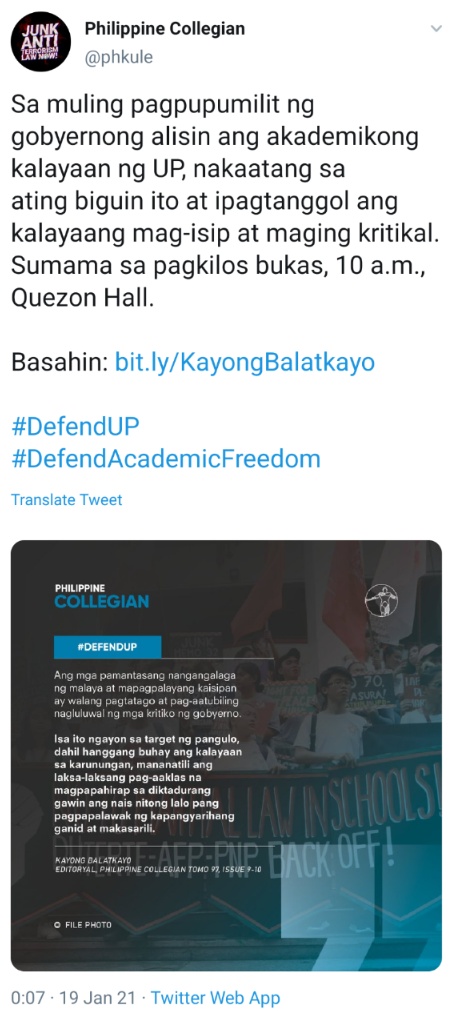 The infiltration of the UP student body by elements of the Communist Party of the Philippines (CPP) and, more disturbingly, its campus newspaper has been a long-known problem that has marred campus life and endangered generations of UP students for several decades. In his Manila Times piece "How communists gained control of UP Student Council, Philippine Collegian, and most campus organizations", former ambassador and former CPP comrade Bobi Tiglao shares how, back in 1973, "the CPP settled down to secretly penetrate innocent-looking organizations, undertake subtle anti-dictatorship activities through these groups, recruit members and develop a mass base."
By 1975, the CPP had already laid out a decent network at UP made up of more than 80 cadres and members, and about thrice this number were "national-democratic" (ND) activists. The party branch was bombastically called "University Revolutionary Council," or URC. Its executive committee was called Komiteng Tagapagpaganap or verbally, KT. The URC fell under the administrative supervision of the CPP's District 2, or "D2" which covered Quezon City and Marikina.
Tiglao also specifically cites the Philippine Collegian and what went on to become the University Student Council (UP-USC) as key groups infiltrated by the CPP…
The URC's organizational department (OD) was tasked with overall organizational maintenance and political guidance of the numerous party groups and national-democratic core groups. These were embedded in the various student organizations, in the newly elected Student Conference and in the Philippine Collegian.
Indeed, it is about time the ridiculous notion of an agreement to ban Philippine military personnel from entering UP campuses be terminated. It is clear that the CPP and its front groups as well as campus student organisations such as the Collegian which its members had infiltrated pose a threat to the broader student body of the Philippines' premiere institute of higher learning. It is only when the national police with the support of the military are accorded reasonable access to UP campuses to work within the frame of the law to root out communist terrorist activities will parents feel more confident in the safety of their children most of whom only want to pursue their studies in peace in an environment conducive to learning.