Should employers be influencing the political views of their employees? It brought the core of the controversy surrounding the limits to which an employer can influence her employees' personal choices front and centre in what is evidently an unresolved debate. For that matter, the ethics around whether it is right for a person who enjoys a position of power over a party the personal views of whom she seeks to influence come to light. This also brings to mind the "normalised" practice of religious leaders wielding their followers like a political weapon come election time. Or the Roman Catholic Church's dishonest use of "pastoral letters" to indoctrinate their congregation on their preferred political position. It raises questions around the legitimacy of a religious "vote bloc" when considering how said vote is an outcome of inappropriate influence applied by a leader or superior.
This all depends, perhaps, on the the contract that underlies the context where said "education" is being applied. In the case of an employer-employee relationship, said contract governing that relationship will likely exclude guidance or directives to an employee coming from a superior not related to the services stipulated in an employment contract. As such, an employee's political views clearly lie outside of the remit of an employer to prescribe. In the case of teacher-student relationships, one can argue that parents give license to teachers to impart their values on their charges. However, even in such cases, there is still a line that prompts debate — is it right for a teacher to encourage students to attend the protest rallies of a particular camp? Some years back, the sight of students in uniform attending — even instigating and leading — protest rallies was a thing leading some quarters to question whether the parents of these kids (often pictured on public channels) were aware of their schools' complicity in these activities.
The debate continues, much of it packaged under the euphemism "voter education". Examine the notion more closely and it is easy to see that a thin line separates that concept from the more insidious field of voter re-education. Voter "education" — more precisly re-education — becomes potent as a tool for furthering political agendas when applied within the context of a the also-debatable premise that voters are too dumb to be given the responsibility of choosing their leaders. This brings us to the curious case of a certain "Mrs Unlawyer" whose Twitter thread on her own efforts to "educate" the nanny of her kids (she descibes her as a "diehard Duterte supporter" or "DDS") sparked an intense ethical debate.
SUPPORT INDEPENDENT SOCIAL COMMENTARY!
Subscribe to our Substack community GRP Insider to receive by email our in-depth free weekly newsletter. Opt into a paid subscription and you'll get premium insider briefs and insights from us daily.
Subscribe to our Substack newsletter, GRP Insider!
Learn more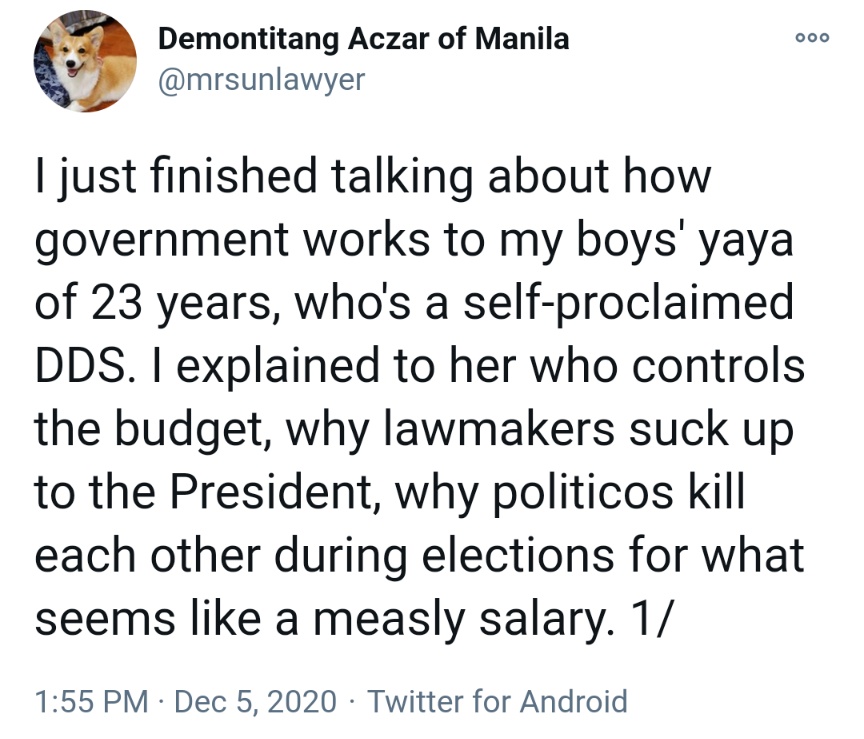 The kernel of Mrs Unlawyer's "education" was the idea that her nanny had much more to lose making the "wrong" decision on who to vote for in the coming elections; that while she felt no "adverse effects on [her] family" as an outcome of the "lousy government" of Philippine President Rodrigo Duterte, it is her (the nanny) who should be reflecting more carefully on whether this government actually delivered promised changes to her relatively wretched lot. Mrs Unlawyer goes on to tweet how, as the conversation with her nanny progressed, "it finally sank in how voting for someone inept impacted people in her social class so much more adversely".
To be fair to Mrs Unlawyer, she points out towards the end of her thread that she cautioned her nanny not to "let me dictate to you". But that is basically like telling someone "it's up to you what you want to do next" after softening the subject to a pulp with a barrage of emotional blackmail.
Few people would disagree that bosses exert disproportionate influence over their subordinates — more so when they wield direct control over their financial situations (some people leaders don't). The question is, is it right to use one's position of power to exert influence over their subordinates — people who are effectively a captured audience?
Perhaps conversations of the sort Mrs Unlawyer shared over Twitter go on everyday in normal course of most people's daily interactions in obscurity. Mrs Unlawyer's only mistakes were to (1) subject her personal circumstances to public scrutiny given that she had made categorically judgmental statements about one political camp and (2) introduce into the mix the equally-controversial issue of the widespread employment of domestic servants whose services are made "affordable" by an economic structure regarded as "oppressive" by the very same political clique that Mrs Unlawyer sees herself as a member of. That opens her and others like her up to charges of hypocrisy. If you benefit from a social order that makes certain services "affordable", criticising said social order makes you a hypocrite, basically.
Meanwhile, the debate as to whether Mrs Unlawyer was "educating" or really just re-educating her nanny rages on.
benign0 is the Webmaster of GetRealPhilippines.com.