It was supposed to be just a satirical post — popular blog Adobo Chronicles being, after all, a satire channel. In its piece "Siete palabras: LIBERAL PARTY ANNOUNCES 2022 SENATORIAL LINE-UP" published Saturday, the Chronicles "announced" a "Magic Seven" slate consisting of top Opposition social media "thought leaders"…
The magic seven are ABS-CBN actress Angel Locsin, VP daughter Aika Robredo, convict and Rappler CEO Maria Ressa, actress Vilma Santos, blogger Francis Baraan IV, blogger Jover Laurio and Sharon Cuneta's daughter Kakie Pangilinan.
The Adobo Chronicles prides itself in being "your best source of up-to-date unbelievable news" — a claim that is displayed at its site masthead. Just the same, the fact of it being a satire site still managed to escape the faculties of a number of the illustrious folk of the "Magic Seven". One of them was the chi chi Frank Baraan, son of notorious former Justice Undersecretary Francis Baraan III, who was quick off the mark to issue his reaction.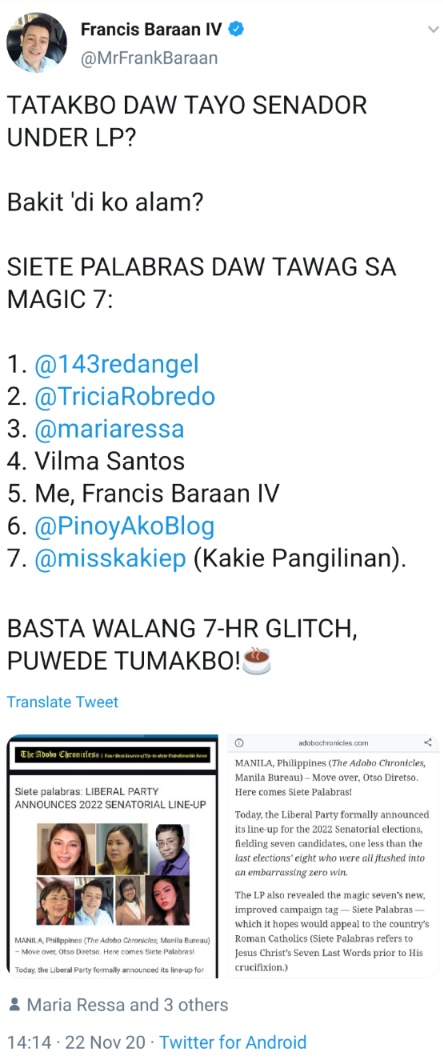 In a subsequent tweet, Baraan wonders out loud; "I don't know how this rumor started, or if this was meant to be sarcastic or funny. But the way the article was written, obviously, the writer is DDS & wants to paint LP candidates as losers," evidently still none the wise about the satirical nature of the article.
Just as quick to fire off the hip is Her Royal Showbiz Highness Kakie Pangilinan, daughter of Senator and Mrs. Cuneta who, in a tweet, sought to make a clarification known to the madla…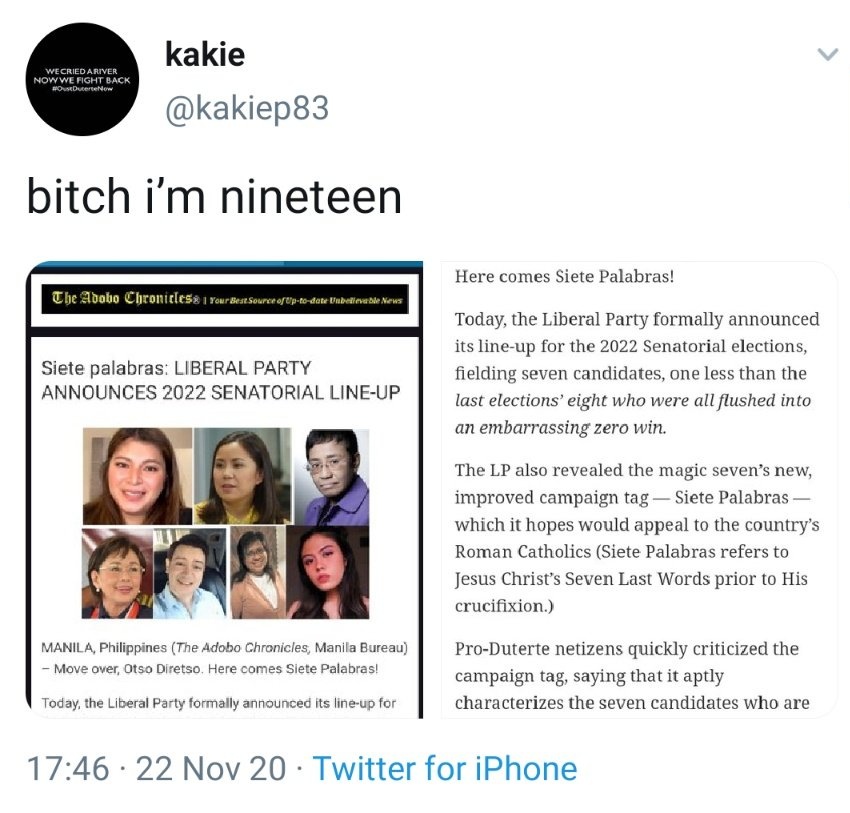 Certainly not much of the sort of sugar and spice and everything nice that one would expect of a nineteen year old scion of Pinoy showbiz and Yellowtard royalty, right?
On a more serious note, one then wonders. The 2022 national elections are just around the corner, which means 2021 will be a campaign year. This episode highlights a grim reality for the Philippine Opposition — the fact that they still have no idea as to what their campaign platform will be and who their presidential and senatorial bets will be. They are up against a popular incumbent and with just months coming into a crucial campaign year, the nearest semblance of a senatorial slate is an Adobo Chronicles satire piece.
The Opposition would be doing itself big favours getting their shit together this early. Current Philippine President Rodrigo Duterte is a very popular political opponent and will likely bring this popularity to bear anointing his chosen successor. With its cornerstone partisan brands — the Yellowtard flag of the Aquino-Cojuangco feudal clan and the hammer and sickle of the Communist Party of the Philippines — in tatters, the Opposition are hard-pressed to come up with a new narrative that could resonate with Filipinos strongly enough to pose a challenge to the administration camp. So far, it still remains to be seen if its "leaders", if any, are up to the job at hand.
benign0 is the Webmaster of GetRealPhilippines.com.