Is there salvation in "helping the poor"? As Christians we are led to believe so. The very essence of all so-called liberal ideals held sacred by Christendom ingrained this notion in the minds of hundreds of generations. We can see it persisting even today at the core of the "activists" cause in the way its communities of "advocates" weave the "plight" of the "oppressed" into the fabric of their quaint narratives.
Yesterday, Reina Mae Nasino buried her child River who succumbed to illness due to the less-than-ideal circumstances surrounding the pregnancy and childbirth of her mother. Why were these circumstances not ideal? Rappler "reports" that "Nasino is in jail over the non-bailable charge of illegal possession of firearms and explosives". Author Lian Buan then goes on to editorialise that these are "the usual charges against activists". Nasino was pregnant at the time and gave birth while in prison. Another Rappler "report" also authored by Buan noted that the birth happened "on Wednesday, July 1, as the coronavirus raged in Philippine jails". Buan goes on to "report" that "Nasino would have to go back to the female dormitory of the Manila City Jail, and leave her newborn baby without her breast milk, among others" in the following days.
BBC News reports that "Under Philippine law a child born in custody can remain with the mother for only the first month of their life, though exceptions can be made." Nonetheless Inquirer columnist Gideon Lasco today asks, Who killed Baby River? Over more than the first half of his piece, Lasco goes over some circumstantial factoids surrounding Baby River — how "her fetal life was in the most fraught of circumstances", that "[her mother's] appeals for freedom, both on humanitarian and legal grounds, went unheeded", as well as launching into a bit of whataboutism pointing out that "powerful individuals accused of far worse crimes have been accorded much better treatment in the name of the same 'compassion' and 'humanitarian grounds' that were denied them".
Yadda yadda yadda. One reading Lasco's bleeding-heart appeal could be excused for glossing over all that to cut to what one would hope to be a satisfying answer to the question that is the title of his quaint blurb. Sadly, no such answer, as it turns out, was forthcoming. To Lasco's credit, he was simply being honest.
Who killed Baby River? This question will surely lead to many inconvenient truths, but we must insist on asking it, because like that of Rosario before her, the story of Baby River—illness in the absence of health, suffering in the absence of loved ones, and violence in the name of justice—is the story of countless Filipino children.
In short, Baby River was not a special case in the Philippines — certainly not one that justifies all the hoo-ha being hyped by the media today complicit to the dishonest wishes of their comrades in the "activist" community. Famed Aussie celebrity (based in the Philippines) Anne Curtis-Smith tweeted, "Was it really too much to ask to have compassion for a grieving mother?" Was she talking about the mothers of the "countless Filipino children" Lasco cites in his Inquirer column? Evidently not. Clearly, it is Baby River specifically that is the object of the mega-celebrity's most recent product endorsement.
Some "influencers" at least show the cojones to categorically state what they prefer to "conclude" from all the circumstantial evidence surrounding Baby River's plight presented by these "journalists" and celebrity endorsers.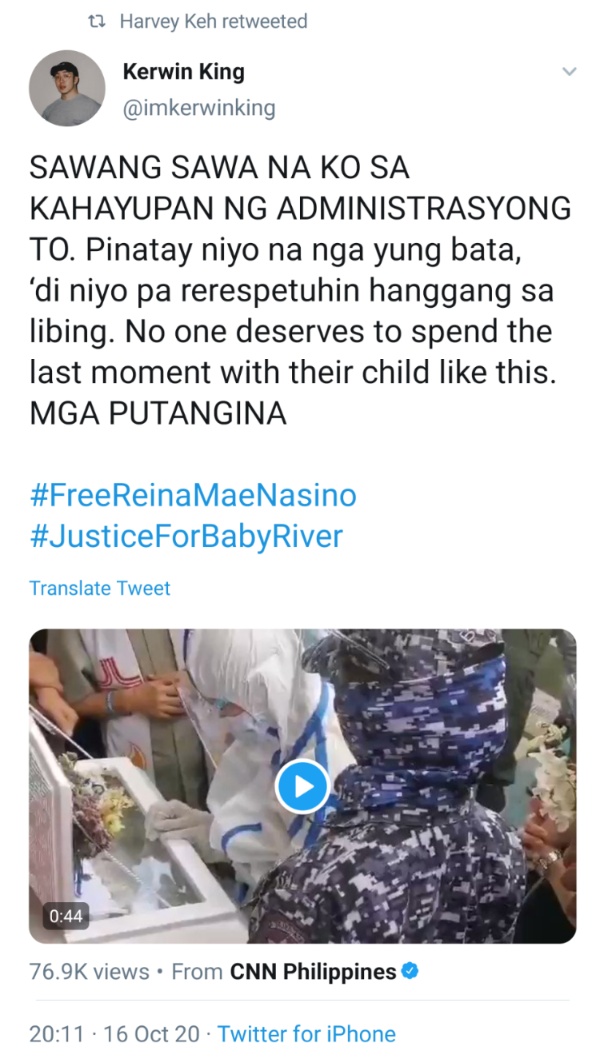 Thing is, whether you blame the system that predates and transcends any one administration or president or, instead, prefer the delusion that all this was the "fault" of one man alone, the more important question — far more important than Gideon Lasco's — is this:
Will the death of Baby River save Filipinos?
The way we now see a who's-who of "activists", chi chi "thought leaders", and ABS-CBN starlets raising a stink about this most recent stiff, one would be forgiven if one thought that Baby River is Jesus Christ himself immaculately conceived in a Philippine jail.
benign0 is the Webmaster of GetRealPhilippines.com.