A certain Joel Pablo Salud recently launched into yet another one of those Martial Law Crybabyist treatises on the chi chi platform Medium. His piece "Marcos, Derrida, and a priest who should know better than to side with executioners", is essentially a temper tantrum over a tweet issued by Fr. Ranhilio Aquino…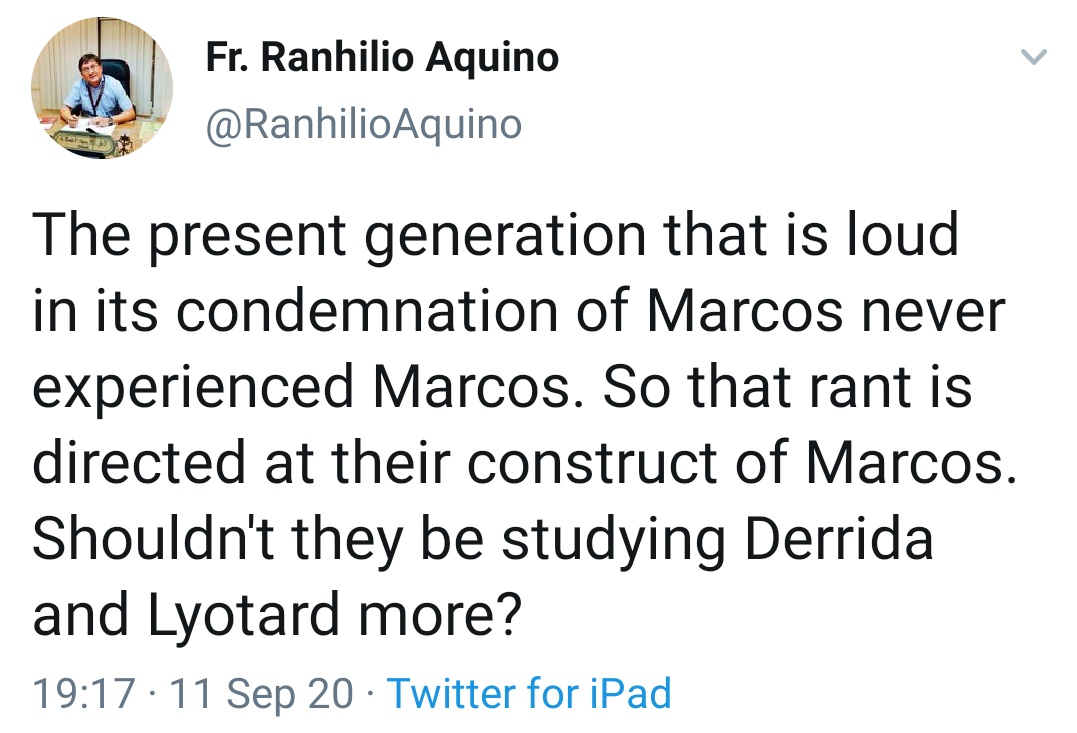 Aquino's tweet had caused a stir in the Martial Law Crybaby community and got the undergarments of a who's who of "thought leaders" twisted over the matter.
Salud presumably swoops in to save their day. He goes into a sort of irrelevant academic-style build-up towards the point he aims to make, his readers would later find out, which is essentially to debunk Aquino's assertion. As such, the only part of his blurb where he makes some semblance of a point can be found about 20 paragraphs into it here…
Those who speak the loudest in their condemnation of Marcos HAVE experienced the atrocities of martial law. It is a blatant lie to say otherwise. The loudest of all rants and criticisms against the Marcoses come from survivors of Marcos' holocaust. That generation, myself included, is still alive today.
Look past the easy emotional space this quaint rant plays to in the author's tone-deaf use of words like "holocaust" (the author owes victims of real holocausts an apology there, I believe) and regard the tired argument it makes — that being a "victim" of those alleged "Martial Law atrocities" by itself is a foundation for the Martial Law Crybabyism he and his ilk would like Filipinos to remain emotionally bound to in perpetuity. Salud conveniently glosses over the reasons certain people had been targeted in any crackdown that may have happened during "the Martial Law era". For that matter, he selectively leaves out the fact that such crackdowns were the whole point of martial laws in general to begin with. Indeed, Salud is being fundamentally dishonest by being so selective in his arguments.
Firstly, Martial Law in and by itself is not a crime. The Constitution continues to allow its legal implementation.
Second, mere circumstantial evidence links alleged atrocities and abuse committed by police and military personnel to Martial Law itself. Such atrocities and abuse occur whether Martial Law is in effect or not. And if such atrocities are perpetrated while Martial Law happens to be in effect, proving they were done because Martial Law was in effect is impossible. You can prove who committed said atrocities. But proving these people acted because of Martial Law is a futile exercise.
Third, whereas victims of terrorism are generally innocent people who have nothing to do with its perpetrators, no such generalisation could be made about alleged victims of Martial Law. Victims of terrorism are random. Alleged "victims" of Martial Law, on the other hand, are likely to have been involved in something that made them persons of interest to begin with.
Even then, Manila Times columnist Bobi Tiglao actually was there and attests to a common denominator that puts Martial Law "victims" into a defineable non-random set…
There were indisputably human rights violations during Martial Law, even the most despicable ones. Many of my close friends were killed by the military or the constabulary in their mid-twenties. However, I would blame Communist chief Jose Ma. Sison for many of those deaths because he deployed those men who were barely out of their teens to foment unrest and revolt in the countryside, telling them that the masses had been roused to revolution because of Martial Law. They were very poorly armed, and were killed not even by the military but by police and militias who thought they were bandits.
Historical facts are one thing. Historians' individual narratives spun around these facts are another. Aquino's original point was that certain narratives have been used by certain partisan camps not as a reference for an ongoing debate on these facts but as means to emotionally-blackmail Filipinos to further their dishonest political and "revolutionary" agendas. Filipinos have lost trust in a narrative that had been perverted to political ends. The behaviours on display in the manner with which partisans demonise anyone who dares challenge such belief systems are evidence that people like Salud and his ilk are not out for honest conversation and are more interested in silencing dissent.
benign0 is the Webmaster of GetRealPhilippines.com.