Here is why Rappler CEO Maria Ressa lost her case against Wilfredo Keng who, several years ago, filed a case of cyber libel against her and "reporter" Rey Santos Jr. She failed to make a strong case in her defense. Evidently, no lessons were learned. We can see this in a statement issued by the Communications and Political Science departments of chi chi Ateneo dr Manila University following a court ruling that finds Ressa guilty as charged.
The statement encapsulates everything that was wrong about Ressa's appeal to popular sentiment. She had played pathetically overused cards — (1) the false notion that this was a crackdown on dissent perpetrated by the government of Philippine President Rodrigo Duterte, (2) the Woman Card evident in a claim that this government harbours "an aversion to women who have shown the courage to defend our democratic institutions", and (3) the Tyranny angle where, supposedly, the government "is most animated and proactive when looking for ways to intimidate and silence critics".
Ho hum…
Here is the whole "statement" issued in a tweet fielded by the Ateneo Communications Department…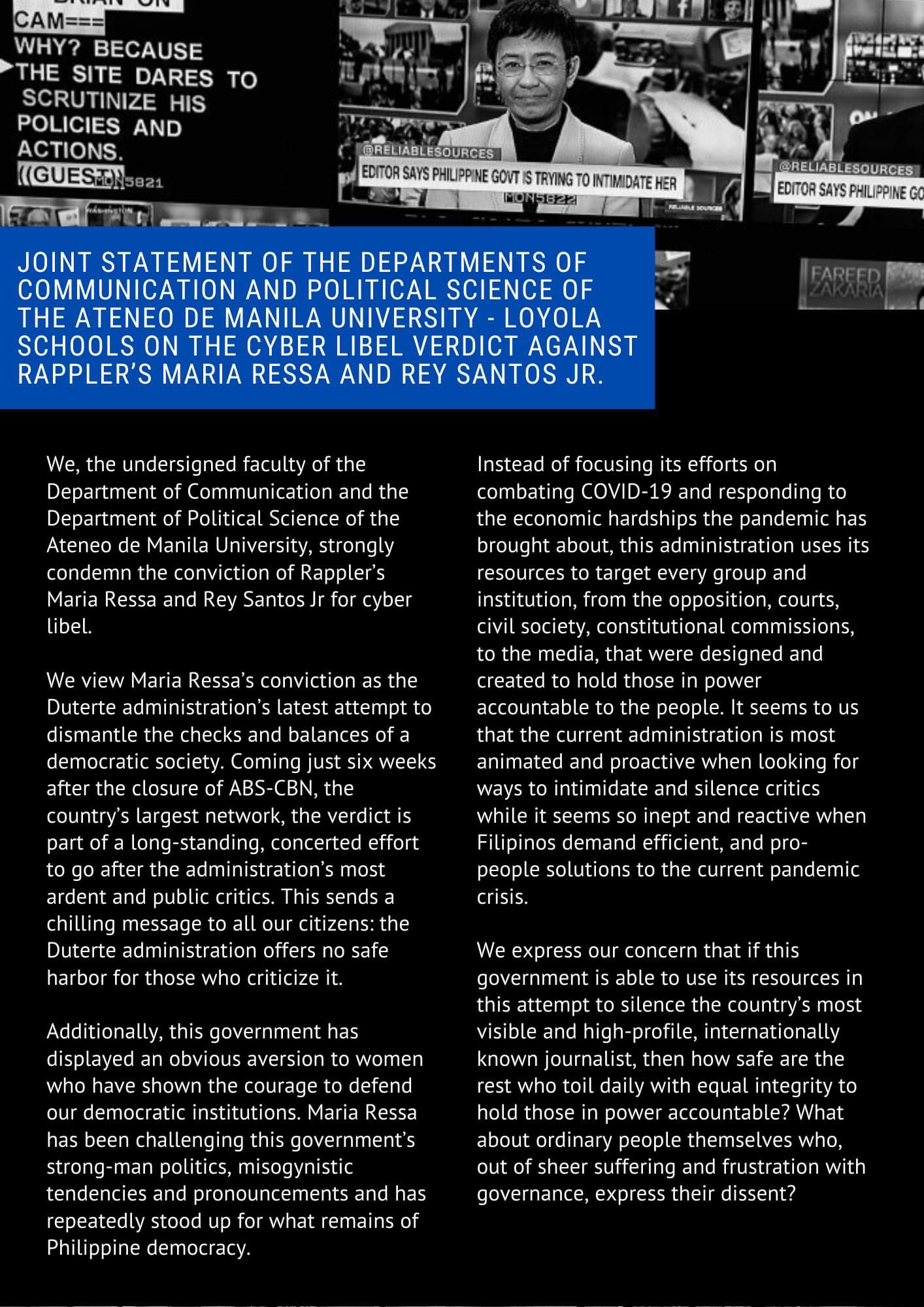 Note that not one of the legal arguments pertinent to the case and to Ressa's conviction were addressed. The statement was no more than a sad appeal to emotion and a lame attempt at emotional blackmail using tired old rhetoric that had gone way past their use-by dates. These sad arguments (if you can even call them that) had lost potency simply because they are all not true.
Blame, perhaps, the old 1980s-vintage thinking that suggests that "popular will" not necessarily channeled through established democratic institutions and processes can simply trump that which is effected via due process. In the addled minds of Filipino wokedom, simply gathering on a Manila street in big enough numbers making shrill emotional chants and speeches will effect political change (or, at least, appease their quaint tantrums). That may have been true some years ago when street mobs succeeded at shouting down two sitting presidents, the late Ferdinand Marcos in 1986 and Joseph "Erap" Estrada in 2001. Unfortunately for these snowflakes, the Philippines is now a mature democracy with a working criminal justice system and a Congress of duly-elected representatives of the electorate.
Finally, the case, ultimately, was initiated by a private citizen who demonstrated that the system could actually work in favour of the underdog — an individual going up against a powerful and well-connected media corporation. Democracy is definitely alive in the Philippines and Filipinos are, quite evidently, a free people — all contrary to what Maria Ressa and her gaggle of apologists screech to the high heavens.
Maria Ressa's apologists need to find better copywriters for their PR paraphernalia. Better yet, they should get people who have sharp enough minds to engage in logical and intelligent debate.
benign0 is the Webmaster of GetRealPhilippines.com.