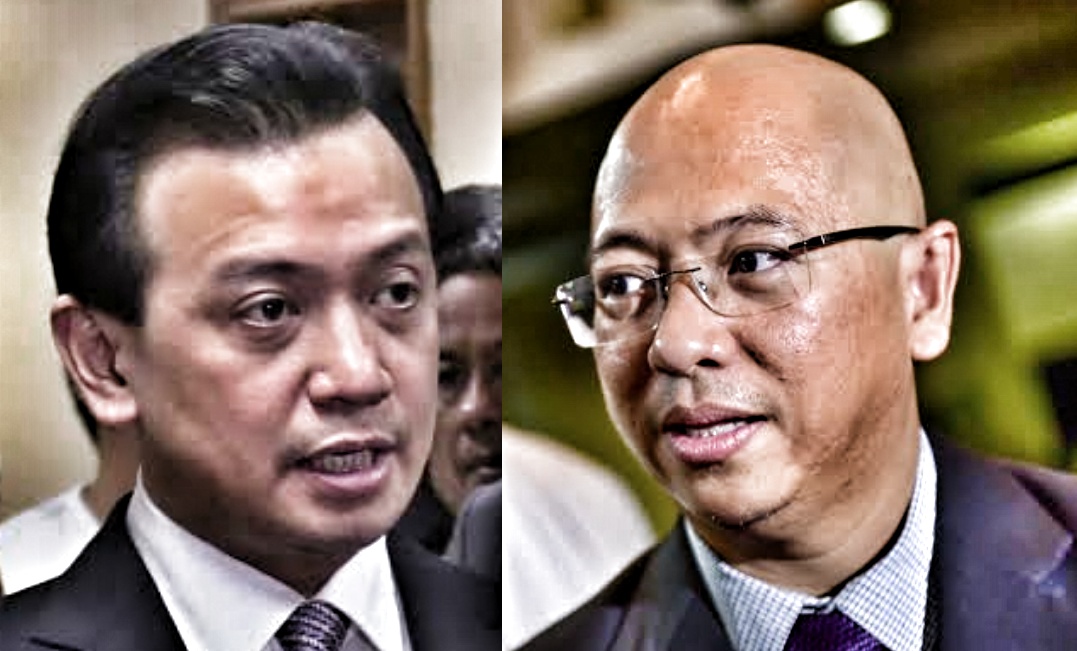 There is nothing like a crisis to bring out the worst in people, particularly those who have a weak constitution and are lacking in conviction. Take the case of members of the Philippine Opposition. I'm not just talking about the foot soldiers like Jover Laurio. I'm talking about the top honchos too like Florin Hilbay who was Solicitor General, albeit for a very brief moment, during the previous administration and former Senator Antonio Trillanes. They are two of many from the other side who have done nothing but whine against President Rodrigo Duterte. Even during a pandemic they seem to be unable to get past this unproductive habit.
"What's new?" you might ask. Nothing, really. I guess it is partly my fault for expecting that they would put any bitter feelings aside and work towards a common goal while the whole world is dealing with a deadly novel coronavirus – a virus that has cancelled almost every activity that keeps humans busy.
In case you just came out from under a rock, in the last month the Philippines, just like a lot of other countries has been on lockdown or, as Duterte prefers to call it, Enhanced Community Quarantine (ECQ). Citizens are directed to stay home and only go out for important business like shopping for necessities and other essential activities. Obviously, this has created a lot of issues for people unable to work or pursue a livelihood and, likewise, is a major inconvenience to everyone. There is no life outside of our homes at the moment. Yes, things can get quite depressing and, especially since the quarantine is going on its second month, some people are starting to lose their marbles. They can't seem to think straight anymore and are going on a major rampage against those calling the shots.
Members of the Opposition were already feeling powerless prior to the pandemic, but now they probably feel even more impotent because they can't go out and protest in the streets. All they can do is make noise on social media. The funny thing about people like Hilbay and Trillanes is that their statements against Dutere cannot be considered genuine criticism. They are mostly acts of character assassination, which serve no purpose other than to entertain their own followers. Here's one from Hilbay: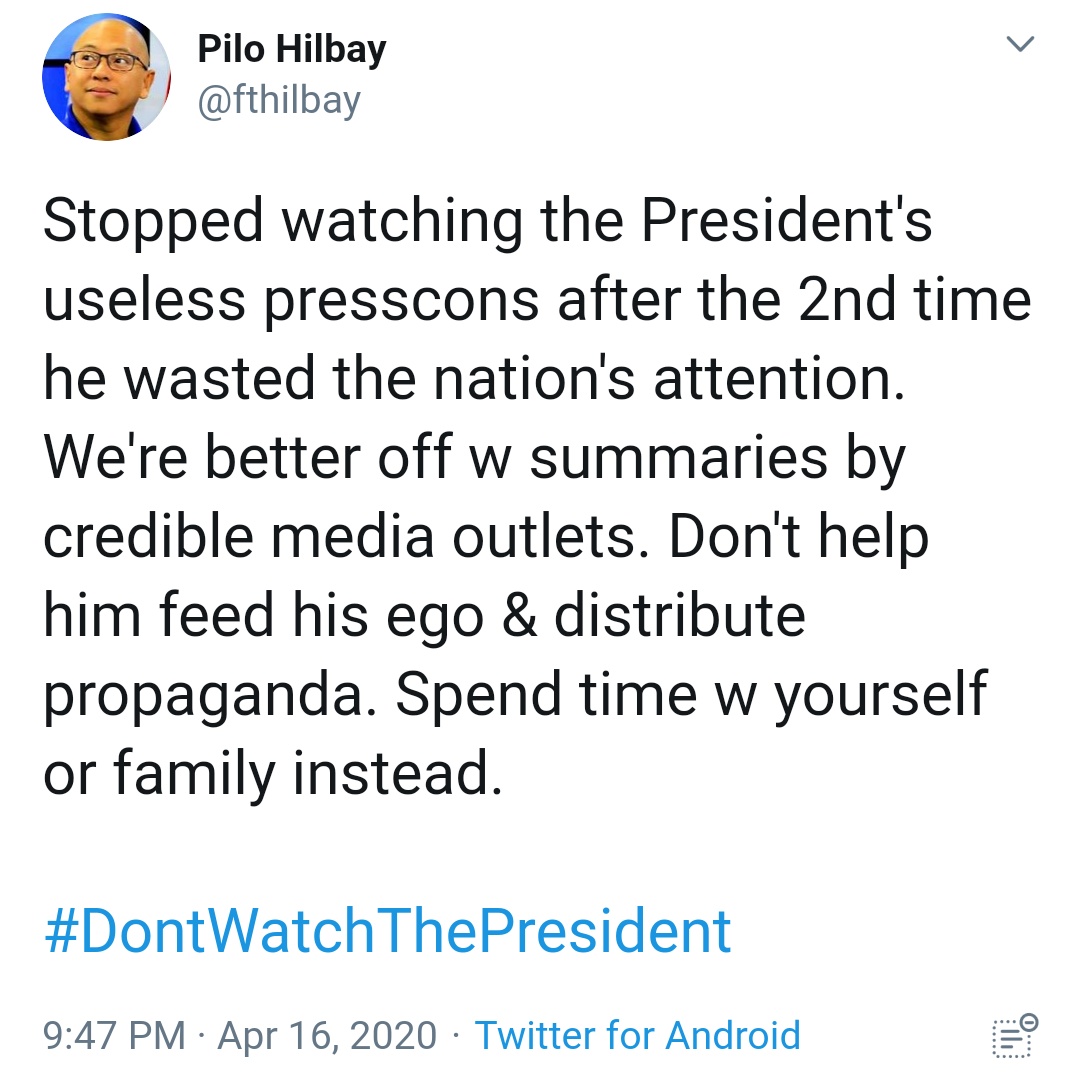 Can you believe that guy used to be the SolGen? No wonder he hardly ever wins any of his court cases. But I digress…
Seriously, Hilbay showed his immaturity yet again. There is nothing to learn from his comments. If he doesn't want to watch Duterte's regular press conferences while the country is under quarantine, no one is forcing him to do it. But why is Hilbay telling others not to watch it too? I thought he was an advocate of individual rights? It seems he is not keen on giving other people the freedom to choose whether to watch Duterte or not. You can bet your hard-earned peso he would be the first to complain if Duterte doesn't conduct his presscons. And you can bet that he secretly watches the presscons anyway, he just doesn't want to admit it. Obviously he wants to be the first to break the news if Duterte commits any faux pas so it is likely he can't help but watch the President even though he publicly expresses his disdain. Hilbay is a frustrated little man. He makes a lot of noise to compensate for the losses in his career.
Trillanes, another bozo suffering from a crisis of relevance, also posted something on his Twitter account that proved he has a nasty and violent nature.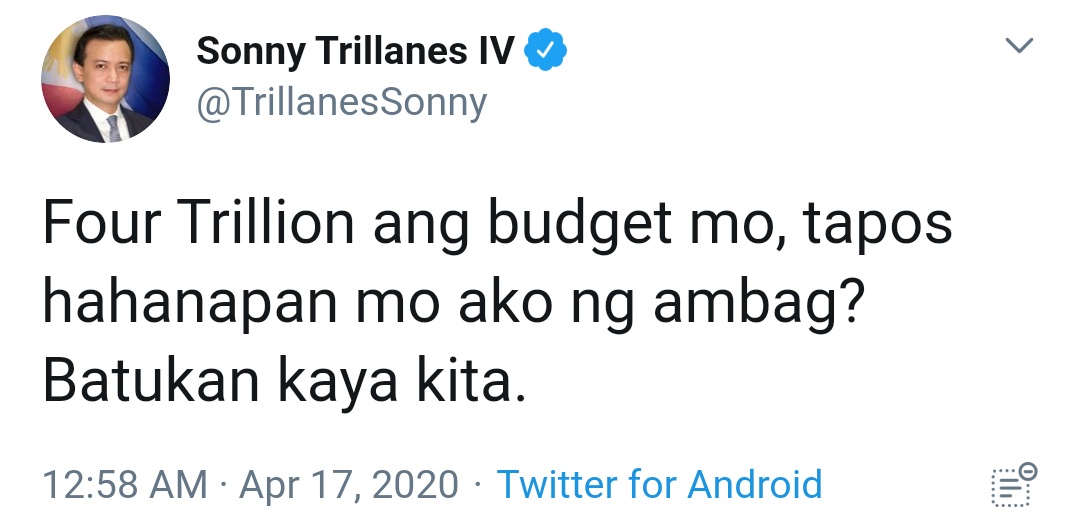 First of all, as a former lawmaker, Trillanes should know that budgets are planned expenses for the coming year. Has he forgotten that he was part of those who deliberated budgets proposed by the Chief Executive every year? The funds are already allotted to different departments and projects. Unfortunately, there is no budget to address the increasing demands of the COVID-19 pandemic.
Second, if Trillanes doesn't want to donate to people in hardship during the crisis, that's his choice. No one is holding a gun to his head and forcing him to donate. Only someone as calloused as Trillanes would brag about his unwillingness to help people in hardship. What he and his followers do not realise is, he is showing that he is not generous. It's not cool to show one doesn't want to help and it's not nice to discourage others from helping during a crisis, especially since no one can foresee when the COVID-19 pandemic will be over. Even in First World countries, ordinary citizens and wealthy people alike are compelled to donate during a crisis because a crisis is quite often an unforeseen event. It doesn't make sense that people like Trillanes would expect the government from a Third World country to have the funds to shoulder all the expense.
It's quite evident that members of the Opposition are not very smart. They do not know when to stay quiet. They feel compelled to say something against Duterte even when it's obvious they are just scraping the bottom of the barrel. The public can see through this particularly when they know that Duterte is dealing with a lot of issues at the moment. The last thing he needs is to deal with people whose only agenda is to undermine his efforts at a time he needs all the help he can get to keep the people and the economy alive.
In life, things are not always what they seem.