Commission on Elections (COMELEC) Commisioner Rowena Guanzon did an appalling disservice to her profession when she issued a challenge that prejudices against lawyers who are not graduates of the University of the Philippines and Ateneo law schools. Evidently hounded by Netizens scrutinising her points of view, Guanzon issued a challenge to a debate to any lawyer who would come forward but then added that those who respond to her challenge should "be sure [they] graduated from UP Law or Ateneo Law" and that they "are teaching law".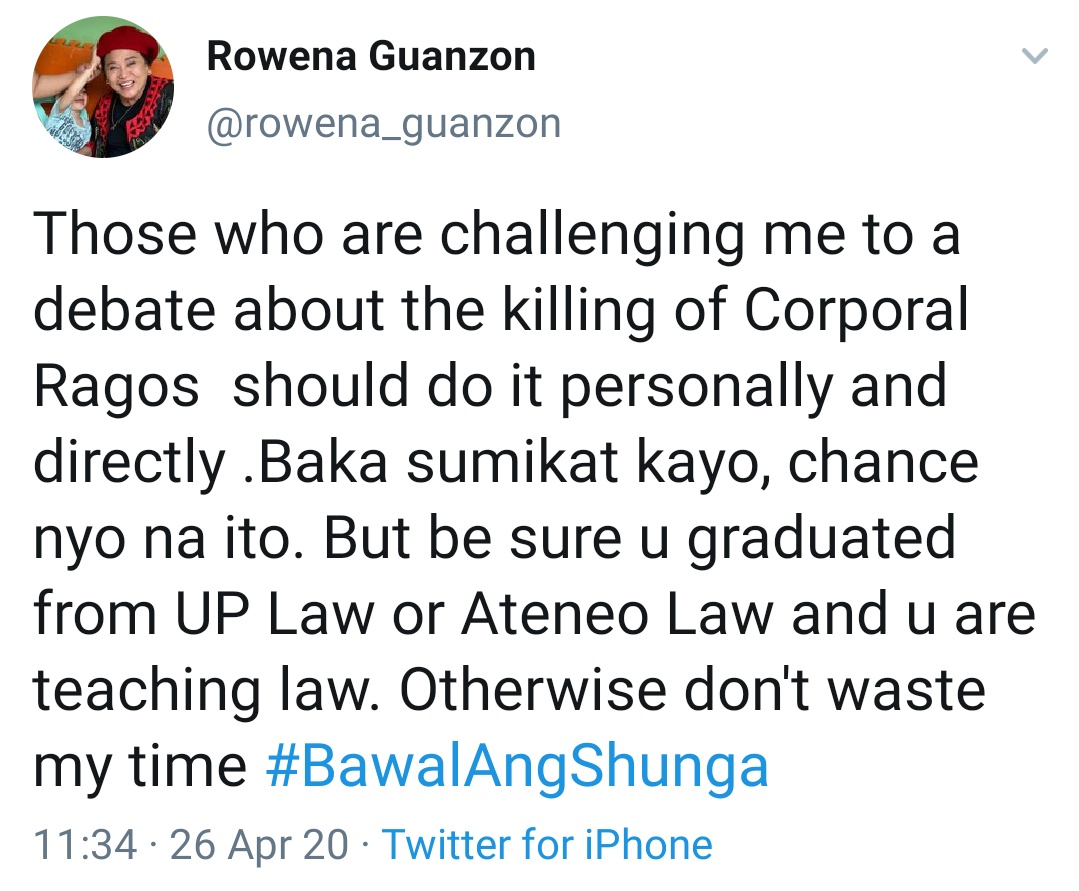 Interestingly enough, attorney and Dean of Law at the Mindanao State University (MSU), Alizedney Ditucalan responded to Guanzon's challenge by citing the case ATTY. MANE vs. JUDGE BELEN (A.M. No. RTJ-08-2119), from where he points out how "the Supreme Court reprimanded a judge for bragging her UP law diploma. The Court said 'An alumnus of a particular law school has no monopoly of knowledge of the law'."
Apparently Guanzon does not see the Dean himself of MSU Law as fit to be worth her time of day, a notion made even more shocking by Ditucalan's revelation that Guanzon blocked him on Twitter shortly after he cited the case.
As if I am enjoying her tweets.

Thank you for blocking my account.

Good thing that you were ahead before I could actually unfollow you. ? pic.twitter.com/1haaKNrQl1

— Alizedney M. Ditucalan (@AlizedneyD) April 26, 2020
Evidently Guanzon had met her match — someone who was armed with a case illustrating the very impropriety of her behaviour as a practitioner of law. Indeed, in the case cited by Ditucalan, no less than the Supreme Court ruled…
An alumnus of a particular law school has no monopoly of knowledge of the law. By hurdling the Bar Examinations which this Court administers, taking of the Lawyer's oath, and signing of the Roll of Attorneys, a lawyer is presumed to be competent to discharge his functions and duties as, inter alia, an officer of the court, irrespective of where he obtained his law degree. For a judge to determine the fitness or competence of a lawyer primarily on the basis of his alma mater is clearly an engagement in an argumentum ad hominem.
Guanzon is not as badass as she makes herself out to be after all. Faced with a compelling challenge to the arrogant position she takes, she does what people of weak character who had taken a dishonest position on a matter are inclined to do — block dissent. Commissioner Rowena Guanzon should be ashamed of herself. She is not fit to be a top officer of the COMELEC and devalues her esteemed agency by her personal conduct. Guanzon should resign to redeem herself and her office.
benign0 is the Webmaster of GetRealPhilippines.com.