Filipino Netizens became witness to irrational behaviour on social networking site Twitter from Rowena Guanzon, Commissioner of the Commission on Elections (COMELEC) after she went on a bragging spree because "trolls" annoyed her. She referred to herself as a "senior" Commissioner in a desperate attempt to get some respect after she made a series of cringe-worthy posts.
Guanzon's mini-meltdown started when she expressed her condemnation of Police Master Sergeant Daniel Florendo for shooting and resulting in the death of retired army corporal Winston Ragos. Ragos was stopped for allegedly violating quarantine protocols in Quezon City and was shot twice after he threatened to pull a gun on the police officers. Guanzon was of the opinion that there was evidence of premeditation and that Florendo planned to kill Ragos from the beginning: The intent to kill was present. That and two shots were fired. Sa first shot immobilized na si Ragos. Why fire a 2nd shot?
Whether she is right or wrong about her presumption is beside the point. The point is, when people challenged Guanzon's point of view, she went a little crazy. Her succeeding posts overly emphasised her position in the COMELEC. She couldn't stop reminding people who she is.
(Links to tweets respectively: 1, 2, 3)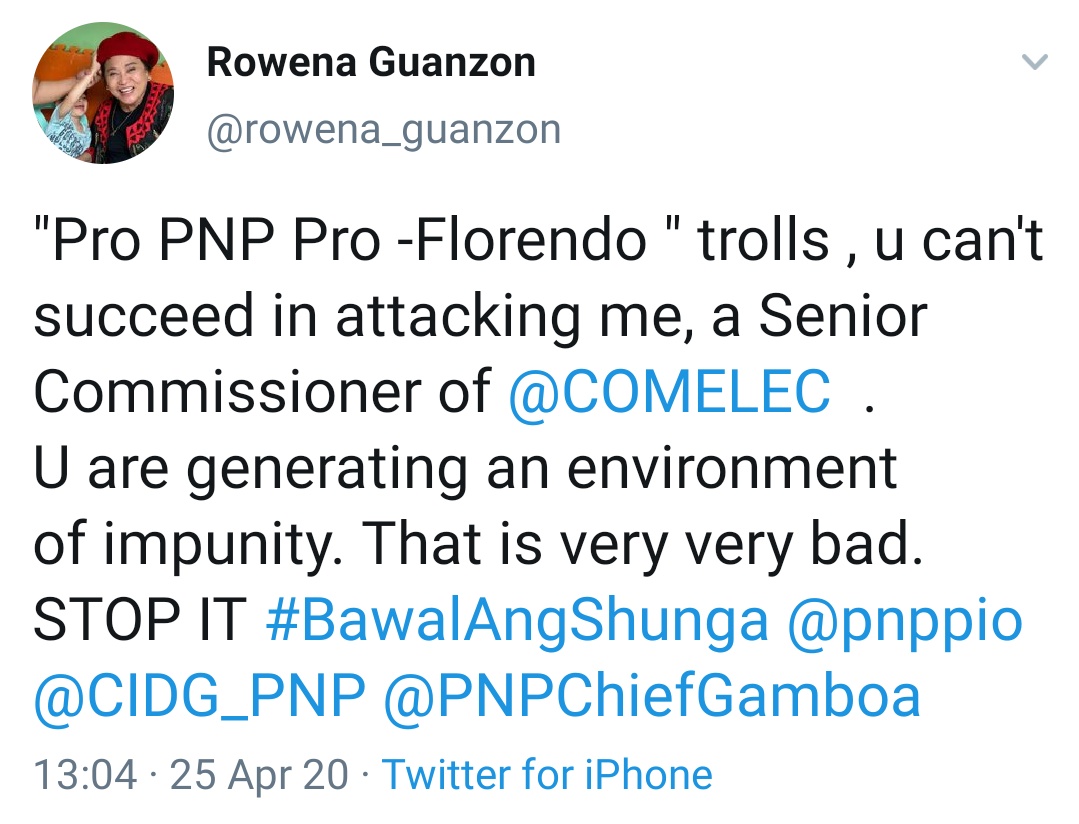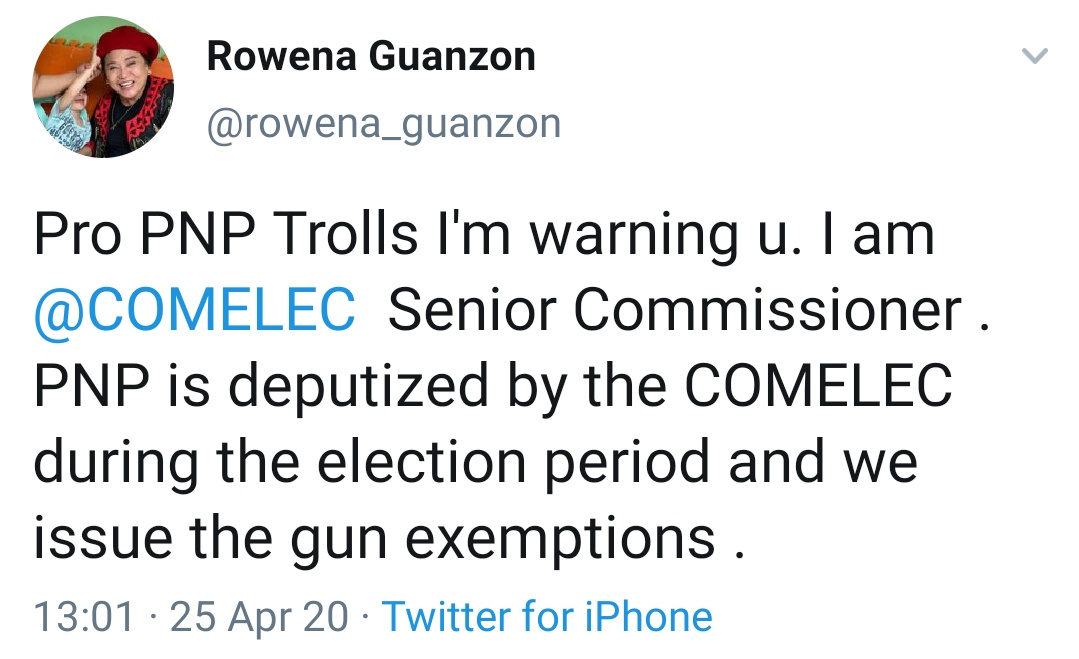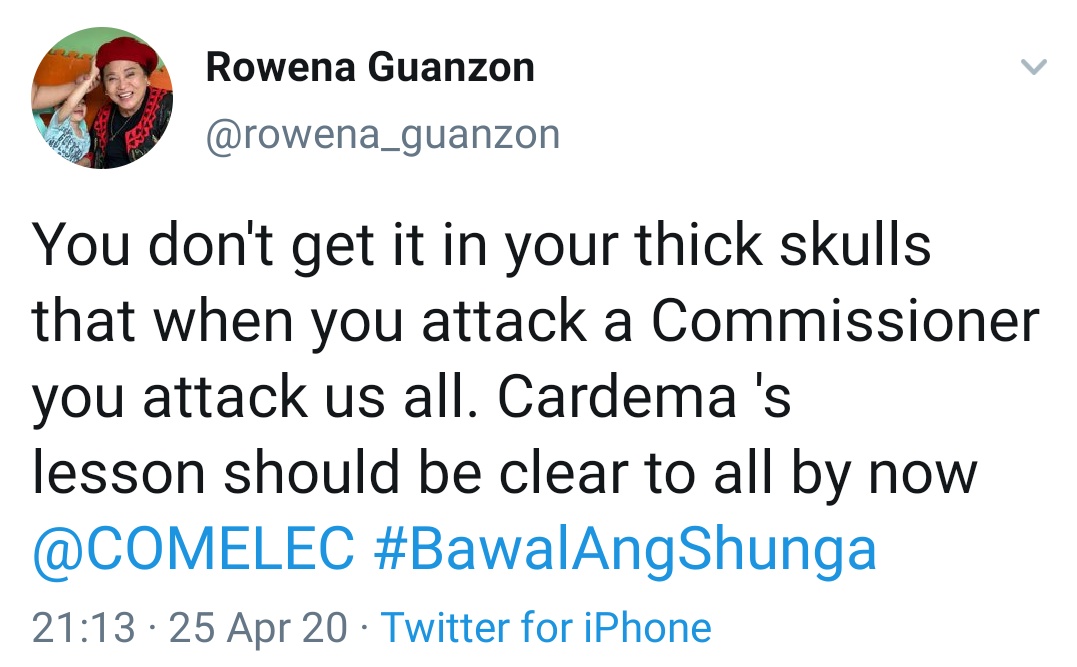 She followed those tweets with challenges to lawyers to debate her but said only lawyers who graduated from the University of the Philippines (UP) or Ateneo law schools are worth her time.
(Links to tweets respectively: 4, 5, 6)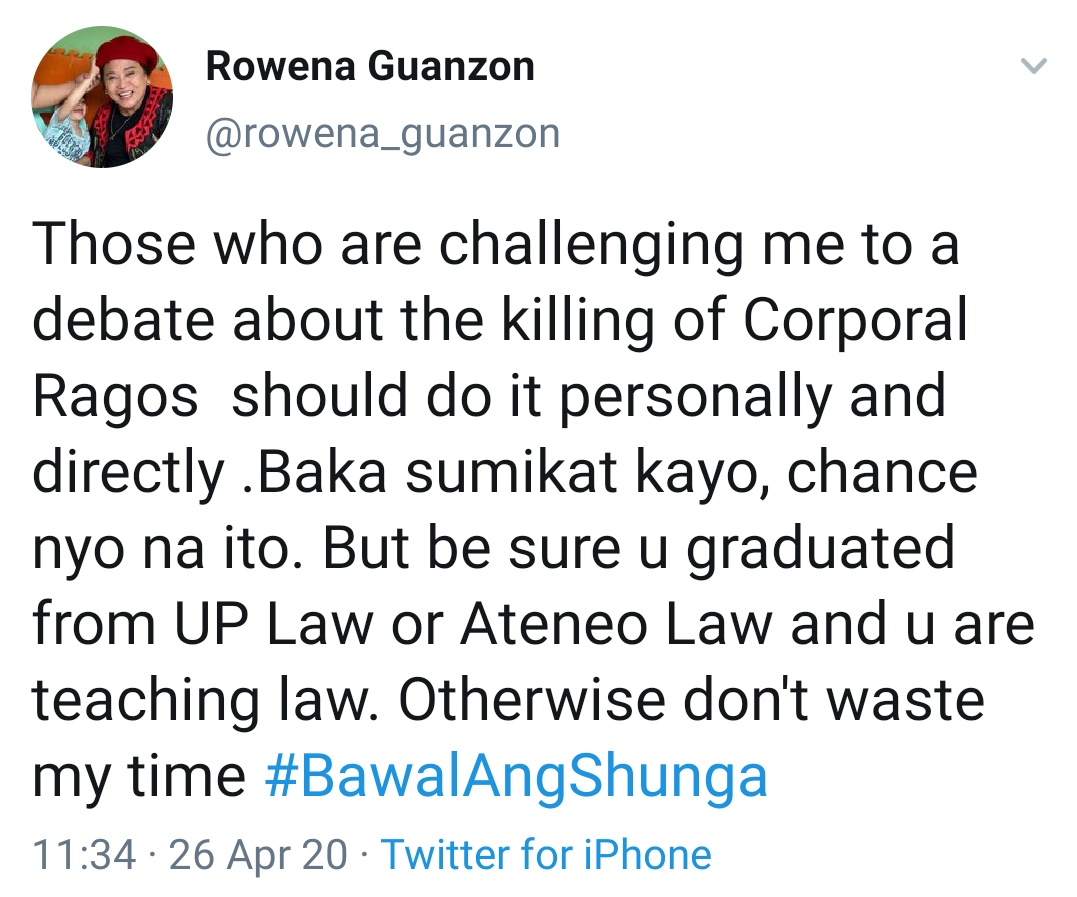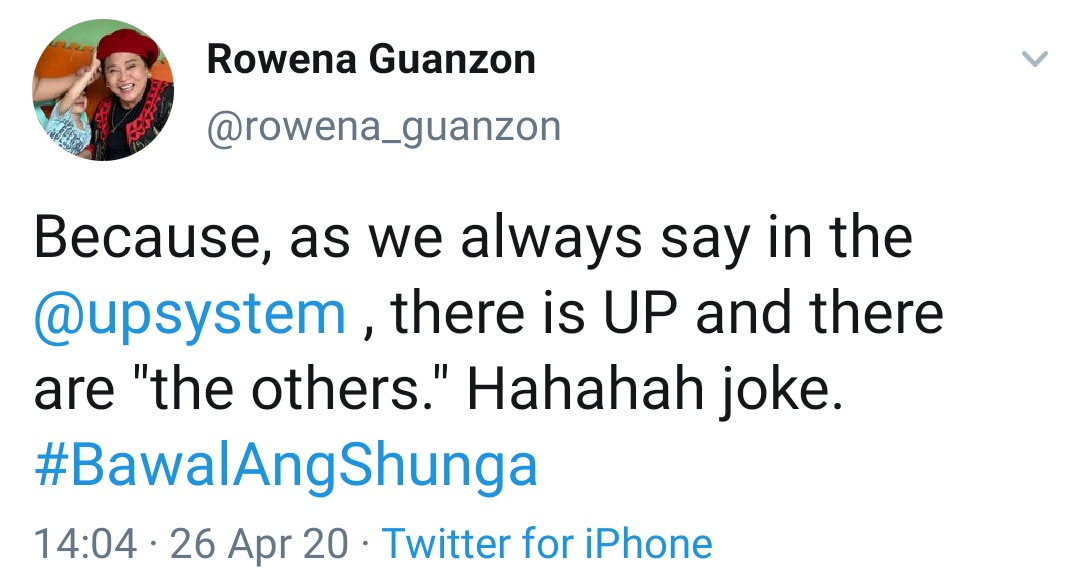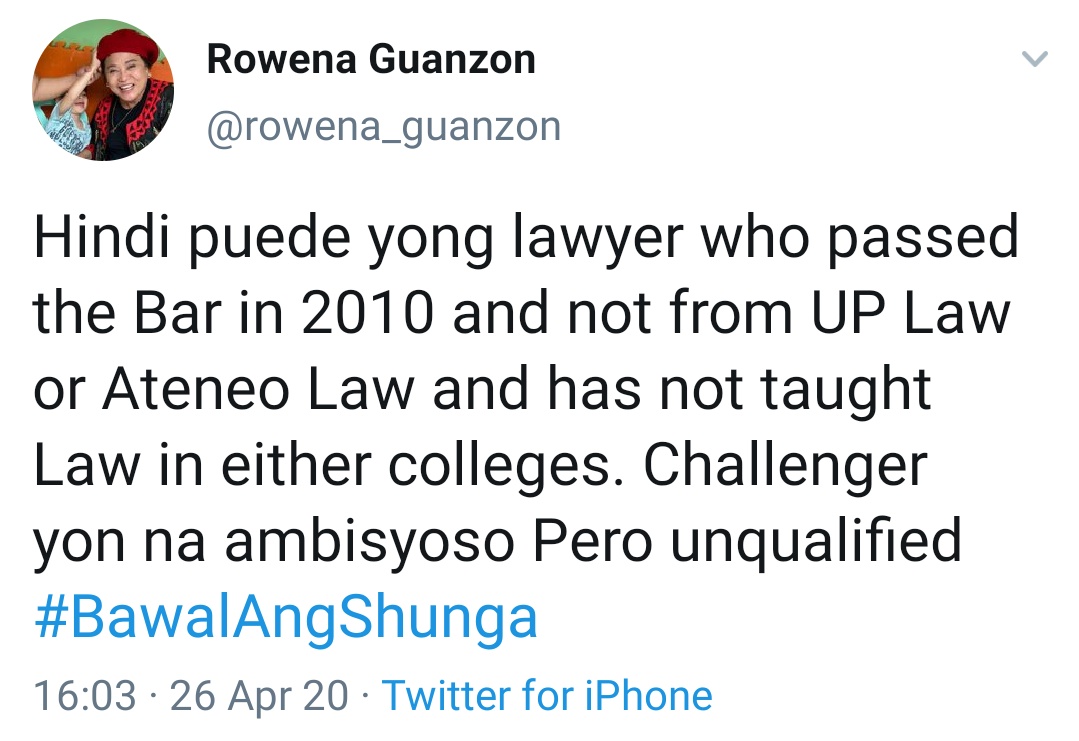 To be honest, I felt sad for the Filipino people after reading her posts. While she is not the President of the Philippines, Guanzon does hold a powerful position in government. As Commissioner of the COMELEC, she has the power to apply election guidelines strictly or loosely depending on whose side she is on. Case in point was during the 2016 Presidential Elections. It was Guanzon who let slide the Liberal Party's violation in submitting their statement of campaign expenses (SOCE). In an earlier Get Real Post article, we highlighted how current Vice President Leni Robredo's running mate and Liberal Party presidential candidate Mar Roxas as well as the Liberal Party itself failed to meet the deadline imposed by the COMELEC on the submission of their SOCE. Section 14 of Republic Act 7166 stipulates that this is grounds for barring any winning candidates nominated by the LP from holding office. All Liberal Party candidates then including Robredo should have been disqualified for failing to meet the deadline.
Four COMELEC commissioners including Guanzon predictably voted to allow the extension of the deadline of submitting the SOCE, which eventually allowed Robredo to hold office. Like I said in my previous article about the issue, the COMELEC broke its own "final and non-extendible deadline" rule. The agency showed ordinary Filipinos that rules can be broken when you are connected to the right people. The Liberal Party's connection to the COMELEC came in handy, indeed. It's no secret that Chairman Andy Bautista was the losing Presidential candidate Mar Roxas's former campaign adviser when he ran for senator in 2004. Bautista is also a close ally of President Benigno Simeon Aquino having once been the chairman of the Presidential Commission on Good Government (PCGG).
Some people have highlighted Guanzon's own connection to the Liberal Party now that she is in the spotlight. Apparently, she was appointed Mayor of Cadiz City, Negros Occidental by the late former President Cory Aquino. She was also appointed by another Aquino, former President Benigno Simeon "BS" Aquino, as commissioner to the Commission on Audit (COA) in 2013. One can be forgiven for saying she owes a lot to the Aquino family. She doesn't hide her partisanship in her posts on social media. Her ties to the Liberal Party are dangers to the country's democracy, indeed.
According to her bio, Guanzon came from an affluent family. Some of us wouldn't have guessed that with the way she behaves on her video blogs and by reading her posts. She's quite fond of using words like "shunga" — Filipino gay lingo for stupid. It's not the word itself that is the problem, but it was the way she was saying it. No amount of showing off her wealth or bragging about her so-called education can compensate for her lack of class and breeding.
Guanzon repeatedly exhibited disgraceful behaviour on social media. Her attitude is a remnant of the so-called Aquino legacy. She was so full of herself. She was very discriminatory. She perpetuates elitism. Instead of promoting an egalitarian society, she promoted a hierarchical society where people of low status are not given a voice. This was evident when she dismissed law students who didn't graduate from UP and Ateneo universities. These are not the only law schools in the Philippines. Guanzon clearly looked down on people outside of her circle. Yes she's the type of person who asks people, "Don't you know who I am?"
People in powerful positions should be promoting humility and grace instead of pride and arrogance. The attitude of Guanzon is part of the reason Philippine society is dysfunctional. As long as people like Guanzon are in control of government agencies that hold the key to democracy, not much will change. The voters will remain disenfranchised. That is a guarantee that the country will remain backward.
In life, things are not always what they seem.