Secretary of Justice Menardo Guevarra may be the only hope of a 17 year old girl who accused Southern Leyte Vice Governor Christopherson "Coco" Yap of rape and attempted rape at a gas station.
Similar to what Mayor Antonio Sanchez' goons did to Eileen Sarmenta, the victims says she was "given" to Vice Governor Coco Yap by his political supporters.
The victim says she was lured to a "party" by Vice Governor Yap's supporters in November 2016. At the party, she was made to drink and when she was drunk, Yap forced her into his red SUV and raped her.
After raping her, she says Vice Governor Yap threatened her and told her not to tell anyone about what he did to her.
As with some victims of rape, she kept the incident to herself until she was encouraged by Crusade Against Violence founder Thelma Tiong.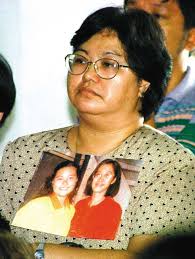 Many will remember that the CAV founder's two daughters were raped and killed in 1997.  Witnesses say that her daughters were forced into a vehicle which had Francisco "Paco" Larrañaga and six others on board.
Larranaga belongs to the influential Osmena clan. He is a great grandson of the late Grand Old Man of Cebu, Don Sergio Osmeña Senior. Former Cebu Mayor Tommy Osmena and former senator Serge Osmena are uncles on his mother's side.
In 2004, the Supreme Court put on death row the convicts except James Andrew, a minor at the time of the crime, who was sentenced to life in prison.
On Easter Sunday in 2006, then President Gloria Macapagal-Arroyo commuted the sentences to life terms when she abolished capital punishment.
Because of his Spanish citizenship he was transferred to a maximum-security prison in Soto del Real, Madrid, Spain named the Madrid Central Penitentiary in 2009 — in accordance with the Treaty of Sentenced Persons signed between the Philippines and Spain. His companions remain at the New Bilibid Prison (NBP) in Muntinlupa City.
Then in 2013, it was reported that Larrañaga was moved to a second-grade prison in Martutene, San Sebastian, Spain. It was here that Larrañaga was granted special licenses for his education and work.
In a news article dated 2015, during the celebration of the 137th birth anniversary of former president Sergio Osmeña Sr., it was reported that his mother Margarita said  that, "He is employed and he is earning…I'm happy and proud that he has reached his dream of being a chef."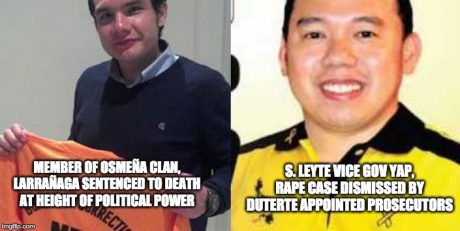 Unlike Larrañaga who was tried and sentenced at a time when the Osmena clan was at the peak of its power, Southern Leyte Vice Governor Yap appears to have evaded being tried in court for raping a 16 year old. His case was dismissed for "lack of probable cause" by prosecutors appointed by the Duterte administration.
Not much can be found on the internet on the specific basis of the prosecutor's decision to dismiss the case.
Rightly or wrongly, cynicism over the Philippine justice system would have some think that either the victim was intimidated or that the prosecutors may have been "influenced" to dismiss the case.
Journalist friends covering criminal cases often say, "Prosecutors have a saying, 'when in doubt, let the judge sort it out." This means that most prosecutors will take cases to trial.
Then again, owing to the fact that the prosecutors were just recently appointed and may be playing Pontious Pilate to avoid antagonizing vice governor Yap.
Moreover, by dismissing the case so that the victim would have no choice but to seek help from Secretary of Justice Menardo Guevarra all the way in Manila. Something which would entail a lot of expenses for the CAV and the victim.
A lawyer friend says, "If the case was dismissed at the provincial prosecutor's level, the rape case can still be elevated to the Department of Justice because that wouldn't amount to double jeopardy because the case has not yet been tried."
In the meantime, vice governor Yap has sought to clear himself of administrative charges at the Office of the Ombudsman for the Visayas.
This would allow him to continue his political career as if no 16 year old victim had not been raped.