Towards the end of my previous post on the ongoing "race" for House Speaker, I quoted a political observer's disgust over the behavior of PDP Laban senator Manny Pacquiao who seems to have taken it upon himself to speak for President Rodrigo Road Duterte on the matter of settling who his party would back as a nominee for House Speaker.
At this point many are asking, "What is it with this all out campaign to have Velasco installed as House Speaker? What has he done for Duterte apart from playing second fiddle to SAP Bong Go? Did he defend the President's stands on any of the hundreds of controversial issues hurled against him? Did he put his name on the line to push for any of the political reforms that the President certified as urgent?"
A friend in the political PR circles seemed to echo what I wrote and she said, "Meron pang mga pinabili lang ng suka Congressman na AT gustong maging HS pa? Haleerrr!
Sangkaterba mga dumadaan na issue at problema kahit noong mga nakaraang administration PARANG di ko naman narinig boses niyan na sumisigaw ng MAKIBAKA! MAKIBABOY! MAKIMANOK! Sa totoooo lang! Joscolord!"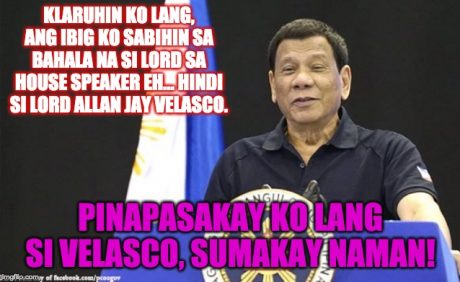 A friend working abroad who keeps close watch on the political developments here in the PH also remarked, "Nahuli na kung ano talaga loyalty niya with the Dutertes, with Mayor Inday Sara, PRRD, and with the people in the administration. It's false, manufactured, and self-serving. Parang pinapakita lang niya na he's always available pero yung mga times na kailangan siya wala naman. Pakitang gilas, pakitang tao.  Pustahan tayo, DA HU sa kanya sila Mayor Inday at PRRD kapag hindi siya pipiliin as House Speaker. Nagagalit na nga si prrd na ang kulit kulit niya multiple times na wag siya pilitin mag endorse."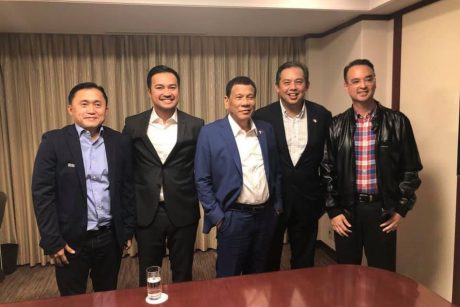 What my friend from abroad said seems to provide some clue to what President Duterte said in a get together with all three House Speaker nominees during their visit to Japan recently — which included congressman Martin Romualdez and congressman Alan Peter Cayetano.
The story goes, in concluding the meeting between the three nominees, the President said, "O, yang House Speaker-House Speaker na yan… Si Lord na ang bahala."
After which, the President clapped Lord on the shoulder and left the room.
Those who aren't familiar with President Duterte's humor would think that he had just made his choice among the three nominees.
But considering the word that is going around that Duterte is actually annoyed by Velasco's insistence on being House Speaker, President Duterte's "bahala na si Lord" remark might actually be a patronizing gesture.
"Is that what amounts to an endorsement from the head of the ruling party?" remarked a friend who had also heard the same story, "Parang pagpapatahan lang sa batang makulit, tipong sinabihan lang na 'Oo na, ikaw na si Ironman! Tuwang tuwa naman ang bata!"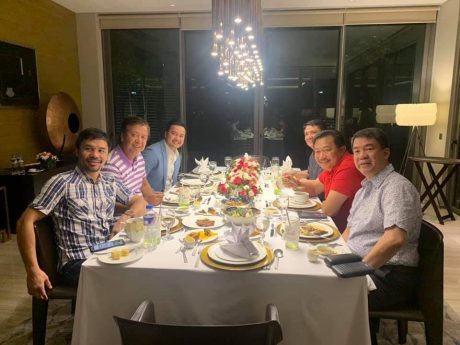 I wonder, then, if Velasco repeated this story at a meeting among PDP Laban officials in Pacquiao's house early this June.
I imagine Velasco telling Pacquiao, "Senator, sabi ni Presidente ako na daw ang babasbasan niya bilang House Speaker!"
Pacquiao: "Talaga! Galing! Paano niya sinabi?"
Velasco: "Dun sa meeting namin sa Japan, sabi niya sa harap nila Martin Romualdez at Alan Peter Cayetano, 'Sa House Speaker hah, bahala na si Lord!"
Pacquiao: "Wow! Galing naman! Sige, ikaw na nga House Speaker! Apir!"
Velasco: "Yehey!"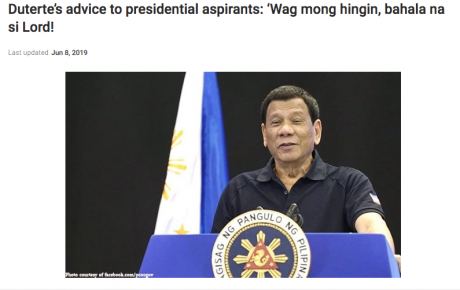 But seriously, to get a better idea of what the President meant by "Bahala na si Lord", perhaps this has to be considered side by side with what he said during a meeting with Pastor Apollo Quiboloy early this June.
My advice to the coming presidents, if they get into office, in the meantime, do not covet anything and it will come to you," he said in the interview in Davao City.

Duterte recalled that his mother, Soledad, also told him that the presidency was not something he should aspire for.

"Sabi niya: Huwag mo — pagka hinigi mo 'yan sa sarili mo, patay ka. Hingiin mo 'yan sa Diyos at kung ipagpala ka ng Diyos, ibibigay sa'yo," he said.