The results of the 2019 Philippine mid-term elections  could very well be ushering in the start of the post Aquino era which some say was largely defined by an almost paralyzing fear of a return to a tyrannical regime and hate for the Marcoses in particular.
There are political scholars who say that the bulk of the people who voted in this years elections is comprised of a generation who have a weaker emotional connection with the events leading up to the 1986 overthrow of President Ferdinand Marcos.
This is perhaps why some of these scholars also say that the fear tactics and "good vs. evil" framing that worked to buttress the 30 year Aquino regime failed to translate into votes at the polls for the Ocho Derecho senatorial slate.
SUPPORT INDEPENDENT SOCIAL COMMENTARY!
Subscribe to our Substack community GRP Insider to receive by email our in-depth free weekly newsletter. Opt into a paid subscription and you'll get premium insider briefs and insights from us daily.
Subscribe to our Substack newsletter, GRP Insider!
Learn more
If the first sign of the country's departure from an Aquino-centric leadership by proxy mode was Duterte's win in 2016 and perhaps the results of the 2019 elections might be described figuratively as casting off the final mooring that kept the Ship of State from venturing beyond the borders created in our minds by the yellow regime.
Among the things that the Duterte Administration has opened our eyes to is the possibility of defining our geo-politics outside of US centric policies we've pursued for a hundred or so years. We're also exploring the idea of a federated Philippines and have begun to pursue a more Asian approach towards resolving territorial disputes — which relies less on so-called international courts but on the strength of negotiating skills.
Where we go from here is really up to us, the people.
And this is the reason why the Speaker of the House of Representatives holds a crucial role in deciphering and determining the will of the people through their elected representatives.
Former president Gloria Macapagal Arroyo didn't pull any surprises as House Speaker and delivered the priority legislation identified by the Duterte administration. Sadly, with Macapagal Arroyo's third and final term drawing to an end by June 30 this year, she'll have to relinquish the reins to a successor.
Two names have been cropping up since last year, one of them is Marinduque Representative Lord Allan Jay Velasco and former DFA Secretary now Taguig 1st District Representative Alan Peter Cayetano — whose family members dominate the city's politics.
Between the two congressmen, there seems to be stronger clamor for Velasco than his weak chinned rival.
In a number of senate hearings, Cayetano was seen as a lonesome weakling who failed to stand up to Senator Trillanes' bullying tactics.
Quite a far cry from the strong leadership House Speaker Macapagal Arroyo demonstrated in the few short months that she took over from Congressman Pantaleon Alvarez.
Congressman Velasco, on the other hand, despite his youth and good looks is said to have the backing of not only President Rodrigo Duterte's allies in congress but also the support of a bigger number of colleagues.
This is perhaps why President Duterte and Mayor Inday Sara Duterte Carpio have hailed Velasco as the next House Speaker.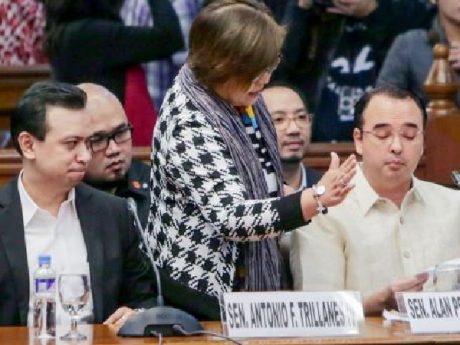 Besides this, what is going against the possibility of Congressman Cayetano taking over from House Speaker Arroyo is that, in colloquial parlance, "napagbigyan na ni Presidente Duterte si Cayetano".  In other words, some of president Duterte's supporters say that the president has already repaid Cayetano for his support during his presidential campaign.
One group of people who supported President Duterte's campaign characterized Cayetano's stint as Foreign Secretary as being flawed and weak, perhaps even harmful to the country's reputation.
In their eyes, Cayetano as House Speaker might even pave the way for the rise and resurgence of a dilawan House Speaker.