I woke up this morning the first thing I read was what seemed to be an attempt by the Duterte Administration or its allies to defend Budget Secretary Benjamin Diokno from the corruption allegations lobbed by House Majority Leader Rolando Andaya.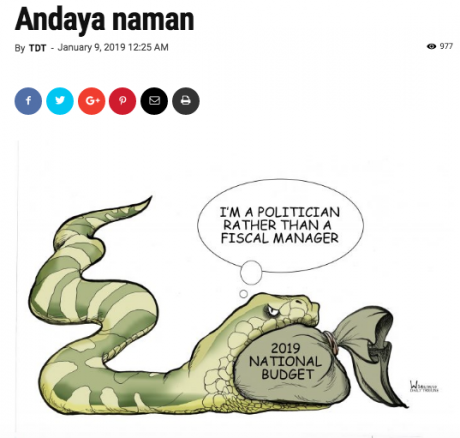 In the piece titled "Andaya Naman", the very first sentence says, "House Majority Leader Rolando Andaya Jr. should not let his frustrations on having his way on public funds and his pathetic effort to compete with Budget Secretary Ben Diokno get the better of him."
SUPPORT INDEPENDENT SOCIAL COMMENTARY!
Subscribe to our Substack community GRP Insider to receive by email our in-depth free weekly newsletter. Opt into a paid subscription and you'll get premium insider briefs and insights from us daily.
Subscribe to our Substack newsletter, GRP Insider!
Learn more
The title reminds me of how school kids make fun of each other's names and in this particular case, playing on the Majority Leaders' last name is exactly the same manner that media people of his political rivals in Camarines Sur have resorted to.
I wouldn't blame them for doing that, it's just so easy. In the same way I wouldn't blame Andaya's camp to retort with "Diokno naging Diok-la, wala kasi sa pagdinig sa kongreso tungkol sa akusasyong korapsyon laban sa kanya".  (Jokla being the pejorative term for gay, usually lobbed against someone (male or female) who appears fearful.)
To me, at least, Diok-la would stick. Particular so because he really did evade the House of Representatives hearing on the allegations that his in-laws were tied to a construction company that House Majority Leader Andaya says corned billions worth of government projects that had links to his in-laws.
In a news article on another website, the case for conflict of interest against Diokno was spelled out:
One is Bulacan-based C.T. Leoncio Construction and Trading, the firm owned by Consolacion Leoncio that allegedly bagged billions worth of projects for various agencies nationwide since 2017. For this year, Andaya said CT Leoncio bagged a total of 36 projects in Sorsogon and Catanduanes worth P1.6 billion.

CT Leoncio remains a single proprietorship, but it was only in 2017 when Philippine Contractors Accreditation Board recognized it as a "Triple A" contractor.

The second firm is the Aremar Construction based in Casiguran, Sorsogon, CT Leoncio's major partner for 5 construction projects in the Bicol region amounting to P550,799,888.83.

Andaya said the biggest stockholder of Aremar Construction is Casiguran Mayor Edwin Hamor, the husband of Sorsogon Vice Governor Ester Hamor.

The Vice Governor's son from a previous marriage, Romeo Sicat Jr, is married to Diokno's daughter Charlotte Justine.

The House Majority leader called this a clear case of conflict of interest.

"As the legal wife of Romeo Sicat Jr, Charlotte Diokno will be considered as a co-owner of what Romeo Sicat owns in Aremar Constuction. [This is a] clear case of conflict of interest," said Andaya.

"It is also clear that the Hamor couple are in-laws of Sec Diokno. Sa Tagalog, balae. Ayaw aminin ni Sec. Diokno, malinaw ang relasyon niya sa mga Hamor (In Tagalog, in-laws. Sec Diokno does not want to admit it, but his relationship with the Hamors is clear)," he added.
Now here's the thing, if the conflict of interest case against Diokno was unfounded, why didn't he show up at the hearing at the House of Representatives?
Even more disconcerting is that President Duterte himself didn't go on-air or have himself interviewed saying that he had ordered Diokno not to attend the hearing of the House of Representatives.
It was Presidential Spokesman Sal Panelo who claimed or more exactly construed that Duterte disallowed Diokno's attendance at the hearing.
In any case, as far as I can tell, when Diokno was asked about the conflict of interest, all he had to say in his defense was that his family doesn't discuss "business matters" or "politics" during family gatherings.
Yeah… Right. Eh di wow! Ikaw na!
Now in the midst of very serious allegations against Diokno and his evasiveness to answer before the co-equal branch of government that represents US the PEOPLE, we have this opinion piece downplaying the whole affair as a matter of Andaya being envious of Diokno's record as a fiscal manager and "record on economics".
Here is the first two sentences of the article which had be spitting out my cup of Lavazza:
House Majority Leader Rolando Andaya Jr. should not let his frustrations on having his way on public funds and his pathetic effort to compete with Budget Secretary Ben Diokno get the better of him.

Andaya was chief of the Department of Budget and Management (DBM) during the term of former President and now Speaker Gloria Macapagal-Arroyo, but he should accept that he is more of a politician than a fiscal manager which Diokno is.
MAY GAHD! Someone reduced the whole conflict of interest controversy into what amounts what I call a "Mean Girls" defense — which basically tries to downplay Andaya's  very serious conflict of interest allegations as nothing but a product of envy and spite.
EMEGED! ENEBEYEN! KELERKEY!
As far as conflict of interest is concerned, President Duterte HIMSELF ordered all agencies to ignore and even go after ANYONE who tries to use his name or the names of his family members to secure government contracts.
THAT IS THE STANDARD OF DELICADEZA that this President has given his officials.
"The President would like to reiterate his prior instruction to the Cabinet to ignore any pleas to be made by any of his relatives in connection with any government transaction," Roque said during a press briefing in Malacañang.

"No one in his family is authorized by him to have any financial interest in any government office, agency, or department," he said. "That applies to his children, his siblings, his cousins, his uncles and aunts," he added.

Source: https://news.mb.com.ph/2018/01/03/ignore-my-name-dropping-relatives-duterte/